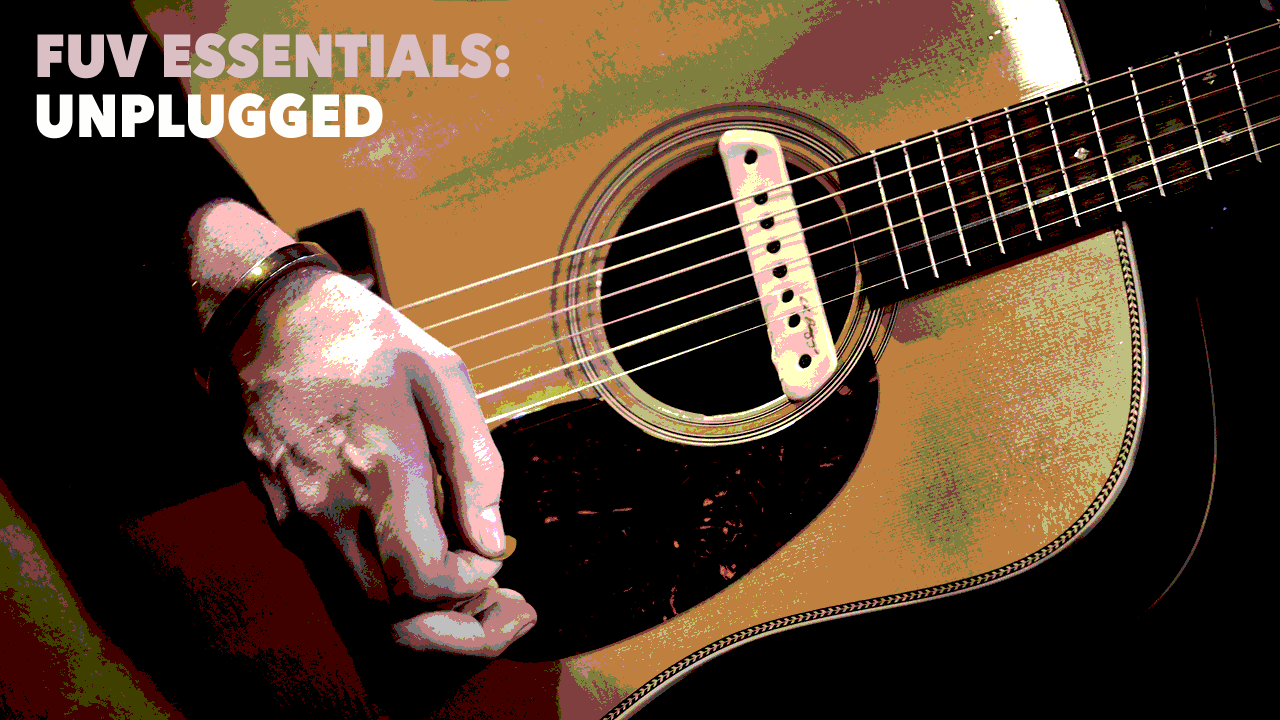 Take a song that's powered by electric guitars and synths and break it down to its acoustic heart — that's what was so fascinating about "MTV Unplugged" when the series debuted back on November 26, 1989 with host Jules Shear and a three-artist lineup of Squeeze, Syd Straw, and Elliot Easton.
While it was far from the first acoustic showcase, "MTV Unplugged" did speak to a different generation, first introduced to neon-bright, high-velocity, slickly-produced pop via the video channel. It also appealed to a long line of musicians who gravitated toward the format (there were over 100 "Unplugged" episodes produced) and nearly 30 artists or bands went on to release lauded "MTV Unplugged" albums or EPs, like Eric Clapton (who won six Grammys, including "Album of the Year," for his Unplugged), 10,000 Maniacs, Ricky Martin, Paul McCartney, Mariah Carey, Alicia Keys, Jay-Z,  Lauryn Hill, Alice in Chains, and most notably, Nirvana.
The recording of Nirvana's MTV Unplugged in New York, recorded on November 18, 1993 and released nearly a year later, on November 1, 1994, was one of Kurt Cobain's final live performances before his death and arguably his most riveting (and harrowing to execute, as detailed by Nirvana's former co-manager, Danny Goldberg, in his 2019 memoir, Serving the Servant). Aside from going 5x platinum in the States alone, Nirvana's MTV Unplugged in New York was a disorienting, heartbreaking glimpse into Cobain's musical genius, bracketed by his profound pain.
"MTV Unplugged" represents just a fragment of that always-shifting boundary between electric and acoustic songs. The happy shock of hearing Billie Eilish transform a Phantogram track into an acoustic ballad or the enduring resonance of Johnny Cash's deconstruction of Nine Inch Nails' "Hurt" is what makes "unplugged" songs so essential. WFUV staffers picked some favorite electric-turned-acoustic classics and we've also included a handy Spotify playlist of most of those tracks below:
Alisa Ali
Cat Power, "Sea of Love"
This version of Phil Phillips' one-hit wonder is sparse and dreamlike, as a lone autoharp accompanies Chan Marshall's enchanting vocals. It's simply magical.
Janet Bardini
Foo Fighters, "Everlong"
The acoustic version of a powerhouse electric grunge classic, found on the band's 2009 Greatest Hits collection, is on my list as one of the best make-out songs. It makes me feel like I'm 16 all over again.
Russ Borris
Robyn Hitchcock's cover of The Psychedelic Furs' "The Ghost in You."
Hitchcock takes one of the more iconic modern rock songs of all time and makes it feel like another gem in his beloved catalog.
Paul Cavalconte
George Harrison, "While My Guitar Gently Weeps"
When The Beatles' Anthology was rolled out in 1990, a treasure trove of unreleased recordings that had flooded the bootleg market for years were finally given sanctioned release. Gone were the hissy multigenerational pirate dubs; they were replaced by sterling studio-quality sounds of the band making magic. The 50th anniversary release of The Beatles, or the White Album, included more treasures and curiousities. This version of "While My Guitar Gently Weeps" is slower, gentler and more elegiac than the finished record. George adds an extra verse, observing "while I'm sitting here doing nothing but aging," which is especially poignant coming from a 25-year-old who wouldn't even make it to 60.
Darren DeVivo
Richard Shindell's cover of Bruce Springsteen's "Born In The U.S.A."
Richard Shindell's 2007 bare-bones version of Springsteen's 1984 hit, from Shindell's album South of Delia, strips away the original's dense Eighties production to reveal the lyrics' true meaning: the plight of the Vietnam vet who has returned home to a country that doesn't care.
Dennis Elsas
Pete Townshend (with John Williams), "Won't Get Fooled Again"
Performed at the Secret Policeman's Ball benefit concert in June 1979, this is a true rock 'n'  roll anthem stripped of all its electric guitars, drums, and synthesizers — but it's just as powerful in this raw acoustic version. Townshend, the song's writer, replaces his partner Roger Daltrey as the singer and the intensity of his performance is captivating.
Laura Fedele
Gillian Welch's cover of Radiohead's "Black Star"
In 2006, Gillian Welch and David Rawlings released a small but powerful EP with just three songs, all covers. The "title" track is Radiohead's "Black Star," Thom Yorke's ode to the infinite, heartbreaking misery of loving a person who's losing their mind. The original version, either on Radiohead's The Bends or in live performance, hits you in the gut; the bass notes echo in your bones, and Yorke's vocal wail is a dynamic swoon. The Welch/Rawlings version, on the other hand, is like a beautiful scalpel that goes right to your heart. With just their two guitars and two vocals, it serves up absolute, crystallized loneliness. Recorded in front of an audience, the crowd breaks their stunned hush only to applaud Rawlings' sweeping, epic, acoustic guitar solo.
Eric Holland
Talking Heads, "Psycho Killer" 
Genius song as found in its original form on Talking Heads: 77 that managed to hit even harder on Stop Making Sense when stripped down to David Byrne strumming (aptly) maniacally on acoustic accompanied only by a drum machine. The visual element of the drums coming from a boombox as seen in the "Stop Making Sense" film adds another layer of magic.
Rita Houston
Shawn Colvin's cover of Talking Heads' "This Must Be the Place (Naive Melody)"
A rare love song from 1983 for David Byrne and Talking Heads makes for a perfect acoustic cover, especially in the guitar-great hands of Shawn Colvin. The song has been a staple in her live sets since first appearing on the Cover Girl album in 1994.
Kara Manning
Alicia Keys, "If I Ain't Got You"
The volcanic power and presence of Alicia Keys is never more evident than when she plays solo grand piano, tumbling through intricate arrangements and romping through her catalog, as she did on the 2011 AOL Session "Piano & I: One Night Only." Although the original version of "I Ain't Got You," found on 2003's The Diary of Alicia Keys, is a spare, jazzy ballad, Keys lands the song with fevered intensity in her "Piano & I" set. (She also recorded a riveting 2005 acoustic performance, with some accompaniment, for MTV Unplugged in 2005 at the Brooklyn Academy of Music, an album eventually nominated for multiple Grammys.) Like Aretha Franklin or Tori Amos, Keys doesn't just play the piano — she makes it her mountaintop and preaches her gospel. One of the highlights of the 2019 Grammys was watching Keys, who also hosted the show, playing Scott Joplin's "Maple Leaf Rag" on two pianos (paying homage to Hazel Scott) before galloping through acoustic versions of songs Keys wishes that she'd written, joyfully covering everything from Kings of Leon's "Use Somebody" to Ella Mae's "Boo'd Up."
Corny O'Connell
Everything But the Girl, "Driving"
Everything But the Girl's Ben Watt and Tracey Thorn originally recorded "Driving" on the 1990 album The Language of Life with slick synths, jazzy saxophone and over-dubbed vocals. Two years later they proved that less is more by rerecording the song with nothing more than Thorn's lush voice and Watt's spare piano playing. This stripped-down version from the album Acoustic will never sound dated and will always be a favorite of mine.
 
Listen
#FUVEssentials: Unplugged (Spotify playlist compiled by WFUV's Staff)