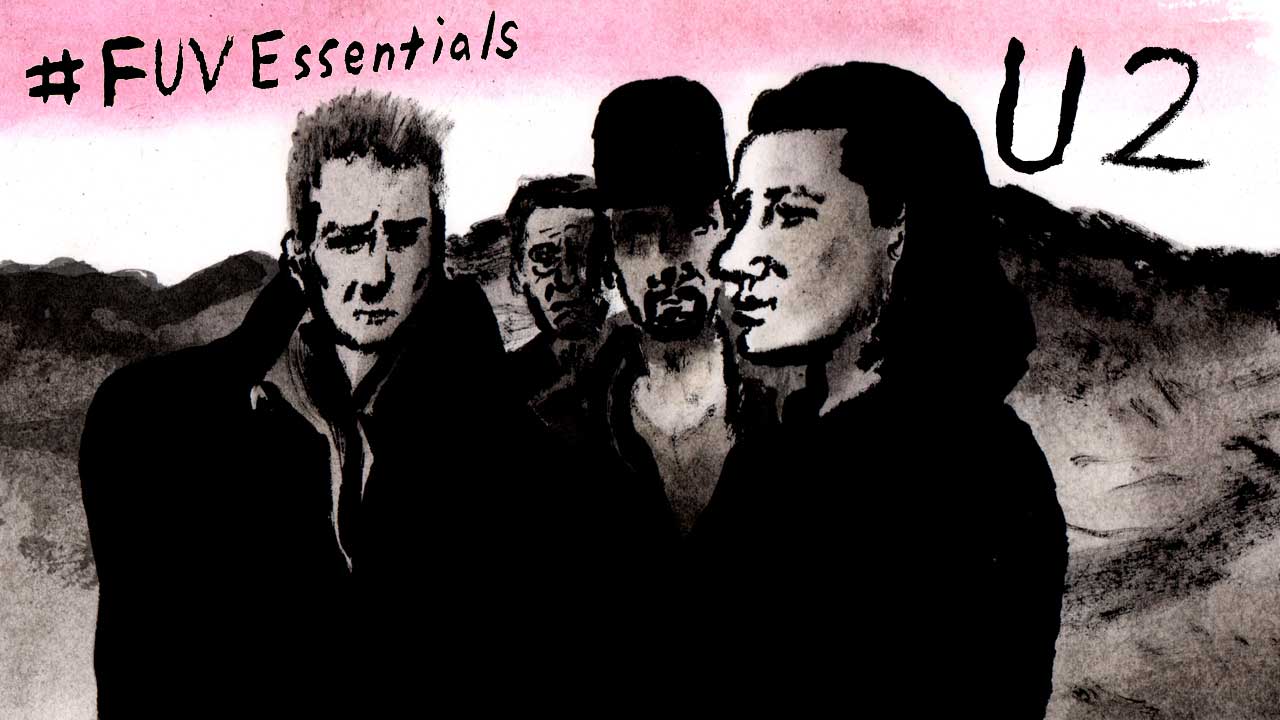 If a rock band were a country's most recognized export, it's fair to say that U2 might be Ireland's most vaunted guitar-waving gift to the globe. Over thirty years ago, U2 dramatically shifted the paradigm of rock royalty, shifting the ardent gaze of fans from American and British bands to this group of Éire-born outliers. And most significant to U2's legacy, the band's four members stepped up from the start as outspoken leaders of a philanthropic generation of musicians, perceiving activism, political awareness, and rigorous support of humanitarian causes as critical elements of artistic and personal responsibility.
Unlike the roar or swagger of a lot of all-male bands, U2's mightiest songs, like "Beautiful Day" or "With or Without You," are unapologetically emotional. Their greatest hits swoon and soar, spurred on by the yearning call and response of Bono's evangelical entreaties and the Edge's echoed, open chord reply. U2 strives to inspire, beguile and satisfy, leaving its fans in a grateful post-concert puddle of tears, release and ecstasy, madly waving lighters or illuminated smartphones as the encore fades away.
While their dominance as one of the world's most famous bands has changed over generational tides — especially when it comes to album sales — U2 is still one of the few bands on earth that easily sells out stadiums and arenas worldwide with aplomb, as they're doing in 2017 with the Joshua Tree Tour, commemorating the 30th anniversary of that pivotal release.
The commercial and artistic impact of 1987's The Joshua Tree was a turning point for U2. The Dublin quartet had been in existence for over a decade, founded in 1976 after a prescient 14-year-old drummer named Larry Mullen, Jr. recruited some lads from his high school for a band, a lineup that included lead singer Paul "Bono" Hewson, guitarist David "The Edge" Evans, and bassist Adam Clayton. But as Uncut documented back in 2014, the band's road to megawatt platinum fame was also littered with missteps. After the nascent group fortuitously won a Limerick St. Patrick's Day talent competition in March 1978, snagging a fistful of pounds and a CBS Ireland recording opportunity (which they rashly turned down), they still struggled. But under the cool guidance of manager Paul McGuinness, perhaps as crucial to the U2's success as the Beatles' Brian Epstein, they persevered, settled into their sound, and hit their stride.
By the time they recorded The Joshua Tree, U2 had released four prior albums which ably showed the band's transformation from raucous, excitable post-punkers to tactical, visionary craftsmen. That shift was realized most impressively with 1984's The Unforgettable Fire, produced by Brian Eno and Daniel Lanois. Mystic, experimental and moody, it was a masterful album. Over the course of barely a year, since releasing 1983's War, U2 segued from bashing out a kinetic, arrhythmic dispatch like "Two Hearts Beat As One" to a spiritual reveille, The Unforgettable Fire's "Pride (In The Name of Love)."
Given what U2 unearthed with that arresting album, it made sense that U2 collaborate again with Eno and Lanois on The Joshua Tree, a majestic and sometimes critical ode to America. As Steve Pond wrote thirty years ago in Rolling Stone, the album "lives up to its namesake: a hardy, twisted tree that grows in the rocky deserts of the American Southwest."
Pond continues: "The title befits a record that concerns itself with resilience in the face of utter social and political desolation, a record steeped in religious imagery." So it's a strange coincidence, decades later, that the anniversary of this classic album comes at a time when Americans are riled by conflict, acrimony and doubt. In the powerful "Bullet the Blue Sky," a song that evolved in the wake of Bono's trip to Nicaragua and El Salvador, he ruminates:
This guy comes up to me
His face red like a rose in a thorn bush
Like all the colors of a royal flush
And he's peeling off those dollar bills
Slapping them down
One hundred, two hundred
And I can see those fighter planes
And I can see those fighter planes
In live performance, U2 were thrilling to behold in the Eighties — all mullets, messianic fervor and fury — and while the dodgy haircuts might be gone today, their ardor (and compassion) remains. Bono, the Edge, Clayton and Mullen innately understand their stagecraft: the balance of charismatic presentation, tight musicianship, technical artistry in sound and lights, and active audience participation. Like Bruce Springsteen, Bono is a charismatic frontman who intimately connects with the audience and his bandmates; it's not so much seduction as it is a baptism, an awakening to the holy mantra of U2. Watching the group's astonishing performance of "Bad" at 1985's Live Aid remains a revelation all these years later: an epic, nearly 13-minute marvel that comes to its thundering end with Bono intimately waltzing with two women he's pulled onstage from the audience. He kisses them on the cheek, in gratitude, and then croons fragments of Lou Reed's "Walk on the Wild Side" and the Rolling Stones' "Ruby Tuesday" and "Sympathy for the Devil" before striding offstage, a towel flung over his shoulder, accompanied by the Edge's cascading, echoing guitar refrain. It's a master class in rock 'n' roll sangfroid.
With Eno and Lanois as producers and spirit guides, U2 continued to take bold chances after The Joshua Tree, notably via 1991's Achtung Baby which delved headlong into electronic music, dance, Krautrock, acid house and industrial rock. And one of the band's most stirring singles, "Beautiful Day," from 2000's Eno and Lanois-produced All That You Can't Leave Behind, is U2's biggest selling hit to date; it won three Grammys. including Song and Record of the Year.
Long-lived mega-bands, especially those which have fiercely maintained their original lineups for over 40 years, often experience ageism or cranky critiques as they hit middle age, especially when a mistake is made (rarely has a band given away an album for free and been so roundly pummeled for it). The peril of celebrity has invited both praise and derision. But as wealthy as U2's members have become, they've funneled much of their efforts (and cash) into serious humanitarian organizations like the ONE campaign (which incorporates the former DATA, or Debts, AIDS, Trade Africa), Music Rising (founded by the Edge after Hurricane Katrina), Amnesty International, Chernobyl Children's Project, Greenpeace and dozens more.  Their empathy extends to one another too: in a speech to MusiCares in June 2017, Clayton thanked his longtime cohorts for their support during his struggles with alcoholism and addiction.
"In our band, no one will be a casualty," said Clayton. "We all come home, or none of us come home. No one will be left behind. Thank you for honoring that promise, and letting me be in your band."
As U2 celebrate thirty years of The Joshua Tree, FUV thought it a fine time to raise a pint (or two) in appreciation of this quartet of Irish visionaries, a band that will always be one of our FUV Essentials.
Listen