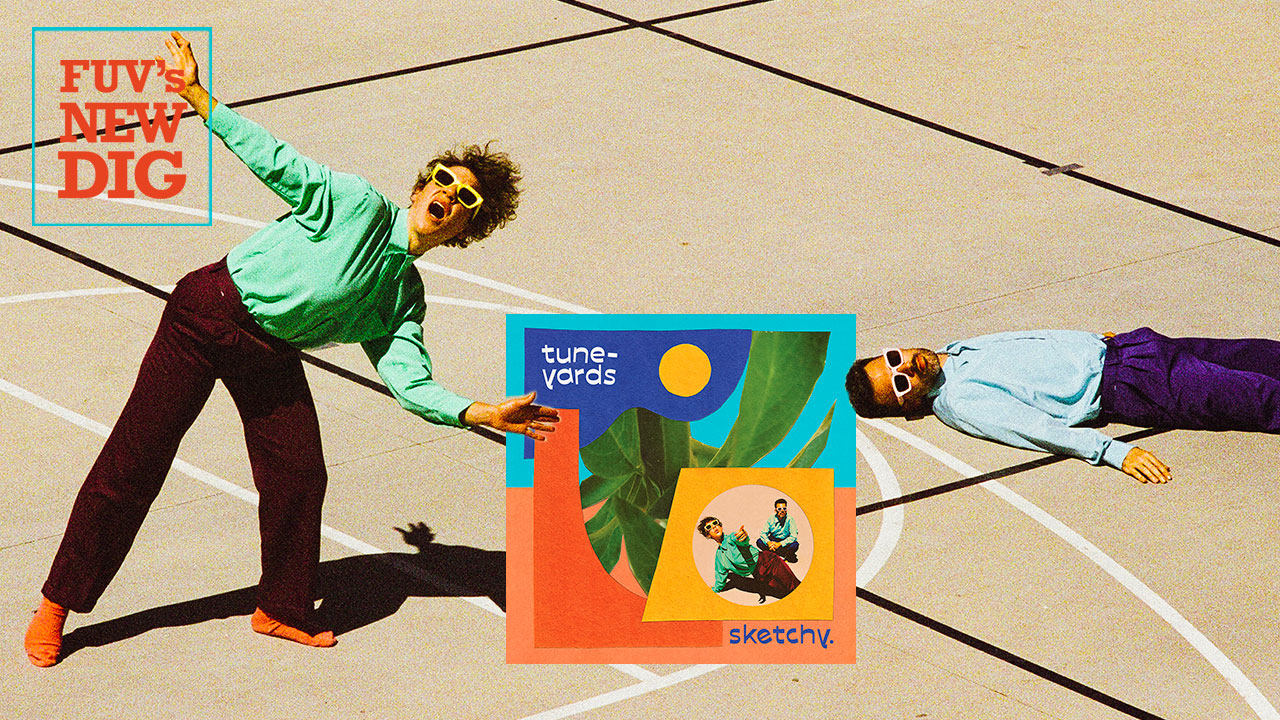 Tune-Yards
Sketchy.
4AD
Why This Album Matters
Sketchy (stylized as Sketchy.) is the latest album from the Oakland alt art-pop duo of Merrill Garbus and Nate Brenner. Tune-Yards are known for singular, quirky collages of electronics, loops, beats, earthy percussion, expressive vocals and chants that create a vibrant platform for socially-conscious lyrics touching on racial justice, LGBTQ+ rights, gender equity, and the environment. On Sketchy, Tune-Yards expands the songwriting focus to include some personal reflections and touches on vital issues too, like reproductive rights.
In Their Own Words
"I started remembering that people come to us to be entertained, to move, to feel joy," says Garbus on the band's effect on their fans. "And together, I think, we can wake up."  
"It's a sketchy time, and I hope the album reflects the time," Garbus told Billboard of the album's title. "'Sketchy' in that we can only see a thin outline of how things might look, and then in the 'suspicious' meaning of the word, too. And I'm also wondering how we can keep an eye to how we, as white people, need to be skeptical of our actions and behaviors, while also not being so afraid of being cancelled that we don't continue to do the work of digging ourselves out of whiteness. Maybe the album is trying to find the balance between that kind of serious self-inquiry and the levity and joy that's needed to keep going."
"When we were working on the album, Merrill was talking about, like, improv comedy where it's like 'Yes, and...' And I think that was really helpful for me," Brenner told FUV's Alisa Ali in the band's 2021 FUV Live session, explaining the duo's process. "Anything we'd start, just be like, "It's great!" And like, it doesn't matter if it wasn't really great, but you know, just kind of like try to keep going without stopping ourselves."
Highlights
"Be Not Afraid," "Hold Yourself," "Hypnotized," "Nowhere, Man," and "Under Your Lip."
Why You Will Dig Tune-Yards' Sketchy
It's not often that one hears colorful, joyous, and wildly inventive pop with a conscience. Tune-Yards' fifth album, and the pair's first in three years, delivers a message in the musical madness. Fans already familiar with Tune-Yards will welcome elements from the earlier albums that inform and enhance their new songs.
Recommended If You Like:
David Byrne, Deerhoof, Dirty Projectors, St. Vincent, TV on the Radio, Radiohead, Thao & The Get Down Stay Down
FYI:
- Garbus started Tune-Yards in 2006, releasing her first album, Bird-Brains, in 2009. Whokill followed in 2011. Brenner, a member of Tune-Yards' touring band, saw his role begin to expand after the third album, 2014's Nikki Nack, and by 2018's I Can Feel You Creep Into My Private Life, he was a full-time member, making Tune-Yards officially a duo.
- Before starting Tune-Yards, Garbus was a puppeteer and also a member of the Canadian band Sister Suvi, in which Garbus played ukulele.
Listen to a new FUV Live session with Tune-Yards  available on demand.