The Linda Lindas: Five Essential Albums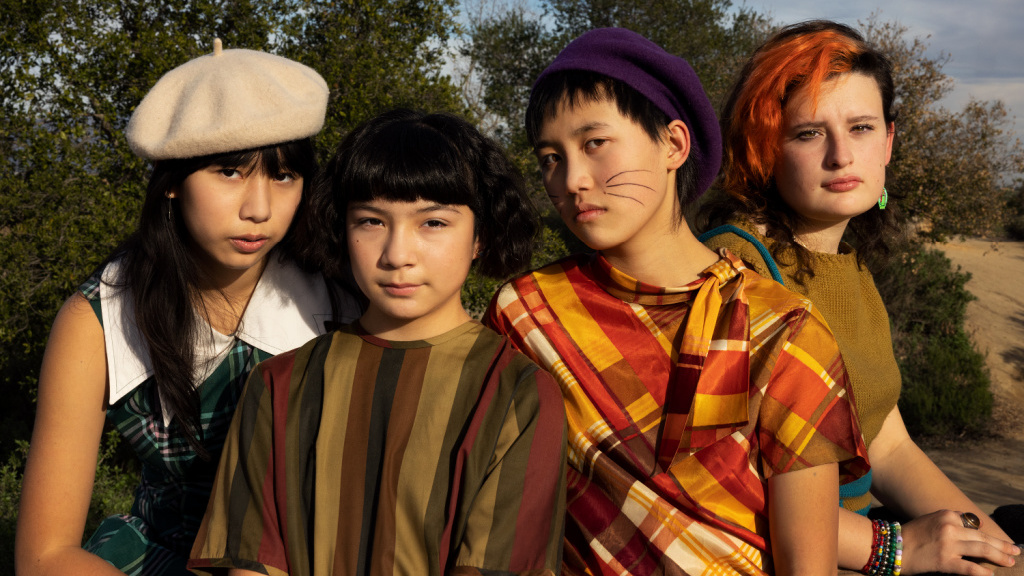 As WFUV honors Women's History Month, we're also heralding a handful of "Ascending Women" musicians who are making their own history with outstanding new music. Some are making comebacks; others are at the very start of their careers. We've asked these artists to write about the "Five Essential Albums" that shaped their own path.
Los Angeles punk rockers The Linda Lindas are on the verge of blasting off in 2022 with their smart, exhilarating debut album, Growing Up, out next month. It's an extraordinary accomplishment for any band, but especially when you consider the ages of these very young (and ferocious) musicians: sisters Mila (drummer) and Lucia (guitarist) de la Garza (11 and 15), their cousin, bassist Eloise Wong (14), and friend, guitarist Bella Salazar (17).
Yet the issues they address are important, ageless, and universal, especially with songs like "Racist, Sexist Boy" which went viral (over 1.3 million views to date on YouTube alone) when they performed it at the Los Angeles Public Library in May 2021 (wearing Kathleen Hanna's Tees4Toga shirts), and their most recent singles, "Growing Up" and "Talking to Myself." The quartet, with mixed Chinese, Mexican, and Salvadoran family roots, has gone on to open for riot grrrl royalty like Hanna's Bikini Kill (at the Hollywood Palladium) and Alice Bag as well as Best Coast, Bleached, and this spring, Jawbreaker. Amy Poehler is a fan, featuring The Linda Lindas in her Netflix film "Moxie," and the group's viral video (and their brilliant chops beyond) has gotten them PBS Newshour coverage, spots on "Jimmy Kimmel Live!," "The Late Late Show with James Corden," and a truly fantastic set on NPR's World Cafe.
"The goal," Lucia told The New York Times, is "to make sure our music has a positive influence, and that we can keep bringing attention to what's happening in the world."
Can you tell we're huge fans? We are — and after school a couple of weeks ago, Mila, Lucia, Eloise, and Bella came up with their "Five Essential Albums" for FUV — a pick for each band member and then a one (big) group decision.
The Linda Lindas: Five Essential Albums
Julieta Venegas, Limón y Sal 
An album that my mom used to play around the house growing up and has pretty much grown up with me. It has for sure inspired me when writing songs as it is still my favorite album today! (Bela)
Best Coast, Always Tomorrow
Best Coast is so nice and has supported us since the very beginning. Their album, Always Tomorrow, has so many catchy songs to sing along with at the top of your lungs. It all just makes me feel something, which I'm always trying to do when I write songs. (Mila)
Alice Bag, Sister Dynamite 
Alice Bag is so cool because she's a lifer that just keeps creating powerful music! I love how she supports underdogs and gives a voice to minorities through her art. (Eloise)
The Beths, Jump Rope Gazers
The Beths, and this album in particular, were a super important part of my life while we were in total lockdown with remote learning and everything. All of the emotions can be found here if you're ever looking for a lost one. Playing with them in February was super fun and special for me and all of us. (Lucia)
The Go-Go's, Beauty and the Beat
The Go-Go's are so inspirational and awesome, and their music is so upbeat and fun to dance to. We've grown up listening to this album and still listen to it all the time! (The Linda Lindas)
- The Linda Lindas
March 2022