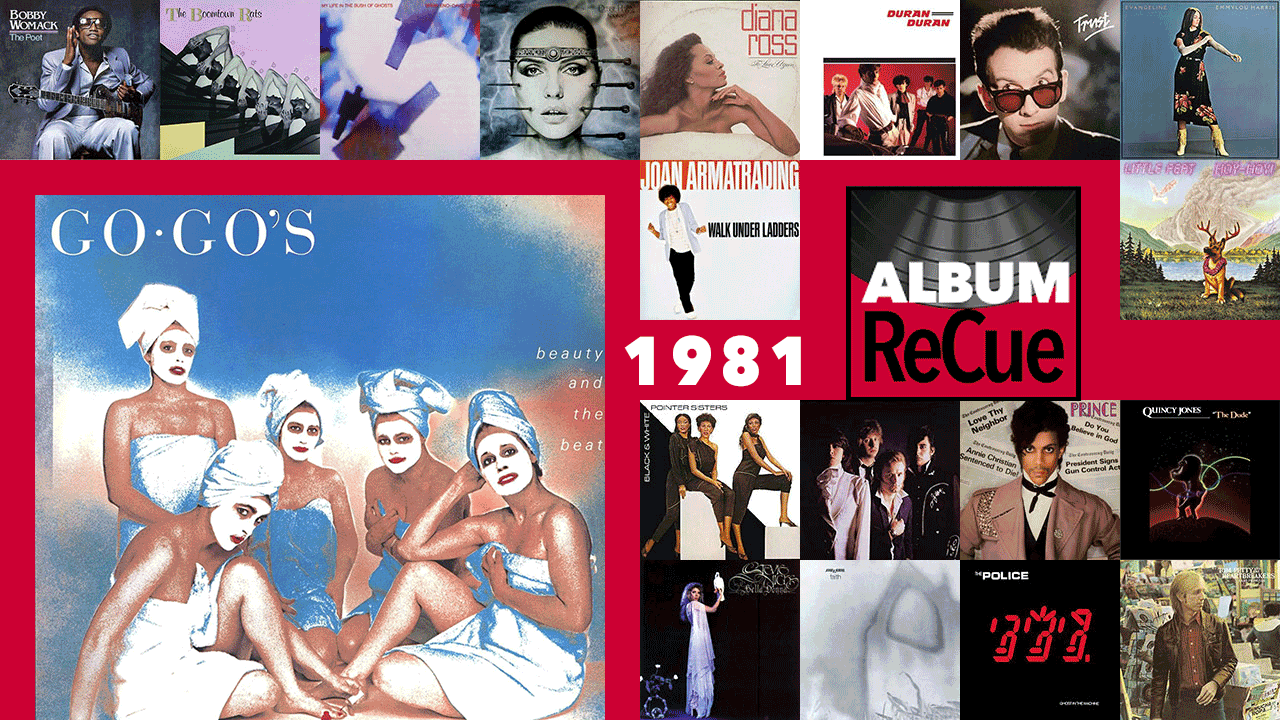 "Album ReCue" for Throwback Thursday celebrating 40th anniversaries: 1981 releases chosen by FUV hosts. Above, listen to Alisa Ali's conversation with Darren DeVivo about his selection, the effervescent debut album from The Go-Go's, Beauty and the Beat, and below, Laura Fedele's overview of that release.

The first glance we got of the Go-Go's was MTV's heavy-rotation hit of the summer of 1981: "Our Lips are Sealed." That song, and "We Got the Beat" following soon after, turned an L.A. punk band into a pop tidal wave, all pink lipstick and short skirts in the sunshine.

The timing was perfect: The new video channel didn't have a lot to work with, and theirs were buoyant and sassy, full of big hair, stilettos and pounding drums.

That sunny filter was blown off 20 years later by a VH1 "Behind the Music" episode, a thorough exploration of the seedy side of Go-Go's fame, all shock and heartbreak.

Of course nothing is ever as simple as either extreme. When the lineup solidified and they were ready for their close-up, the five women in the spotlight — Belinda Carlisle (lead vocals), Jane Wiedlin (guitar), Charlotte Caffey (guitar/keys), Gina Schock (drums) and Kathy Valentine (bass) — had already been through fire and come out the other side as a solid unit of songwriting, performance, and camaraderie.

The Beauty and the Beat album, which clocks in at a Ramones-friendly 35:34 overall, stands up as a caffeinated time capsule with nuance. Produced by Richard Gottehrer for IRS Records, it brought the band to New York City's Penny Lane studios.

Valentine says the location mattered: "I don't know if it would have been the same record if we had done it in L.A. There was something about the energy and exuberance of New York City then, and that sensibility became part of our record."

The 11 songs of love, Hollywood and dancing are as fun as ever. They got flak for bringing their punk roots into the new wave pop world, but it paid off. The fact that they were flat-out rejected by most labels for being women didn't slow them down when they finally got their call.

Besides the giant radio hits, they brought their best to the studio. The cutting Caffey/Wiedlin "This Town" is as sharp a criticism of Los Angeles as any you'll find (with great hooks). Caffey/Carlisle's "Skidmarks on My Heart" is decades ahead of Alanis or Fiona speaking truth to a car-obsessed boyfriend with "I buy you cologne / You want to axle grease / You say, 'Get a mechanic' / I say, 'Get a shrink'."

A real documentary, "The Go-Go's," hit Sundance in 2020, taking a deeper look at their talent and influence. The film makes the case for treating them as actual musicians, emphasizing the point that they were the first all-female band to play their own instruments, write their own songs and have a Number One album.

The Vanity Fair review of the doc doesn't shy away from the rough stuff: "The Go-Go's were one of the sleaziest bands in history. Behind the scenes, they were shooting heroin, inhaling $300 of cocaine a day, slipping Polaroids of their crotches under their roadies' hotel doors, nailing dudes left and right, and consuming enough booze, pills and speed to get kicked out of Ozzy Osbourne's dressing room."

The doc release prompted the band to look back at the fame hurricane they lived through, make some retroactive peace with each other, and readily admit: they were brats.

Talking to Billboard, Schock said: "We thought Richard made us sound too pop. Of course, six months later, when the album went to No. 1, we loved Richard and thought he was a genius."

Caffey: "People think we were America's sweethearts. Yeah, sweethearts from f---ing hell. I mean, we were just brutal. But fun."

Cred established and influence recognized: Go-Go's fans have included Kurt Cobain, Billie Joe Armstrong, Kathleen Hanna and many more. The New York Times says: "They. Kicked. Ass."

Finally, the quintet is being inducted into the Rock and Roll Hall of Fame this year, a long-overdue honor. But the question hangs in the air: Why were the Go-Go's not just the first all-female Number One band to play their own songs, but also the last?

Note: The Go-Go's don't just exist in the technicolor past; they've come together for a few projects, including a new song in 2020, when DJ Eric Holland talked with Charlotte Caffey about the band's reaction to the documentary and some surprising band influences.
Listen
WFUV's Album ReCue: The Go-Go's,  Beauty and the Beat