Susan Tedeschi and Derek Trucks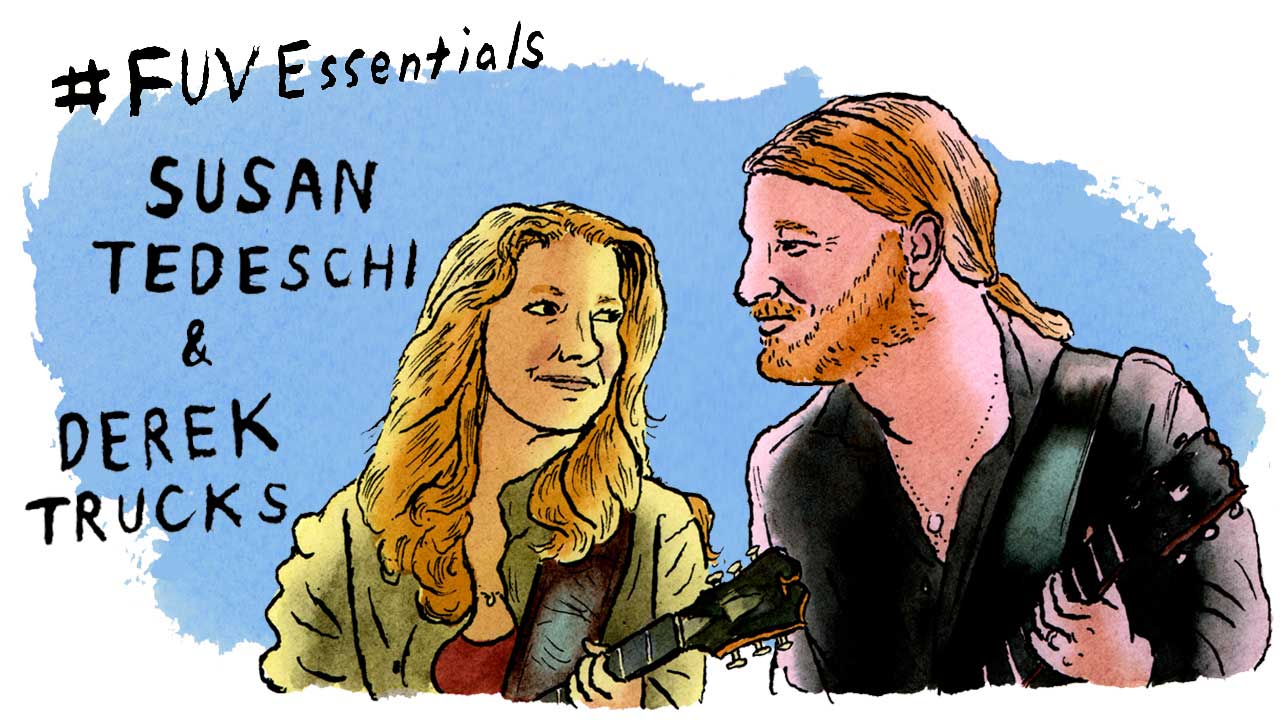 Susan Tedeschi is a Boston-born New Englander and Derek Trucks is a Southerner, born in Jacksonville, Florida. Together as a couple — as the Tedeschi Trucks Band — and apart in their solo pursuits, the blues is their muse.
Growing up in Massachusetts, Tedeschi found inspiration singing in church; she was Catholic, but was drawn to the gospel she heard in African-American Baptist churches. After attending the Berklee College of Music, Tedeschi settled into the Boston music scene and concentrated on playing the blues. She formed the short-lived Susan Tedeschi Band in 1993 and they released one album, 1995's Better Days. From there, she signed a recording contract with the blues label, Tone-Cool Records.
In early 1998, she released her second album, Just Won't Burn. That breakout album included the yearning title track (she performed a scorching version of it at 1999's Farm Aid) and a cover of John Prine's "Angel From Montgomery," a nod to one Tedeschi's idols, Bonnie Raitt, who had recorded the song herself over twenty years earlier. Tedeschi had emerged as a blues-rock phenomenon, carrying on the tradition of her many influences, like Stevie Ray Vaughan, Buddy Guy and Janis Joplin.
Trucks was born into music royalty, a child prodigy who began playing professionally before he was a teenager. His uncle Butch, a drummer, was an original member of the Allman Brothers Band. Trucks' younger brother, Duane, recently became the drummer of Widespread Panic, and is also part of Hard Working Americans.  
The Derek Trucks Band came into being in 1994 and Trucks and his bandmates released their self-titled debut album in 1997. Still in his teens, Trucks skillfully incorporated jazz into the band's repertoire: the band's debut featured compositions by John Coltrane ("Naima," "Mr. P.C.), Miles Davis ("So What"), and Wayne Shorter ("Footprints"). Sometimes Trucks would make appearances with his uncle, accompanying the Allman Brothers Band on stage. Inner turmoil within the Allman Brothers Band led to a series of personnel moves, which included the hiring of the then 20-year-old Trucks as a full-fledged member in 1999.
While Trucks was getting himself acclimated as a newly anointed Brother, he met Tedeschi on tour. She was supporting the Allman Brothers Band as their opening act in 1999. The rest, as they say, is history.
Tedeschi and Trucks formed a supergroup of a family when they married in late 2001. Juggling dual careers may have been a challenge for the young couple, but the two managed to keep the train on the rails. Within a year of getting married, Tedeschi recorded and released Wait For Me, her third studio album, a record that shifted between covers, like Bob Dylan's "Don't Think Twice It's Alright," and her own compositions ("Wrapped in the Arms of Another").
Meanwhile, the Derek Trucks Band's third album, Joyful Noise, featured special guests like Tedeschi ("Baby, You're Right), Solomon Burke ("Like Anyone Else"), Rubén Blades and Rahat Nusrat Fateh Ali Khan. In addition, Trucks continued as part of the Allman Brothers Band, a tenure that would last until the band's final breakup in 2014.
It was inevitable that the couple would find opportunities to merge their formidable talents. Trucks made contributions to Tedeschi's albums, 2005's Wait For Me, Hope And Desire and 2008's Back To The River. In turn, Tedeschi not only showed up on Derek Trucks Band's Joyful Noise, but 2009's Already Free. The couple toured frequently together too, at first calling their ensemble Soul Stew Revival. But by 2010, they decided to commit themselves to a single full-time musical endeavor; Tedeschi put her solo career on hold and Trucks retired the Derek Trucks Band (although he would remain part of the Allman Brothers Band for a few more years.)
The Tedeschi Trucks Band, sporting a whopping 11-piece lineup, released their first album, Revelator, in 2011, followed a year later by the concert album, Live Everybody's Talkin'. Two more studio albums have followed: 2013's Made Up Mind (featuring the powerful "The Storm") and 2016's Let Me Get By. Their latest is 2017's Live From The Fox Oakland.
They've got a tour de force lineup too. The 2017 version of Tedeschi Trucks Band also includes keyboardist/flutist Kofi Burbridge, drummer Tyler Greenwell, drummer J. J. Johnson, bassist Tim Lefebvre, saxophonist Kebbi Williams, trombonist Elizabeth Lea, trumpet player Ephraim Owens, and backing vocalists Mike Mattison, Mark Rivers, and Alecia Chakour.
Their partnership is a perfect match: Tedeschi's soulful, smoky voice and fiery prowess as a guitarist plus Trucks' ferocious command of his Gibson equals a kind of nirvana. Their Tedeschi Trucks Band is an ecstatic mix of Southern rock, jazz, gospel and funked-out bluesy rock. For a seventh year, they returned to New York's Beacon Theatre for residency (which continues through October 14), with special guests like the Greyhounds, the North Mississippi Allstars, and the Wood Brothers.
Susan Tedeschi and Derek Trucks, solo sensations and a creative couple with an uncanny connection as musicians, are absolutely FUV Essentials.
Listen
#FUVEssentials: Susan Tedeschi & Derek Trucks (Spotify playlist compiled by FUV's Carmel Holt)
From the Vault