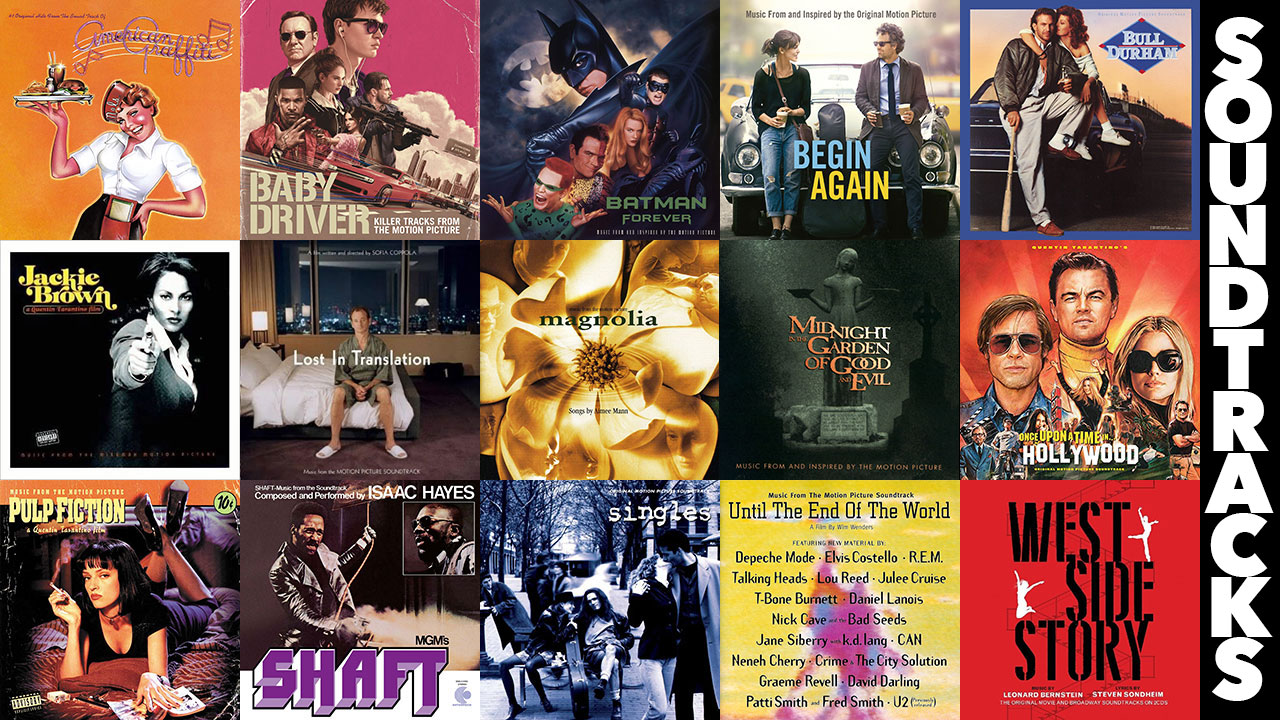 Directors, music supervisors, composers, and film editors all know the pure magic that a perfect song or score brings to a scene, elevating it from ordinary to extraordinary. Think of all of the classic movies defined by their soundtrack or even one glorious song:  Dooley Wilson crooning "As Time Goes By," for old time's sake, in Michael Curtiz's "Casablanca," the thundering solemnity of Derek and the Dominos' "Layla" driving a fateful montage in Martin Scorsese's "Goodfellas," or Bow Wow Wow's "I Want Candy" cavorting through Sofia Coppola's decadent "Marie Antoinette."
While music in movies seems to be a given, there are a few that eschew music completely, like Alfred Hitchcock's "The Birds" (aside from children singing in a forboding scene) and Sidney Lumet's "Dog Day Afternoon," which only uses Elton John's "Amoreena" in the opening credits, coming from a car radio.
For FUV Essentials, the FUV air staff picked one soundtrack from any era that we like for one reason or another — and yes, Quentin Tarantino wins the directorial crown of terrific soundtracks on this casual survey (he's got three mentioned here), but there's others from movies like Cameron Crowe's "Singles," Paul Thomas Anderson's "Magnolia," John Carney's "Begin Again," and Ron Shelton's "Bull Durham" that gets props from the FUV crew. Check out our choices below (with a handy Spotify playlist of top track picks):
Corny O'Connell
Baby Driver: Music from the Motion Picture (2017)
Two songs in and I was hooked by the soundtrack to "Baby Driver," directed by Edgar Wright. The high energy punk blues of "Bellbottoms" by Jon Spencer Blues Explosion is paired with the heart-stopping action of a bank robbery and chase scene. This is followed up by the title sequence in which the main character, Baby, sashays through Atlanta to Bob & Earl's "Harlem Shuffle," in a style as playful as Gene Kelly in "Singin' in the Rain." Baby is a getaway driver with tinnitus which he blocks out by listening to music through earbuds. Throughout the film we're taken along for the ride with music from everyone from Beck to Dave Brubeck to Young MC.
Listen: Bob & Earl's "Harlem Shuffle"
Alisa Ali
Pulp Fiction [Music from the Motion Picture] (1994)
Music plays a key role in many of Quentin Tarantino's films and "Pulp Fiction" is one of his masterpieces. The movie (and soundtrack) begins with dialogue between characters who are about to rob a diner and then launches into Dick Dale's surf classic "Miserlou," which sets up the drama and buoyancy of the film. The songs are a choice mix from the '60s and '70s, including tracks from big artists like Al Green and Dusty Springfield, along with with deep cuts like Maria McKee's "If Love is a Red Dress (Hang Me in Rags)" and the Statler Brothers' "Flowers On The Wall." Tarantino and music supervisor Karyn Rachtman did an outstanding job of weaving sound and vision together. So much so that one often associates the songs with the scenes and vice versa.
Listen: Chuck Berry's "You Never Can Tell" (and try not to picture Vincent Vega and Mia Wallace in the Jack Rabbit Slims Twist Contest).
Dennis Elsas
Once Upon a Time in Hollywood (2019)
Quentin Tarantino's latest film Once Upon a Time in Hollywood is set in Hollywood during the summer of 1969 and so is the soundtrack. As the film opens, stuntman Cliff Noble, played by Brad Pitt, takes us for a drive through the streets of Los Angeles to Roy Head and the Traits' "Treat Her Right" with rollercoaster energy, blasting out of the radio. Cliff is listening, just as we are listening, to the sounds of Los Angeles's legendary AM radio station KHJ, complete with jingles and DJs of the era. Tarantino's use of rock music in films has long been admired beginning with his second film, 1994's "Pulp Fiction." In a recent Q&A at the Grammy Museum, Tarantino said "I want to be known for my discography as much as my filmography" and explained how he and his longtime music supervisor Mary Ramos spend hours going through his vast personal collection of vinyl to choose just the right songs. Their choices included Paul Revere and the Raiders, Deep Purple, Buffy Sainte-Marie's version of Joni Mitchell's "The Circle Game," and Vanilla Fudge's "You Just Keep Me Hanging On," used in a chilling scene in this terrific film. The cast also includes Leonardo DiCaprio as a fading film star, Margot Robbie as movie starlet Sharon Tate, Al Pacino as a veteran casting agent, and assorted menacing members of the Manson Family. It's quite a story.
Listen: Roy Head and the Traits, "Treat Her Right"
Eric Holland
Jackie Brown [Music from the Miramax Motion Picture] (1997)
Quentin Tarantino is arguably second to only Martin Scorsese when it comes to masterfully and repeatedly using music to set a time or mood, as well as provide counterpoint to what's happening visually in his movies. Although "Pulp Fiction," "Reservoir Dogs," and "From Dusk till Dawn" (which Tarantino wrote the screenplay for, but didn't direct) all have much to offer, the soundtrack of "Jackie Brown" stands the test of time especially well. The artfully selected R&B gems from the likes of The Delfonics, Bloodstone, Randy Crawford, Bill Withers, and Brothers Johnson went a long way to giving the flick its vibe and all richly deserved the exposure that the film gave them. Music consultants Mary Ramos and Michele Huznetsky share the triumph of this soundtrack, as does James Newton Howard, who composed the score.
Listen: Bobby Womack, "Across 110th Street"
Sarah Wardrop
Bull Durham [Original Motion Picture Soundtrack] (1988)
Where baseball and music go together, I follow. In the case of "Bull Durham," it would be a tough task for the soundtrack to equal how the movie captures the game, and some memorable music in the movie (from the Smithereens to Edith Piaf) — not to mention Michael Convertino's score — doesn't make it on the album. But like the line goes, "Sometimes you win, sometimes you lose, sometimes it rains," and despite the strikes against it, there are few soundtracks where a song can bring me directly to a scene like this one. With the expected baseball fare of John Fogerty's "Centerfield," there are some Dr. John/Bennie Wallace gems (including a version of "Try A Little Tenderness"), and the pure joy and scene-to-song match of "I Got Loaded" from Los Lobos.
Listen: Los Lobos, "I Got Loaded"

Darren DeVivo
Shaft [Music from the Soundtrack] (1971)
In Gordon Parks' 1971 movie "Shaft," private detective John Shaft "is the cat that won't cop out when there's danger all about." Isaac Hayes's Grammy-winning soundtrack to Shaft's exploit is the perfect marriage of film and music (although the movie's music differs what Hayes eventually released as Shaft), capturing and enhancing the drama, suspense, danger and action. The film, written by Ernest Tidyman and John D.F. Black, starred Richard Roundtree and had the distinction of being one of the first "blaxploitation" films, capturing the culture, exposing the stereotypes, and documenting the racism of the early Seventies. The music, which was mostly instrumental, was performed by Hayes with the backing of the Bar-Kays and the Isaac Hayes Movement. Once he finished recording the music for the film, Hayes then rerecorded everything specifically for the album, strengthening the finished product so that it could stand alone, seperate from the film. The "Shaft" soundtrack became Hayes' most successful work and the bestselling album ever released by the Stax family of labels. (The album was on the Stax subsidiary label, Enterprise Records.) Of the soundtrack's three vocal tracks, "Theme From Shaft" became Hayes' signature anthem, propelled by guitarist Charles Pitts' legendary use of the wah-wah pedal and drummer Willie Hall's hi-hat ride cymbal rhythm. The single was a number one hit for Hayes on the Billboard chart in November 1971, won the Academy Award for Best Original Song, and was nominated for Best Original Score. "Can you dig it?"
Listen: Isaac Hayes, "Theme from Shaft"
Eric Gottlieb
Batman Forever [Music from the Motion Picture] (1995)
Before massive, behemoth franchises dictated our lives, there were popcorn movies. Blockbusters. Somehow, someway, someone decided we needed a third "Batman" film that is so campy-bad, it's almost good. Like a bad high school play with an unlimited budget, anything and everything seems tossed into this two-hour, over-the-top toy advertisement. And yet, music supervisor Leslie Reed sneaked through the back door with an "Intro to '90s Alt 101" via soundtrack, produced by Wu-Tang Clan's RZA. I would argue that this soundtrack is a benchmark of fantastic Nineties soundtracks. Seal's "Kiss From A Rose" is now a millennial slow jam. Nick Cave, Michael Hutchence, PJ Harvey, and Method Man all have songs attached. I didn't know about The Flaming Lips until Jim Carrey put on the Riddler outfit to the song "Bad Days." Sunny Day Real Estate, Mazzy Star, and Massive Attack with Tracey Thorn (doing a cover of a Smokey Robinson song by The Marvelettes, "The Hunter Gets Captured by the Game," no less.) You won't find these artists on the next Marvel film, this contrarian assures you.
Listen: U2, "Hold Me, Thrill Me, Kiss Me, Kill Me"
Paul Cavalconte
American Graffiti [Original Soundtrack] (1973)
For his second film, director George Lucas looked back a decade at the middle class, mid-century, teenage world of cars, dates, dreams and disappointments of his California upbringing. This effortlessly fluid film weaves parallel storylines that are laced together by a nearly continuous soundtrack of doo-wop, R&B, rock and roll, and pop, streaming like a beacon from a little radio station in town. Seeing it as a teenager caught me up on the decade I missed, laying the foundation for a lifelong love of this music. The shot framing Mel's Diner and The Crests' "16 Candles" is one of the iconic sequences in modern cinema.
Listen: The Crests, "16 Candles"
Rita Houston
West Side Story [Original Soundtrack Recording] (1961)
It seems like I've known this movie's music my whole life. And it's funny we were both born in 1961 (the Broadway musical debuted in 1957). The film, directed by Robert Wise and choreographer Jerome Robbins, is of course timeless and the music inextricably attached, but the stories are told through the songs. It's a love story, it's a New York story and I never tire of it. Be cool, real cool.
Listen: Leonard Bernstein and Stephen Sondheim's "Cool"
Russ Borris
Singles [Original Motion Picture Soundtrack] (1992)
The soundtrack to Cameron Crowe's essential '90s film about the lives of a group of Generation Xers from Seattle put the grunge scene in a whole new stratosphere. With contributions from hometown heroes Alice in Chains, Pearl Jam, and Soundgarden, coupled with the solo debut of Paul Westerberg, Smashing Pumpkins and a well-placed Jimi Hendrix favorite in "May This Be Love," the album would become hugely successful (largely even more so than the highly underrated film). A deluxe edition was released in 2017.
Listen: Pearl Jam's "State of Love and Trust"
Kara Manning
Begin Again [Music From and Inspired by the Original Motion Picture] (2014)
Director and screenwriter John Carney, who had already charmed audences with 2007's "Once" (which became a Tony-winning Broadway musical too), returned to that beguiling blueprint of a wistful, not-quite-romantic comedy, driven by music, with 2013's "Begin Again," which stars Mark Ruffalo and Keira Knightley. The very basic plot: two lost, rejected souls, a producer/A&R executive and a songwriter, find each other and decide to make New York City their outdoor studio to record an album. But what could be a predictable love story has some canny twists and turns, all nudged along by some beautiful, loose pop songs performed with live instruments. The songs are mostly written by Gregg Alexander with Danielle Brisebois (both formerly of New Radicals), and sung by Knightley, with a touching fragility, and by Maroon 5's Adam Levine too (who plays Knightley's rock star ex). "Begin Again," which began life in festivals titled "Can a Song Save Your Life," is as much a swooning love letter to New York City as it is to songwriters (and a producer's keen ear), and it has a lot to say about the commercialization of music and the pitfalls of fame. Alexander, Brisebois and co-writers Nick Lashley and Nick Southwood were nominated for an Academy Award for "Lost Stars." Although the sleek Levine version got the airplay, I'm more fond of Knightley's far more delicate, imperfect version, as well the scrappy "Like a Fool" and "Coming Up Roses."
Listen: Keira Knightley"Lost Stars"
Benham Jones
Magnolia [Music from the Motion Picture] (1999)
Paul Thomas Anderson's end-of-the-millenium forgiveness story may not be a traditional musical, but it's just as tightly yoked to its powerful soundtrack as, say, something like "West Side Story." The movie even tips its hat to more magical fare with a shared sing-a-long by a dozen lonely characters at the film's center. Although Aimee Mann gets title billing, the "Magnolia" soundtrack features the one-two punch of original songs by Mann ("Driving Sideways," "Deathly," and "You Do," eventually formed the core of her superb third studio release, 2000's Bachelor No. 2 or, the Last Remains of the Dodo, with "Save Me" added to Japanese and European editions). The original score and production duties were handled by Jon Brion, who started his soundtrack career two years prior with Anderson's "Boogie Nights." Throw in a few Supertramp classics, and you've got a soundtrack that cycles like an album and hangs together as a cohesive work of art, giving an identity to U.S. millennial blues, pre-9/11.
Listen: Aimee Mann, "Save Me"
Janet Bardini
Until the End of the World [Music from the Motion Picture Soundtrack] (1991)
Director Wim Wenders ("Wings of Desire," "Paris, Texas") knows how to make a film noir road movie with a killer soundtrack. His 1991 movie, "Until the End of the World" is a visionary fantasy of how people put their lives on hold as a nuclear satellite falls out of orbit and spirals towards earth. There are dreamy songs that flavor the film's ethereal undertones like Can's "Last Night Sleep," Depeche Mode's "Death's Door," and k.d. lang and Jane Siberry's "Calling All Angels." U2's "Until the End of the World," my choice for the film's best song, drives the pulse of the road movie theme: Larry Mullen Jr., and Adam Clayton's grooving rhythm section complements The Edge's bold guitar licks, while sexy vocals by Bono make you want to get in the car and drive 150 mph.
Listen: U2, "Until the End of the World."
Delphine Blue
Lost in Translation [Music from the Motion Picture Soundtrack] (2003)
When the soundtrack album for Sofia Coppola's 2003 film "Lost In Translation" was released, Spotify didn't exist. Whether or not that's good or bad, you will find an augmented tracklist on Spotify. The Spotify list contains songs that were chosen. but didn't make it into the film, including Patti Smith's cover of Prince's "When Doves Cry." The original album version already includes gems from Roxy Music, Air, The Jesus and Mary Chain, My Bloody Valentine, Death In Vegas, Phoenix, and five original songs for the score from MBV's Kevin Shields. (The music supervisor was Coppola's frequent collaborator, Brian Reitzell.) "Lost in Translation" stars Bill Murray and Scarlett Johansson and creates an accurate depiction of Tokyo, for those who have been there. The plot centers around the shared insomnia of the lead characters, and the resulting camaraderie it fosters. The movie was nominated for a 2004 Academy Award for Best Picture, Coppola was nominated for Best Director, and she won for Best Original Screenplay.
Listen: The Jesus and Mary Chain, "Just Like Honey"
John Platt
Midnight in the Garden of Good and Evil [Music From and Inspired By the Motion Picture] (1997)
This Clint Eastwood movie, starring Kevin Spacey, is based on John Berendt's non-fiction book about the murder trial of a colorful Savannah antiques dealer. As Spacey proved later in "House of Cards," he can exude Southern charm. The soundtrack, which Eastwood co-produced, appropriately draws exclusively on a Savannah-born songwriter, Johnny Mercer, and features some jazz giants, like Joshua Redman, Charlie Haden, and Brad Mehldau, backing an all-star lineup of singers, from Rosemary Clooney and Joe Williams to k.d. lang, Paula Cole, and Alison Krauss. Eastwood even gets a vocal himself ("Ac-cent-tchu-ate the Positive"), along with his daughter Alison and Spacey, proving his chops even before he channeled Bobby Darin. 
Listen: k.d. lang, "Skylark"
Listen
#FUVEssentials: Soundtracks and Scores (Spotify playlist compiled by FUV's DJs)