Recap: Holiday Cheer for FUV 2013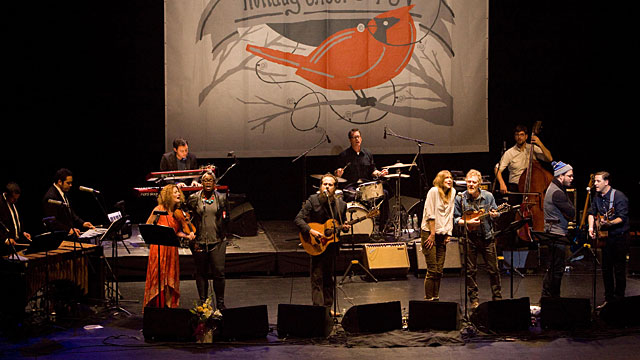 Photos on Flickr | Audio from the Vault
Spirited, soulful and totally sold out, 2013's Holiday Cheer for FUV benefit exceeded our wildest expectations. The enthusiastic camaraderie onstage made for an especially focused, familial celebration, inspired by past (and we'd guess future) collaborations between this diverse group of musician friends gathered at the Beacon Theatre on a frigid December evening. It was FUV's third year at this storied venue for the concert, on a night made even more festive courtesy of a brief snowfall earlier that day.
The boldly hirsute Sam Beam of Iron & Wine was the St. Nick-like ringleader for the three hour show with "house band" Calexico — an onstage reunion for Beam and Calexico who had collaborated together on the 2005 EP In The Reins. Calexico co-founder Joey Burns acted as bandleader, guiding every set from guests Nick Lowe, Glen Hansard, Kathleen Edwards, Amos Lee and Beth Orton.
Following a glowing introduction from FUV program director Rita Houston and morning show host Corny O'Connell, Beam, Calexico and Kathleen Edwards led the way and set the convivial — but sometimes bittersweet — tone for the night with a warm, brassy "Tree By The River" from Iron & Wine's 2011 release Kiss Each Other Clean. The group segued to Calexico's recently released "Maybe On A Monday," from their EP of the same name, and a robust "Splitter." Edwards, fiddle in hand, declared that it was "a dream to be onstage with everyone," and chose "Soft Place To Land" from her 2012 release Voyageur.
The band baton was passed off to the great Nick Lowe — a real St. Nick —  who strode onstage with an acoustic guitar, all lanky confidence and snow-white hair. Lowe's "Rome Wasn't Built in A Day" from 2007's At My Age was augmented by shimmering mariachi brass, including Calexico's Jacob Valenzuela on trumpet. Since Lowe just released his very first holiday album, Quality Street: A Season Selection for All the Family, two selections from that release  — his jaunty, funny orginal "Christmas at the Airport" and cool cover of Roy Wood's "I Wish It Could Be Christmas Everyday" — followed.
Dazzled by the musicians on stage and the sold-out crowd, Beth Orton shyly observed, "You are the most audience ever ... I am so nervous!" Her nerves didn't interfere at all with an assured, silky glide through "Call Me The Breeze," included on her recent, sixth album, Sugaring Season, as well as an original from that same record, the gorgeous "Mystery," a wrenching incantation bathed with muted horn.
Bringing the first half of Holiday Cheer home in an explosive way, Glen Hansard, accompanied by backing vocals from Edwards and Burns, prefaced a brand new song, "Lowly Deserter" by dedicating it to "those of you who have had someone in their lives f**k off." He also confessed his longtime love of WFUV, more faithful than a lover, recalling that when he first moved to New York, he purchased an old radio and found the station. Joined by Jazz Passengers' (and frequent Glen Hansard collaborator) Curtis Fowlkes on trombone and guest vocalist Moji Abioli (who Hansard first encountered at a Swell Season concert a handful of years ago), the Irish rocker, all hubris and heartbreak, blazed into another new song, the stormy "Her Mercy," bringing the audience to its feet. "The Gift," Hansard's contribution to the soundtrack of the 2012 film The Odd Life of Timothy Green, took the show to intermission and afternoon host Dennis Elsas' heartfelt thanks to everyone who had attended and organized the show, including support from the Agnes Varis Trust and Fairway Market.
The Alternate Side on FUV's Russ Borris and midday host Carmel Holt kicked off the second half of the evening, bringing back Beam and Calexico to the stage to play selections from In The Reins, their 2005 EP, including "He Lays in Reins," "16 Maybe Less," with Kathleen Edwards on fiddle, and "Prison on Route 41," accompanied by Amos Lee. Iron & Wine's somber "Sodom South Georgia" wasn't quite the "Jingle Bells" that Beam kept slyly promising to an insistant fan in a front row, but who said that Holiday Cheer needed to be, well, cheery?
Amos Lee, decked out in a cobalt blue knit 'Iron and Wine' hat, as if an homage to the Monkees' Michael Nesmith, joined forces on Calexico's "Fortune Teller" and his own "Violin" from 2011's Mission Bell (which also featured Iron & Wine and Calexico). Lee also performed an impromptu version of his plainly-named "Holiday Song," a contemporary Christmas carol first offered to fans via Facebook back in 2009 and rendered tonight via acoustic guitar and backing vocals from Joey Burns.
Beam brought back Nick Lowe to the stage — calling him "one of my heroes" — and joined Lowe, along with Orton, Edwards and Calexico, for a rousing saunter through one of Lowe's big hits, 1979's "Cruel To Be Kind."
One of the most rambunctious and uplifting highlights of Holiday Cheer was the invocation of Bruce Springsteen via Glen Hansard's cover of "Drive All Night" from The River, and also found on Hansard's new EP, Drive All Night. Antibalas' gifted Stuart Bogie on tenor sax embraced the spirit of the late, great Clarence Clemons for a brilliant solo  on the song. With an exhilarated crowd cheering them on, Calexico drove the night home with the joyful, cumbia-fueled "Güero Canelo" from their decade-old album, Feast of Wire.
That rowdy ebullience carried into "Fairytale of New York," the Pogues and Kirsty MacColl Christmas classic, given a jubilant jolt with Calexico's Latin-by-way-of-Ireland arrangements. Beam described the song as one that he envisioned Santa Claus writing to Mrs. Claus and he joined Hansard, Burns and Edwards in a spirited exchange of the song's stinging insults and heart-shattering regrets. Lee and Orton also rejoined the fold of friends and the entire group transformed the Beacon Theatre into rock 'n' roll's holiest room in New York with a tender cover of Leonard Cohen's "Hallelujah."
Not ready to leave the stage quite yet, Sam Beam returned, solo, for one more Iron & Wine song, the single "The Trapeze Swinger," before he and FUV evening host Darren DeVivo bid everyone goodnight, sending us home into the frosty night.
It was an extraordinary evening for WFUV and the entire staff is grateful to all of musicians who created a marvelous, warm and witty evening of love and friendship onstage last night at the Beacon Theatre. Check out all of the photos below from our busy Flickr stream and hear the whole thing in our online vault.
We so appreciate our listeners' support of our Holiday Cheer celebration ... and happy you joined us either at the concert itself or via FUV's blog, Facebook page, Twitter stream or Instagram updates.