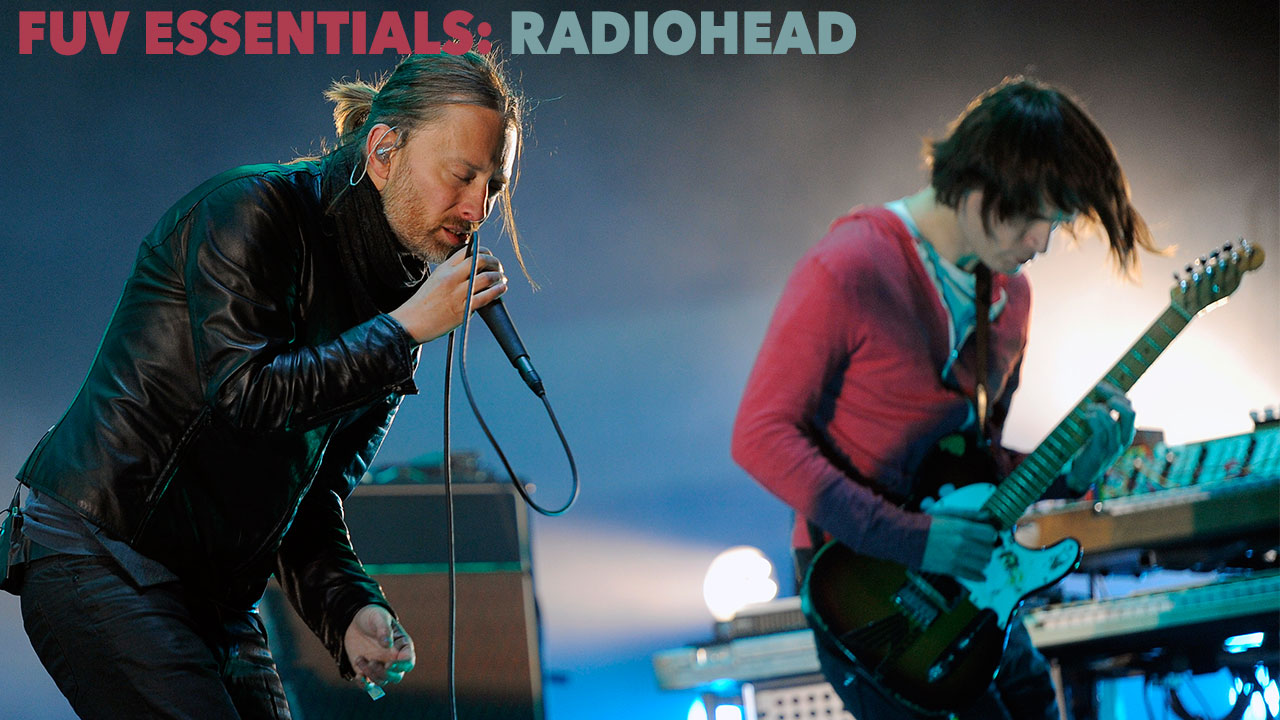 [July 2018 update: Radiohead's 2018 tour included a lengthy stop in the New York City, playing four nights at Madison Square Garden. They dug deep into their catalog, resurrecting songs like "Bloom" from The King of Limbs, their ill-fated James Bond theme, "Spectre" (which made its live debut in Chicago), or "Blow Out" from Pablo Honey, which they hadn't played live in a decade.
The first week of July also marked the surreal 25th anniversary of Radiohead's incredulous appearance at the "MTV Beach House" (notable for Thom Yorke's long, bleached blond locks). Jonny Greenwood has been quite busy too, scoring two films in 2017—  Lynne Ramsay's "You Were Never Really Here" and Paul Thomas Anderson's "The Phantom Thread," the latter which earned Greenwood his first Academy Award nomination for Best Original Score. One of Greenwood's side projects, Junun, a collaboration with Israeli composer Shye Ben Tzur and India's Rajasthan Express, opened for Radiohead throughout their 2018 summer tour. And drummer Phil Selway, who has his own solo career, released a film score for Polly Steel's "Let Me Go" in 2017.]
---
Days before the May 8, 2016 surprise release of Radiohead's ninth album, A Moon Shaped Pool, the band eradicated its online history. The band's Facebook and Twitter posts were erased, its website went blank, and any sign that the quintet existed on the internet was neatly muted and excised. Even Thom Yorke and Jonny Greenwood scrubbed their social media accounts clean. That slow, eerie dissolve into the ethers thrilled and mystified Radiohead's fans, as one of the world's most influential bands faded away from view.
It was a brilliant tactic; rather that ratchet up their presence on social media before an album release, Radiohead strategically "abandoned" it. They re-emerged in early May, via a new Instagram account, with a photo of an animated bird — a harbinger of their video for "Burn the Witch," the perceptive first single from A Moon Shaped Pool. That video, with its sly references to British children's programs of the '60s, Gordon Murray's "Trumptonshire Trilogy," and the '70s cult horror movie "The Wicker Man," hinted at the band's mindset on certain global issues: the American political landscape, Brexit (the video emerged before Britain's June 23 European Union referendum vote), the ongoing refugee crisis, the rise of far right nationalist groups, and the spectre of terrorism.
The album itself, despite its sinister flourishes—the shrieking, Bernard Hermann-like string arrangement in "Burn the Witch," the haunting chorus of "The Numbers," or Yorke's backmasked murmur concluding "Daydreaming" — might be one of Radiohead's most beautiful releases, a symphony of sorrow and wistful regret. More than any other band that's reached global superstar status, Radiohead has managed to balance bold artistry with a kind of anonymity, eschewing celebrity trappings, but deftly utilizing their huge popularity to bolster a message, both musical and political.
This Oxford band of five former Abingdon School kids, who got together in 1985, has never been — and will never be — predictable. When Radiohead's 1993 debut, Pablo Honey, emerged, it was an anomaly. While not quite Britain's answer to American grunge, it shared some of that genre's lyrical self-loathing and fury. Its nascent, muscular dissonance was built from multi-instrumentalists Yorke and Jonny Greenwood; guitarist Ed O'Brien; Jonny's brother Colin on bass; and drummer Phil Selway and his tricky time signatures. Yorke's anguished, drifting howl was certainly far removed from the chirpy, Union Jack-waving Britpop that would crest a year later via albums like Blur's cheeky Parklife or Oasis's swaggering Definitely Maybe.
Still, "Creep," Radiohead's self-flagellating 1992 debut single, bolstered by Jonny Greenwood's aggravated guitarwork, became a massive hit. Like Beck's "Loser," also recorded in 1992, the song's very popularity estranged it from its songwriters. Radiohead dropped "Creep" from their sets for years; not until 2016 has it made a comeback in their encores. Not many bands would have the guts to drop their first major hit from their shows, but Radiohead is no ordinary band.
Their second album, 1995's The Bends, nearly didn't happen since Radiohead came close to breaking up, a common refrain that has run through the quintet's 31-year career thus far (they nearly split during the making of Kid A and Amnesiac, and almost called it a day before recording In Rainbows too). But The Bends shaped the band's trajectory and voice; the cobblestones of extraordinary tracks like "High and Dry," "Street Spirit (Fade Out)," and "Fake Plastic Trees," a lacerating commentary on consumerism, laid the path to 1997's OK Computer, an art-rock masterpiece. They also worked again with audio engineer Nigel Godrich on The Bends (they had first met him on 1994's Iron Lung EP), a man who would become Radiohead's producer (and unofficial sixth member) on every album beginning with OK Computer. 
While Radiohead swung clear of the Britpop hype of the mid-'90s, they more readily absorbed the strides made by electronic bands of the decade: Massive Attack, Aphex Twin, Autreche and Underworld (who Radiohead thanked onstage at 2008's All Points West festival in New York, dedicating "Everything in Its Right Place" to them). Their other influences have been eclectic and often surprising: Yorke has long cited R.E.M.'s Michael Stipe as "my favorite lyricist") and has looked to Jeff Buckley, Miles Davis and Pixies as guides too. The always-tinkering Jonny Greenwood not only admires Pixies and New Order, but reggae and modern classical composers like Olivier Messiaen and Krystof Penderecki. Colin Greenwood has called himself "a complete fan of Fleetwood Mac," O'Brien has cited Johnny Marr as a "an amazing, brilliant rhythm [guitar] player," and Phil Selway points to the drumming of New Order's Stephen Morris. In turn, Radiohead has deeply influenced a far-ranging number of contemporary artists—James Blake, Sigur Rós, The xx, Flying Lotus, Tune-Yards' Merrill Garbus, and scores more.
The meteoric impact of OK Computer, now over 20 years old, vaulted Radiohead from a cool band to the only band for hordes of music fans who sought an alternate avenue from usual radio fare. Track by track, OK Computer is an intricate tapestry of eclectic forms, a spiritual reckoning and an internal maelstrom: the bleak, jittery opus "Paranoid Android," the sing-song dread of "Karma Police," and the fragile "No Surprises." All of Radiohead's subsequent albums have asked listeners to release expectations and embark on an uncertain journey, from the heady electronic rush of 2000's Kid A to the tangled sexual undercurrents of the magnificent In Rainbows. Even the two albums that don't receive the share of critical reverence and enthusiasm as Radiohead's other releases—2003's politically charged and sprawling Hail to the Thief, birthed in the midst of a chaotic, war-ravaged world, and 2011's cryptic brief The King of Limbs—are still tense, enthralling, and unconventional.
All of which lands us in 2016 and the gorgeous depths of A Moon Shaped Pool. After more than two decades, Radiohead has given its fans what might be its most lovestruck album, but one more saddled with regret, not uplifted by romance. But in a year that has felt unfathomably difficult, swollen with loss, sadness and doubt, A Moon Shaped Pool is a comforting companion, as if Yorke, the Greenwood brothers, O'Brien and Selway (and Godrich) intuited exactly what its fans desired. There might be a reason why it took over 20 years for "True Love Waits" to emerge on a studio album, just when its wistful refrain was neeeded most.
Radiohead might cherish its outlier status and relish more cerebral tangents, but it's also a band that intimately understands the hearts of so many of its admirers. It's also why Radiohead is one of our FUV Essentials.
More:
Sister Radiohead Fans Explain their Obsession
Tune-Yards' Merrill Garbus: Five Essential Radiohead Songs
 
Listen
#FUVEssentials: Radiohead (Spotify playlist compiled by FUV's Kara Manning)