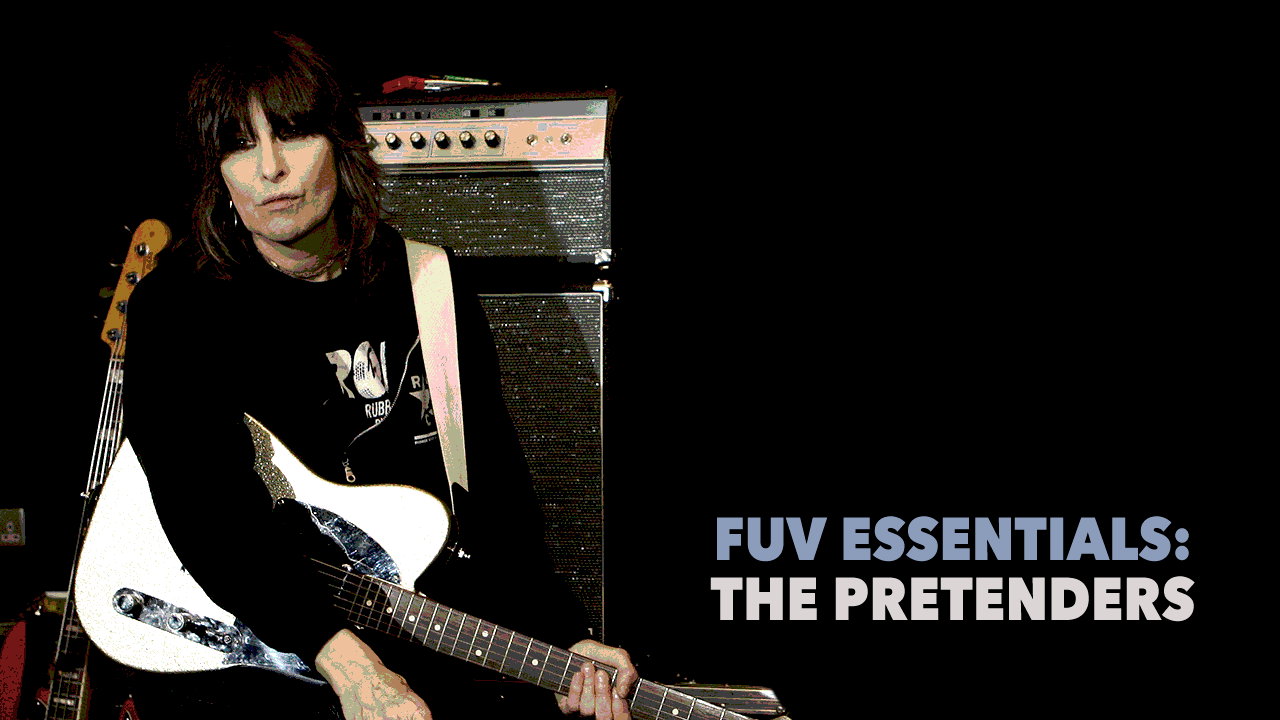 On the first day that MTV launched, back on August 1, 1981, the seventh video played on the nascent channel was the Pretenders' "Brass in Pocket." In that clip, Chrissie Hynde, all beehive hairdo and smudged charcoal eyeliner, miraculously transforms the prim uniform of a London waitress into a punk accessory. More significantly,  even in her odd waitress guise, she demands the viewer's full attention and respect. Flirting, preening, and serving black coffee to her rambunctious bandmates — boyish lead guitarist James Honeyman-Scott, tough guy drummer Martin Chambers, and darkly inscrutable bassist Pete Farndon — Hynde was a dynamic rock 'n' roll presence. Her supple alto was served up as a slap, a plea, and a caress.
It was a hell of a video, bettered by the pretty, shimmering snarl of another Pretenders clip for "Talk of the Town," which appeared later in the day. In that, the cool quartet of leather jackets and attitude came to even clearer focus, led by Hynde who wielded her rhythm guitar like an épée, her cryptic lyrics unfurled with a sweetly dangerous drawl. Between Chrissie, Pat Benatar, Debbie Harry, and Fleetwood Mac's Stevie Nicks and Christine McVie, MTV spent its first 24 hours celebrating some astonishing women in rock.
As "Brass in Pocket" declared, Hynde, Honeyman-Scott, Chambers and Farndon were "special." This arresting British-American band, with its Akron-born, music journalist frontwoman, songwriter, and rhythm guitarist, brought a feral post-punk sensuality and savagery to pop radio. The quartet's self-titled 1979 debut was blunt, beautiful and wildly unpredictable: the songs veered from the furious menace of "Precious" and "Tattooed Love Boys" to wistful lullabies like the plaintive "Kid."
By the time the Pretenders released Pretenders II in the summer of 1981, dovetailing with the debut of MTV, they were swiftly becoming superstars: they cleverly rode on the wave of a new music video format (the social media of its time) and earned their rightful place with dazzling songwriting and musicianship. Few lead guitarists were as gifted and promising as Hereford's Honeyman-Scott, who Hynde credits with finding the chiming, melodic grace within her stormy songs. But within a year, Honeyman-Scott was dead at the age of 25 of drug-induced heart failure, and by the spring of 1983, Farndon, who had been sacked by the band for his bad heroin habit prior to Honeyman-Scott's death, tragically passed away too.
Shellshocked, Hynde and Chambers could have buried the Pretenders with their former bandmates and called it a day. But the pair continued, releasing what would become a big hit single, "Back on the Chain Gang," with Rockpile's Billy Bremner and Big Country's Tony Butler stepping in for Honeyman-Scott and Farndon, and eventually released a third album, 1984's Learning to Crawl, with guitarist Robbie McIntosh and bassist Malcolm Foster. A band squabble led Chambers and Foster to depart by 1985 and although both musicians would drift back into the Pretenders over the ensuing years, the band has been steered by Hynde, augmented by a series of impressive session and touring musicians, passing in and out of its lineup, like Johnny Marr, Carlos Alomar, and Bernie Worrell.
While later Pretenders releases never really matched the lofty commercial heights of the band's Eighties heyday, the '90s and '00s found the band exploring rockabilly (Break Up the Concrete) or tender live acoustic performances (The Isle of View). Hynde's talent, vision and survivor's self-determination served as a catalyst for other women who staked their place at the front of a band, from Garbarge's Shirley Manson to Hole's Courtney Love to KT Tunstall.
Following 2008's Break Up The Concrete, Hynde released Stockholm under her own name in 2014. She also published an autobiography, Reckless: My Life as a Pretender, in 2015, stirring up some controversy. Hynde, without Chambers (who dips in and out of the band), released Alone as the Pretenders in 2016, collaborating with producer and fellow Akron native Dan Auerbach, who also played as part of her backing band with a phalanx of studio musicians, recording at his Easy Eye Sound studios in Nashville.
Originally intended as a solo album, Alone, Auerbach and Hynde didn't steer away from the Pretenders' sound, but punctuated it with a bluesy, rootsy Fifties-era vibe on tracks like "Gotta Wait" and "Never Be Together." That deep dive into the past led to Hynde's 2019 release, Valve Bone Woe, an albums of jazz-influenced covers plucked from standards by John Coltrane, Hoagy Carmichael, Charles Mingus, and the Beach Boys' Brian Wilson. As she told NPR's World Cafe, the project wasn't a recent decision for Hynde, but a desire that stretched over decades. It reunited her with producer Marius de Vries with whom she'd worked with on the 1999 soundtrack for "Eye of the Beholder," elegantly covering Charles Trenet's 1942 song "I Wish You Love," which appears again on Valve Bone Woe, in its original French, as "Que Reste-t-il de Nos Amours."
In 2020, 41 years after an Ohio ex-pat and three Hereford musicians released their first single back in 1979, a cover of the Kinks' "Stop Your Sobbing," the power of the Pretenders' legacy and Hynde's razor-sharp songs remains as essential as ever. Their debut album turns 40 in 2020, though it's arguably one of the most timeless releases of the Eighties.
Although it might be hard to top Hynde's 2016-17 "24 Karat Gold Tour" with her pal Stevie Nicks, this year Hynde and this decade's iteration of the Pretenders — Chambers (back for live performances), James Walbourne (The Rails), Nick Wilkinson (Mother's Little Helper), and Carwyn Ellis — will tour with Journey throughout North America in the spring and summer.
KT Tunstall's Five Essential Pretenders Songs
Corny O'Connell on the Pretenders
Listen
#FUVEssentials: The Pretenders (Spotify playlist compiled by FUV's Eric Holland)