Pom Pom Squad's Mia Berrin: Q&A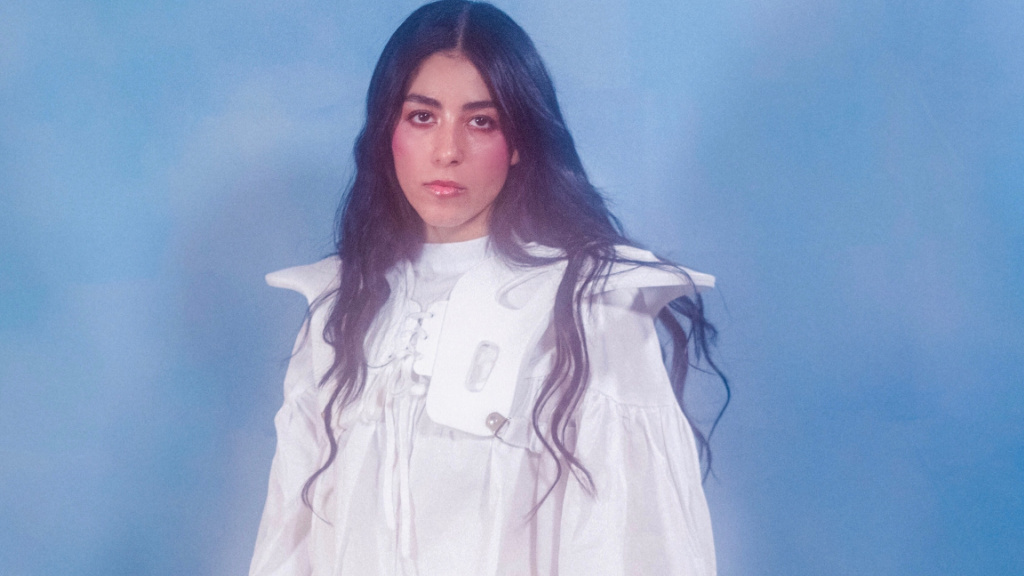 May is Mental Health Awareness Month and WFUV has asked Pom Pom Squad's Mia Berrin, Ruston Kelly, and Bully's Alicia Bognanno to share their stories of perseverance over personal struggles. If you or someone you love is struggling, you can reach out to SAMHSA's hotline, NYC Well, the National Alliance on Mental Illness (NAMI) hotline, or the Sound Mind organization, focused on ending the stigma that surrounds mental health through the power of music.
On Saturday, May 20, the Sound Mind Music Festival for Mental Health moves from last year's Central Park locale to Brooklyn's House of Yes for an all-day concert with a very impressive lineup: Iron and Wine, Hiss Golden Messenger, Langhorne Slim, Kamauu, and Pom Pom Squad. The event, which also features wellness seminars, Smorgasburg-catered food, and panels on mental health affecting communities of color and the LGBTQ+ community, is free but registration is required.
New York singer and songwriter Mia Berrin, who is the empathetic heart of the punk-pop tempest known as Pom Pom Squad, made her album debut in 2021 with Death of a Cheerleader, a scorching declaration of her own passage as a queer, multiracial woman. That pandemic-era release, buoyed by dazzlers like "Lux," "Red with Love," and "Head Cheerleader," delivered on what was evident in Berrin's earlier EPs, Hate It Here (2018) and Ow (2019) — lyrics that didn't skimp on savage humor and feminist ferocity, as well as poignant and pointed commentary on this still-patriarchal society.
Ahead of Berrin's set at the Sound Mind Live Music Festival this week, FUV caught up with her over email to ask about the import of the organization's mission, as well as her own journey of mental health awareness and the salve of songwriting.
You've said that one of the major reasons you're doing the Sound Mind Live Festival is that "the news lately has been very bleak in terms of how our society at large 'handles' people in vulnerable stages of their mental health." Can you expound on that?
When I said that I was referring to something that happened recently in New York in which an unhoused Black man named Jordan Neely was choked to death by a subway passenger for behaving in a way that the passenger deemed too aggressive. 
Jordan Neely had a history of mental illness and substance abuse and according to his family "fell through the cracks" of the mental healthcare system. He was obviously in a vulnerable situation and it's devastating to see the very real repercussions of stigma against those suffering with mental illness. Specifically people of color. No human being deserves to be murdered in the violent and unnecessary way that he was. I hope in my very small way I can help to destigmatize something that so many people suffer with.
There are many musicians, like you, who have been very outspoken about the import of their own mental health and destigmatizing those struggles. How is the need for wellness altering how musicians are looking out for each other within their community and on the road?
I think that varies from musician to musician. I feel lucky in my personal space to be surrounded by people who have similar lived experiences to my own. It creates a mutual respect, understanding, and amount of grace that I may not be able to expect from people who don't suffer from mental illness.
As a songwriter, how cathartic is the ability to work through a dark time through music? Is there a Pom Pom Squad song that comes to mind that was helpful when working through a particularly difficult time and why?
Songwriting helps me process events in my life in a more thoughtful way. A song called "Heavy Heavy" I wrote about five years ago, for an EP called Ow, comes to mind. It was a "crime of passion" so to speak in that it came out very quickly and it was written from an impassioned place. At that time I was learning how to work through my emotions and how to express myself in my own words and I think it helped me accomplish that.
Back in November, while Pom Pom Squad was touring in Italy, you suffered a terrible loss when your van was broken into and your gear and belongings were stolen. How have you been able to resurrect much of that lost equipment and get through the stress and sorrow of that time?
It was very difficult and something that I haven't completely gotten over honestly. Overall, I think I felt violated. On top of that, we had another tour starting two days later and none of us could afford to replace the amount of equipment that had been stolen, so we started a GoFundMe that ended up being met with overwhelming support. We exceeded our $40,000 goal in less than 24 hours. That was heartening. It certainly restored my faith in humanity quite a bit.
You've spoken of new music ahead – will you be debuting anything at the Sound Mind Music Festival? Where are you in your writing process?
I'm not ready to share just yet, but I've written a fair amount of music at this point. I have a strong sense of where the project is headed—now I just have to start putting those pieces together. I'm hoping to be able to share more soon.
What gives you joy, no matter how small?
I have a sort of a mantra I've been trying to live by which is "better to be bored than kill time." Mostly what that means to me is looking up and being more present in my life. For the past few months I've been feeling like the days are passing very quickly and I realize that's because I kill a lot of time. As I've gotten older, I've started to view time as my most valuable commodity. I want to savor it and live every moment of my life while I have it. I get a lot of joy out of just looking around.
And how would you describe a perfect day?
I think a perfect day would involve going somewhere beautiful, wearing something that makes me look like the person I feel like on the inside, spending quality time with people I love, watching bad TV, and maybe going shopping.
What do you admire most about Sound Mind and their mission? What does it mean for you to be asked to be part of this festival?
I appreciate anything or anyone whose goal is to make life a little better for any other person. I'm grateful for any way I can aid in that mission.
- Mia Berrin of Pom Pom Squad
May 2023