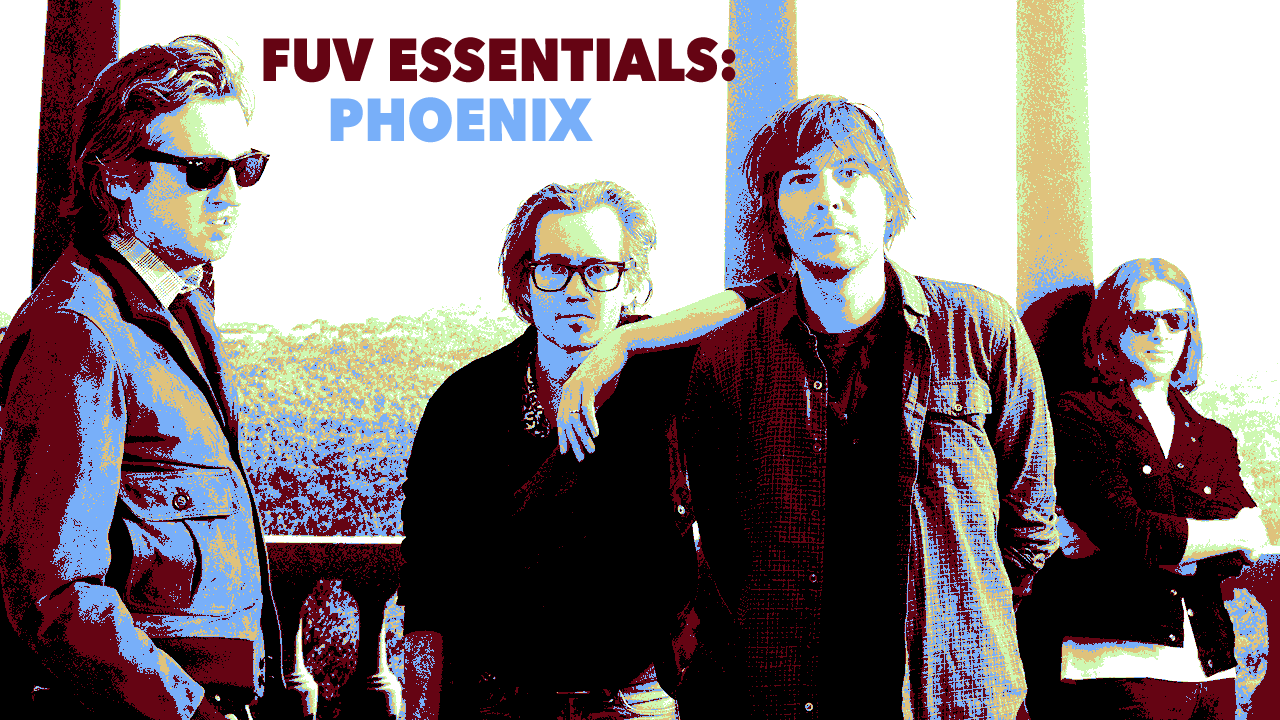 Conjuring exhilarating pop for over twenty years, Phoenix is an outlier: an idiosyncratic, loquacious French quartet that's managed to ascend to Stateside — and international — stardom. While their earliest, most ardent admirers still cherish the band as a sublime indie-pop secret, that secret has long been unleashed worldwide: Phoenix is now a major headlining draw at festivals and arenas.
Phoenix's singles percolate with sparkling arpeggios, off-kilter choruses, and frontman Thomas Mars's busy, abstruse musings on broken love ("Consolation Prizes"), fame and fandom ("Lisztomania"), and even gelato-sweetened self-doubt ("Fior Di Latte"). But there's always been a wistful cast tempering Phoenix's ebullience, distinguishing their songs as far more than pretty, upbeat synth-pop or alt-rock. Their breeziest-sounding singles are often furtive laments, like the depressive's verbose confessional "If I Ever Feel Better," the cantering unease of "Too Young," or the jittery "Everything Is Everything."  Mars's briskly-delivered bleak tidings sometimes contradict the champagne fizz of the quartet's melodies, but never dampen them. It's a beguiling juxtaposition.
Only a few of the Versailles-bred quartet's Gallic brethren could boast a similar kind of international impact over the last quarter century, like their compadres of Air or Daft Punk (Phoenix guitarist Laurent Brancowitz's first bandmates in Darlin'), Justice, and most recently, fast-rising newcomers Christine and the Queens. But Phoenix follow a different path. They're not strictly a dance or electronic band (although their most recent album, 2017's Ti Amo, is a reverential homage to decadent Italian disco and languid Roman summers). The longtime friends — Mars, bassist/keyboardist Deck d'Arcy, and guitarist Christian Mazzalai met as schoolmates, with Brancowitz joining the group later —  rejected the usual trope of French pop, specifically the louche croons of Serge Gainsbourg. Instead, they landed on a nascent sound that was more related to the chiming, dreamy C86 guitar rock that defined a swath of British music of the mid-'80s, via bands like the Pastels and Aztec Camera. 
"Gainsbourg was the master and everybody's struggled since," Mars (né Thomas Pablo Croquet) told The Guardian in 2013. "That comforted us, as a band, that writing in English was right for us, even though when we took our first meetings with record labels, they wanted us to sing in French."
Mars, Brancowitz, d'Arcy, and Mazzalai are avid experimentalists and masterful musicians; they never stopped improvising or shifting gears throughout their first three albums — 2000's United, 2003's Alphabetical and 2006's It's Never Been Like That. They indulged in gleeful splashes of pedal steel ("Summer Days'), Pablo Cruise-reminiscent yacht rock ("Holdin' On Together"), winsome punk about tiny tyrants ("Napoleon Says"), and racing motorik-style rhythms ("Sometimes in the Fall").
The band's first single, "Too Young," even appeared prominently in two movies — the 2001 Gwyneth Paltrow vehicle "Shallow Hal" and most notably (and romantically) 2003's jet-lagged "Lost in Translation," written and directed by Sofia Coppola, who would later marry Mars. The couple — and Phoenix — have since collaborated on many films together, including "Marie Antoinette" (in which the band has a brief cameo role too), "Somewhere," and most recently, "Beguiled."
But the delectable hooks, delicious irreverence, and cloudbursts of buoyant synths on Phoenix's inspired fourth full-length release, 2009's Wolfgang Amadeus Phoenix, rightfully broke the band into a more mainstream stratosphere of indie pop and rock. The album was a revelation; a reward for their painstaking perfectionism and their trust in their co-producer and sounding board Phillipe Zdar (who claims, in a fascinating documentary about the making of the album, that he really first dropped by the studio just to get a suitcase).
Track by track, like a thousand-piece puzzle carefully put together, every element worked, from the playful soufflé of "1901" to the loping falsetto drift of "Fences" ("we chose instruments like animals breathing in their burrows," a band member cheerfully explains). Wolfgang Amadeus Phoenix altered their career entirely, vaulting them to Glastonbury and Coachella, a Grammy award for Best Alternative Music Album, a Saturday Night Live slot, sold-out arenas and, so elusive for a French band, significant American success.
Phoenix's subsequent albums, 2013's Bankrupt! and 2017's Ti Amo, expand on that precision, rigor, and unflappable cool, but still follow their template of improvisation and innumerable inspirations. As Mars told The New York Times and Rolling Stone last year, Ti Amo might have been propelled forward by a world in disarray, but rather than direct commentary, the four friends opted for a defiant embrace of life via the allure of quirky Italian disco instead. 
"We've always found a charm in those distorted visions," Mars explained to Rolling Stone. "We didn't want to re-create an accurate version of Italy, the same way that we're French and sing in English. Sometimes when we play in France, French people think we want to copy American music. But the point is to keep those mistakes and those misunderstandings, so it creates its own thing, its own language."
As Phoenix continues a 2018 tour supporting Ti Amo and also settling in for days-long residencies at more intimate clubs — in Paris (La Gaîté Lyrique), New York (Brooklyn Steel), and Los Angeles (Fonda Theatre) — they are plotting a seventh album. Mars revealed to Billboard that while in Brazil this past winter, they spent a week in a recording studio and they plan to continue recording, here and there, while on the road.
While international politics are riven by discord these days, global artists are more unified than ever — and Phoenix is a beloved and much-needed ambassador of French joie de vivre in the States. The quartet's life-affirming music makes the weary, anxious, and heartsick smile — now more than ever. For their endless élan, inventiveness, and indefatigable spirit, Phoenix is one of our FUV Essentials.
More:
Phoenix: FUV Live 2017
Phoenix: Words and Music 2013
Phoenix: TAS In Session 2013
Phoenix: Words and Music 2009
Phoenix: Words and Music 2006
Phoenix: Words and Music 2005
Listen
#FUVEssentials: Phoenix (Spotify playlist compiled by FUV's Rita Houston)