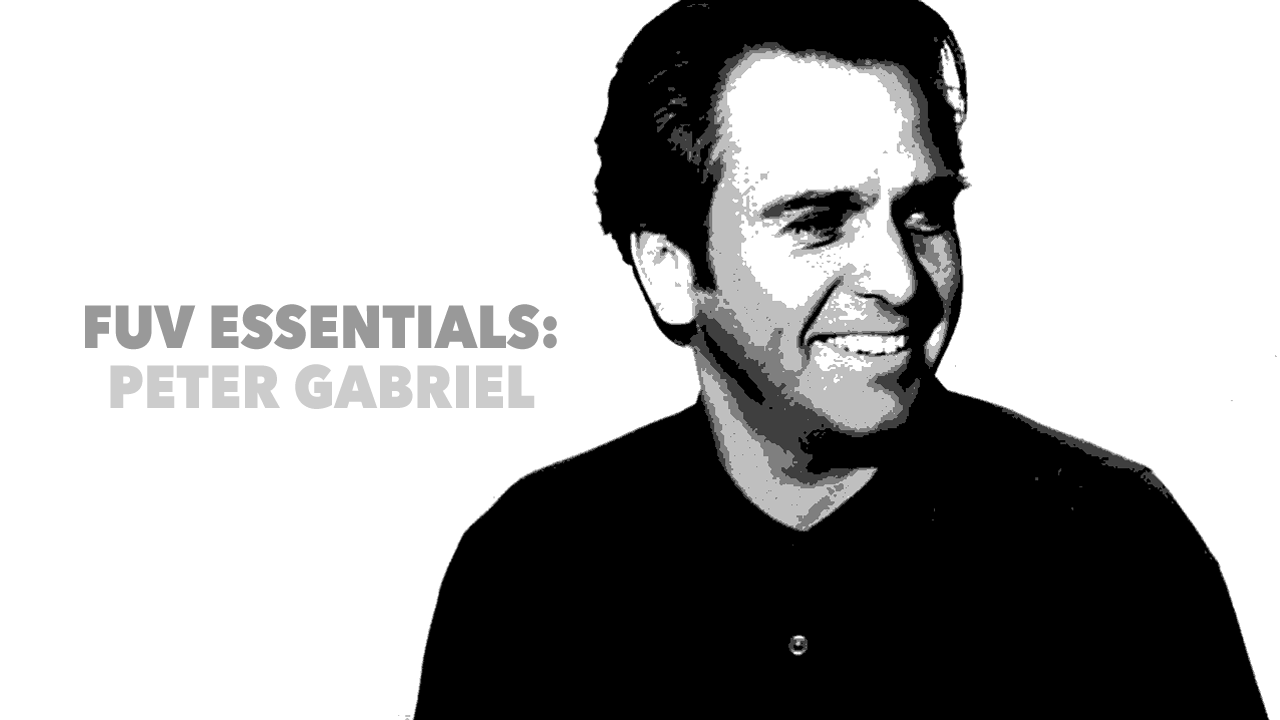 Over five decades have passed since Peter Gabriel, as the frontman of Genesis, first bounded onstage wearing a plush fox head and a chysanthemum crown. An adept storyteller with a theatrical flourish, Gabriel always pushed the artistic boundaries of the band he cofounded in 1967 with his schoolmates, spinning cryptic tales via epic songs ("Supper's Ready") and concept albums, like The Lamb Lies Down on Broadway.
This dramatic young Englishman, who once upon a time imitated a cosmic lawnmower (really) while keening "I Know What I Like (In Your Wardrobe)," followed his muse, no matter how eccentric his ideas appeared to be in the very beginning. He became one of rock's most iconic and influential figures, as well as a groundbreaking human rights activist and a cultural ambassador for world music. As he celebrates his 70th birthday on February 13, 2020, he remains an inspiring activist for diversity, inclusion, and global unity.
Gabriel released seven albums with Genesis and departed the band in 1975. His solo career boldly expanded on his experimentalism. His series of four eponymous albums (known Stateside as Car, Scratch, Melt and Security) nudged at the theatrical perimeters of pop music and inched towards performance art, akin to fellow adventurers David Bowie, Laurie Anderson, Kate Bush, and Talking Heads. Gabriel's visionary approach covered far more than onstage performance: he used early computer samplers, like the Fairlight CMI, and explored the creative possibilities of video, with a fledgling MTV as an unlikely platform.
It's been over 30 years since Gabriel's playful stop-motion and claymation clip for "Sledgehammer," directed by Stephen R. Johnson, first shouted from television screens. The album that spawned that single, 1986's So, also became Gabriel's mainstream breakthrough and biggest commercial hit nearly twenty years after the start of Genesis.
Gabriel was 36 at the time of So's supernova status: a reminder that fresh beginnings in pop music can easily launch at the cusp of middle age. Another track from that album, "In Your Eyes," which also featured Youssou N'Dour, ascended as its own mighty force, finding cinematic immortality in the guise of a lovelorn John Cusack bearing a boombox in Cameron Crowe's "Say Anything ..."
Gabriel's power lies in the cathartic grace of his wistful vocals, confessional lyrics, stirring arrangements, and an intuitive use of international musicians (in addition to longtime bandmates like bassist Tony Levin, guitarist David Rhodes and drummers Manu Katche, Ged Lynch and Jerry Marotta). A couplet of deeply personal albums followed the stratospheric success of So—with a stretch of a decade in between both releases—1992's Us and 2002's Up. In this decade, Gabriel has explored collaborations of cover songs between fellow artists, via Scratch My Back and I'll Scratch Yours.
As he recorded as a solo artist, Gabriel concurrently focused on championing a more global scope of music. Spiralling from the intitial impact of his anti-apartheid anthem "Biko," about the slain South African activist Stephen Biko, Gabriel cofounded  WOMAD (World of Music, Arts and Dance) in 1980 and launched the first WOMAD festival in 1982 with a lineup that included Gabriel, Drummers of Burundi, Imrat Khan and Echo and the Bunnymen. In 2020, the festival expands to Morelia, Mexico in late March while the British festival takes place in Charlton Park, England in late July.
Gabriel's internationally-minded record label, Real World, celebrated its 30th anniversary in 2019 and its Wiltshire studios, nestled in an old water mill, has been the recording home of artists like Elbow, Robert Plant, Laura Marling, Brian Eno, Jay-Z and Beyoncé.
Hand in hand with the growth of Real World and WOMAD was Gabriel's intense commitment to humanitarian and political activism, perhaps his greatest legacy along with his music. Recruited by Bono for the Amnesty International Conspiracy of Hope tour in 1986 with U2 and the Police, Gabriel also participated in the Human Rights Now! tour in 1988 with U2, N'Dour, Bruce Springsteen, Sting, and Tracy Chapman. His continued work for Amnesty International earned Gabriel the 2008 Ambassador of Conscience award, an honor also awarded over the years to the late Nelson Mandela, women's rights activist Malala Yousafzai and civil rights icon Harry Belafonte.
In 1992, Gabriel founded the non-profit organization Witness, a group committed to documenting human rights violations and crisis situations worldwide. Working with Richard Branson, and with the blessing and help of the late Nelson Mandela, Gabriel also helped establish the peace and human rights organization The Elders in 2007, a global village of ideas led by an independent panel of international leaders.
In 2019, a new digital-only compilation called Flotsam and Jetsam, described as an alternate journey through Gabriel's catalogue from 1976-2016 of B-sides, remixes and rarities, was released. The collection unearthed a live version of "Solsbury Hill," recorded at New York's The Bottom Line in October 1978.
Real World recently partnered with NTS Radio for their Work in Progress Artist Development Program, supporting seven solo artists and one band in 2020 via studio time, mentoring, performance opportunities, and audio equipment to further their careers.
From Genesis to his solo career, Gabriel has traveled a compelling road for a musician, one that is driven by an ambition far beyond songwriting and personal gratification. His advocacy for a kinder, fairer, safer, and more peaceful world might be his most significant legacy.
As an artist, activist, and beacon of benevolence, Peter Gabriel is absolutely one of our FUV Essentials.
More on Peter Gabriel:
Joseph Arthur's Five Essential Peter Gabriel Songs
FUV Essentials: Darren DeVivo on Peter Gabriel
Listen
#FUVEssentials: Peter Gabriel (Spotify playlist compiled by FUV's Corny O'Connell)