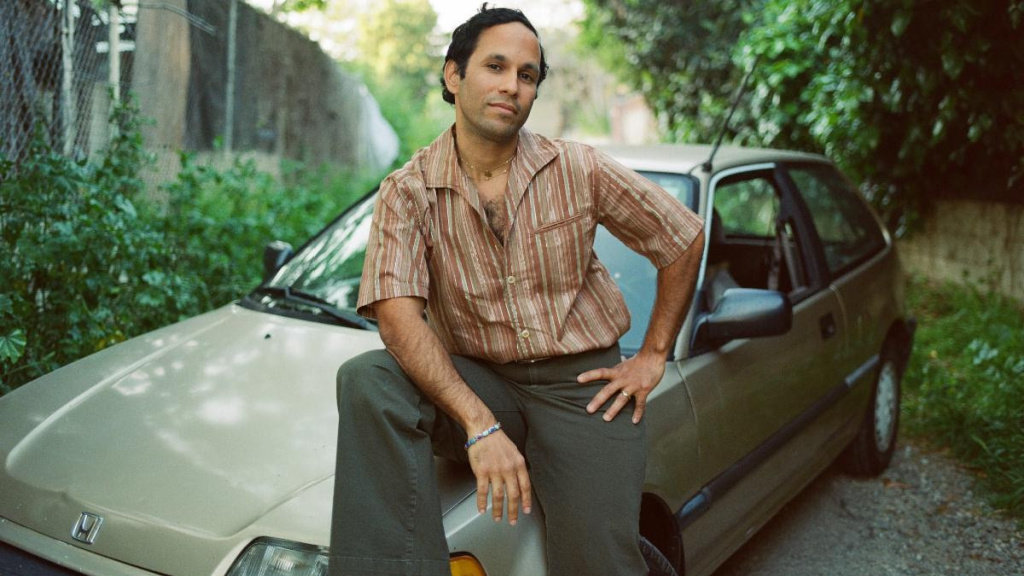 Throughout National Hispanic Heritage Month, September 15-October 15, FUV focuses on Hispanic/Latine musicians we admire via a series of Q&As, from Pachyman, Kiltro's Chris Bowers Castillo, and more.
Summer will be officially over by the time Pachyman releases his new album, Switched-On, on September 29, but the album's warm grooves — and romantic embrace of reggae's "lover's rock" genre — make for a gorgeous album splashed with sea spray and sunshine.
Pachyman, real name Pachy Garcia, is based in Los Angeles these days, but he was born and raised in Puerto Rico. He infuses this mostly-instrumental fourth album with a sweet, sultry nostalgia for his Caribbean youth. A canny, walking encyclopedia of musical subgenres, Garcia is adventurous in how he distills those influences that he discovered in Puerto Rico, whether it's Scientist and King Tubby dub, angular British punk or cryptic Scottish electronica. As on his last album, 2021's The Return of Pachyman, Garcia's songs are not only irresistible invitations to dance, but infused with a bittersweet longing and soulful beauty.
Ahead of Switched-On's release, and Garcia's autumn tour (including New York's The Sultan Room on September 26), FUV chatted with Garcia over email about the album and the fantastic palette of influences that makes it way onto this record:
For your new album, Switched-On, you were drawn to the "lovers' rock" era of reggae, led by artists like Carroll Thompson and Brown Sugar. What appealed to you about this genre — which eventually crossed into the mainstream, influencing British artists like Sade and The Police?
I think what appealed to me was its influence of disco, boogie, R&B, soul and jazz and how well it mixed together with the Caribbean rhythms. Harmonically and melodically, it would explore other worlds. A perfect blend of smoothness in the music but still maintaining its raw foundation.
What would your ultimate "lovers rock" anthem be on your new album ... and of all time?
On my new album I would say that the lovers-rock jam I'm most proud of there would be either "You Looked at Me" or "Goldline." All time lovers-rock tune is a hard one. I couldn't possibly choose one but for the sake of this article I think "For the Love of You" by John Holt captures the essence of it so simply and perfectly.
There has always been an alliance between dub and reggae and punk/post-punk and of course, dub is an electronic form. You began as a punk musician, growing up in Puerto Rico, but when did you begin to deeply explore the vistas that dub and reggae offered you?
I'd say as early as middle school when I was introduced to dub reggae. I believe around that time I also discovered Bad Brains and seeing them play punk and dub on the same record was an "Oh DUH" moment that never really left. It seemed so obvious, but then the more I learned about the history, the more I understood the backgrounds of both genres and how it was cut from the same cloth. A friend in L.A. was the first one to tell me about The Slits and that's when I felt like I heard the holy grail of both genres mixed together. I still think nothing can top Cut.
Your single "Trago Coqueto," on which you sing, is very much your affectionate ode to the Caribbean and growing up in Puerto Rico. It also describes a cocktail of mezcal, ginger, and lemon. What is the deeper meaning of the lyrics (and cocktail) for you?
There wasn't really a deeper meaning to the lyrics other than an ode of wanting to go back home. It all was a stream-of-consciousness exercise in writing that kinda wrote itself. I guess if I really think about it, the theme about leaving my home and still feeling like someone that doesn't belong in the mainland U.S.A. is a theme that has rolled with me since the day I left and will probably never stop.
So much of Switched-On evokes a dreamy, breezy nostalgia — "Mi Sala," "Organ Roller," the title track. In addition to lovers rock, Jamaica's Studio One and artists like King Tubby and Scientist, you were also inspired by Boards of Canada. You can definitely hear where their debut, Music Has the Right to Children, impacted you on this album — what draws you to their music?
To me, BoC makes music that doesn't sound like anything else. I think it's because of their harmonic and melodic sensibilities, mixed with their ongoing use of ultra-processed tape samples, makes their music instantly nostalgia inducing in a way that can be eerie at times. They know how to create different worlds in their music and they're very aware of that. Also, the sounds they shape with their synthesizers spoke to me more than any other band or artist at the time I discovered them and that sound aesthetic has lived within me ever since.
The Korg Poly 800 synth plays a large role on Switched-On. Can you explain its resonance in the Puerto Rican music scene of the '90s that you're referencing?
I don't think the Korg Poly 800 has anything to do with Puerto Rican music at all; at least not to my knowledge. I will say that Puerto Rican reggae bands in the '90s definitely used synthesizers way more than our Jamaican predecessors, but even that can be a subject for debate. I will say that synths and drum machines in Jamaica shaped music entirely in the late '80s and early '90s and that completely changed the way "urban" music was being made in Puerto Rico.
National Hispanic Heritage Month begins on September 15 — is there a particular Hispanic/Latine musician or writer that has influenced you whom you don't believe has gotten the accolades that they deserve and why?
Mima. She's been a bastion of creativity, writing, music, theater and arts for over 20 years in Puerto Rico and still going strong. She's a known entity all over the island and in different parts of the world, but I believe today's music industry is hyper-focusing on other styles of urban pop music that are coming out of the island.