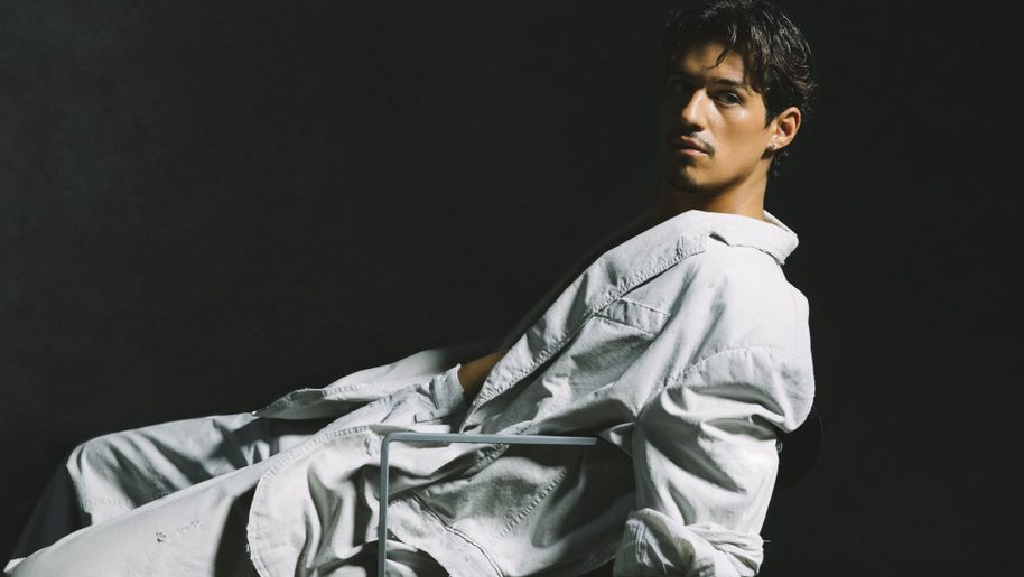 Throughout National Hispanic Heritage Month, September 15-October 15, FUV focuses on Hispanic/Latine musicians we admire via a series of Q&As, including Pachyman, Kiltro's Chris Bowers Castillo, Black Pumas' Adrian Quesada, and Omar Apollo (below):
October is a very big month for Omar Apollo. His new EP, Live For Me, is released on Friday, October 6, and the musician plays New York's Madison Square Garden on October 17, supporting Daniel Caesar on his "Superpowers Tour."
The new EP follows Apollo's platinum-selling 2022 debut album Ivory, which vaulted him into the stratosphere: a Grammy nomination for Best New Artist, a tour with SZA, and his own sold-out, 26-date headlining jaunt. His languid, Motown-reaching soul ballad "Evergreen (You Didn't Deserve Me At All)," touched a chord, spiraling into a streaming sensation (250 million streams on Spotify alone).
In a new Q&A for FUV, Apollo discusses his pride for Ivory, the first version of which he famously scrapped. He also reflects on his parents' migration from Mexico and what it means to be a newcomer to America, and how he countered bigotry when growing up in Indiana.
Apollo is proudly gay, but his latest single "Ice Slippin'" explores a painful passage for some LGBTQ+ individuals, including the singer himself: facing rejection from family upon coming out. He offers some gentle insight for anyone who might face similar heartbreak:
Omar, you've just released "Ice Slippin'" from your new EP, Live For Me. It's a painfully personal song, one that speaks to other queer individuals who experienced what you did, when you came out to your family. What would you say to any young LGBTQIA person who might face a similar kind of rejection or absence of acceptance?
My experience coming out was not a glamorous one. Everybody's family dynamic is different and complex. I can only speak on my individual experience, but I would say to remember the love might feel conditional at times and to know that you were made perfectly. If somebody can't process what you are, that's work that needs to be done on them and isn't for you to carry.
The process of Ivory included you scrapping the album and beginning again. How was writing and recording Live For Me different or similar?
The process of Ivory taught me a lot about myself, collaborating, and how I like to finish things. I definitely am not as attached to demos or finished songs. If it feels like I put in the work then I'm proud of releasing it to the world, that's number one for me.
In retrospect, what do you think most resonated with fans with Ivory, lyrically and in its production?
I think "Evergreen" resonated the most, which I'm glad it did. I spent a lot of time working on that song and I don't regret a lyric. It's always so fun when I get to that part of the set.
How do you hope Live For Me will expand on what you've accomplished so far as a songwriter?
I'm seeing this Live For Me EP as somewhat as a transition into what's to come. Definitely some heavy subjects delivered in the way I was feeling at the time.
Hispanic Heritage Month continues through October 15 — is there a particular Hispanic/Latin musician or writer that has influenced you whom you don't believe has gotten the accolades that they deserve and why?
I mean there's so many successful Mexican artists in Mexico. Juan Gabriel's probably my favorite. Everybody I listen too seems to be doing pretty good, ha ha.
Your parents immigrated to Indiana from Guadalajara, Mexico and growing up in that state wasn't easy for you. You faced bigotry. You've managed to turn some of that anguish into art, connecting intimately with those feelings of isolation and empowerment. What words of encouragement would you offer young migrants who are making their way into the United States now, facing similar challenges?
I would say family is important when you feel out of place. I managed to find a group of friends who accepted me at a very young age. Also, don't be ashamed of speaking another language; embrace the differences because culture is amazing and shouldn't be erased.
Are there any non-profit organizations that are particularly important to you, serving the Hispanic/Latine community and beyond, and why?
United We Dream. They're the largest immigrant youth-led community in the country.