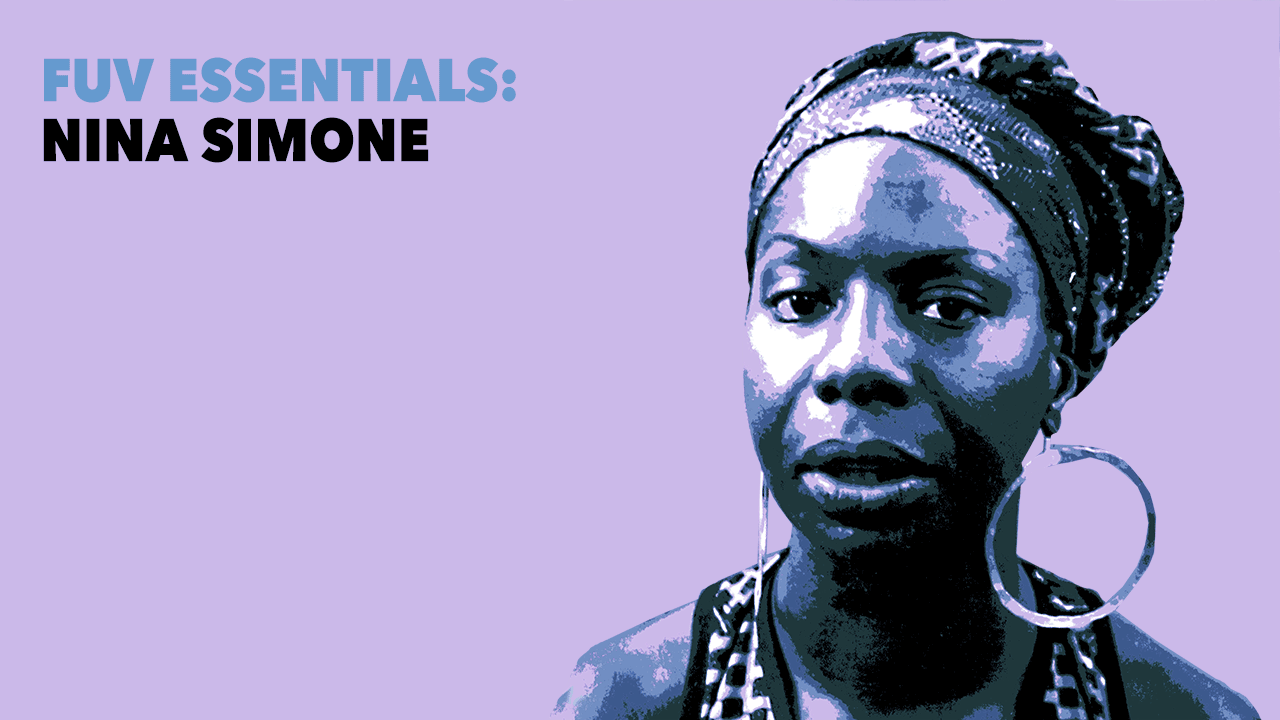 In "What Happened, Miss Simone," the revealing and respectful 2015 documentary of Nina Simone, director Liz Garbus presents an unforgettable introduction to this complicated and mesmerizing musical genius.
The film opens with Simone's performance at the Montreux Jazz Festival in 1976, her first after years of professional exile following personal struggles, a diagnosis of bipolar disorder, and ostracism by a music industry unsupportive of her ferocious Civil Rights activism. With purpose, a resurrected but still fragile Simone strides across the stage in a simple black dress. She bows in an exaggerated half-curtsy, one hand resting on her grand piano—both friend and foe—and then straightens with regal austerity, fixing the audience with a searching, somber, utterly indecipherable gaze.
There's an uncomfortable silence, broken by confused applause. Simone remains stoic, turns her head like an attentive falcon seeking prey, stares into the distance, and then focuses again on the crowd, as if seeking an answer to a lifetime of questions. She finally moves to the piano and sits, brusquely barking a simple "hello" into the microphone. Suddenly, her storm passes, and she smiles broadly and magnificently. Her body folds gracefully into that wide grin—is it a moment of joy, release, comfort, or acknowledgment of a ploy well played? It's a mystery, but now she's masterfully in control of the room. Equally relieved, the audience exhales with her and laughs, reassured.
Simone finally speaks, hesitantly. "I haven't seen you for many years, since 1968. I have decided that I will do no more jazz festivals. That decision has not changed." She continues, explaining her new rules, and poignantly begins her set with "Little Girl Blue," the iconic Richard Rodgers and Lorenz Hart song that exquisitely matches Simone's depth, darkness, and incontrovertible beauty.
"I'll tell you want freedom is to me. No fear ... If I could have that half of my life. No fear."
- Nina Simone
The dichotomy of Simone's artistry and her navigation of a hostile world dogged her throughout her brilliant, mercurial career. Born Eunice Waymon in North Carolina, her stage moniker of Nina Simone was not only her alter ego, but became her fortress, a method of surviving racism, cruel Jim Crow laws in the South, the suffocating repression of black women, financial woes, and domestic violence. As Nina, she rebelled and pushed against facile interpretations or delineations of her own musicianship; she was contemporary music's misunderstood Mozart.  A child prodigy, she was accepted to Juilliard at 17, but given her gender, race, and economic limitations, she was never able to become the classical pianist she desperately wanted to be. (Most infamously, Philadelphia's Curtis Institute rejected her at age 19 for being black.)
Even the chance in 1963 to perform at her mecca, Carnegie Hall, was a bittersweet experience; Simone would have far preferred to play Bach than the blues. Listen to the virtuosic fugues and counterpoints that blossom like desert roses throughout her 1958 debut album, Little Girl Blue, as in her version of Duke Ellington's "Mood Indigo" or Tadd Dameron and Count Basie's "Good Bait" — she seized elements of classical, jazz, pop, Broadway tunes, and the blues and revamped them with revolutionary fervor.
Her indignation, grief, and fury writhed and whispered throughout her recordings, live performances, and later, her vigorous support of the Civil Rights Movement. Even her breakthrough recording, a cover of George and Ira Gershwin's "I Loves You, Porgy" from 1935's Porgy and Bess, was a significant shift—in her wistful, but decidedly empowered version, Simone adamantly sings the grammatically correct "love" instead of the Gullah Creole "loves" of the original. A small detail, but one that still resonates today.
"You give me second class houses
And second class schools.
Do you think that all the colored folks
Are just second class fools."
- "Backlash Blues" by Nina Simone and Langston Hughes
The distraught salvo of "Mississippi Goddam," sparked by the brutal KKK murder of Medgar Evers and the 16th Street Baptist Church bombing in Birmingham, Alabama, which killed four little African-American girls, galvanized thousands marching from Selma to Montgomery in 1965. The triumphant "To Be Young, Gifted and Black," an elegy for her beloved friend, the playwright Lorraine Hansberry, with lyrics by Weldon Irvine, is as stirring an anthem today as it was in 1969. Songs like "Four Women" or "Backlash Blues," a Langston Hughes poem that Simone put to music, became cornerstones of the black experience of the Sixties.
Simone could even shake up Kurt Weill and Bertolt Brecht's "Pirate Jenny," deftly moving its characters from Germany to a flophouse in South Carolina and, with her remarkable alto and unpredictable phrasing, transform the song into an indictment of American bigotry. What would Simone, who expressed rebellion with such eloquence, have offered to today's resistance movements, like Black Lives Matter, #MeToo or #NeverAgain? As she once observed, "How can you be an artist and not reflect the times?"
"Sometimes I sound like gravel, and sometimes like coffee and cream."
- Nina Simone

She sang frequently of love too, but that was another disappointment in her life, given the tempestuous (and often abusive) relationship she had with her husband and manager Andrew Stroud. Her voice was atypical in the canon of female voices of that time: pitched low, sometimes cast with a menacing air, and always faithful to her shifting moods. She never veiled the rawness of her emotions, whether ugly or sanguine; in performance, she was stripped bare, tearing through "I Put A Spell On You" with a sorceress's fire. She drew tears with her intuitive transformations of songs like "No Good Man," first covered by Billie Holiday, Janis Ian's "Stars," or Dimitri Tiomkin and Ned Washington's "Wild is the Wind." She had an internal, intimate dialogue with the piano, striking the keys with a combative punch or a soothing caress, strolling through "Central Park Blues" or galloping full tilt in "Sinnerman."
"Mom said that when those four little girls were blown up in the church, something in her snapped. And ['Mississippi Goddam'] just came out of her. I equate my mother's career into two halves. You have where she was singing love songs and she was just really relaxed or appeared to be that way. And then you have the period where she got mad, which she never came back from, as far as I'm concerned."
- Lisa Simone Kelly, Nina Simone's daughter, from "What Happened, Miss Simone"
Simone has been a beacon, a spiritual sister, and a catalyst to innumerable artists of all generations: Aretha Franklin, Mary J. Blige, Alicia Keys, John Legend, Lauryn Hill, Laura Mvula, Brittany Howard, Sade, Jeff Buckley, David Bowie,  Perfume Genius, Jay-Z, Kanye West, Talib Kweli, George Michael, and Prince (and yes, Nina even covered Prince's "Sign 'O' The Times"). The Rock and Roll Hall of Fame's overdue decision to induct Simone this April, decades after she first became eligible in 1983, seems tardy at best —and you can't help but imagine Simone's sharp retort ... dissolving again, perhaps, to a smile.
Nina Simone made us weep, articulated our rage, turned a mirror to our hate and prejudice, and inspired a generation in the throes of resistance. She still does so, nearly 15 years since her passing. She is not only one of our most vivid #FUVEssentials, she's essential to who we are as Americans. We thank her for her courage, her guidance, and her vision.
Listen
#FUVEssentials: Nina Simone (Spotify playlist compiled by FUV's Rita Houston)