Newport Folk Festival 2022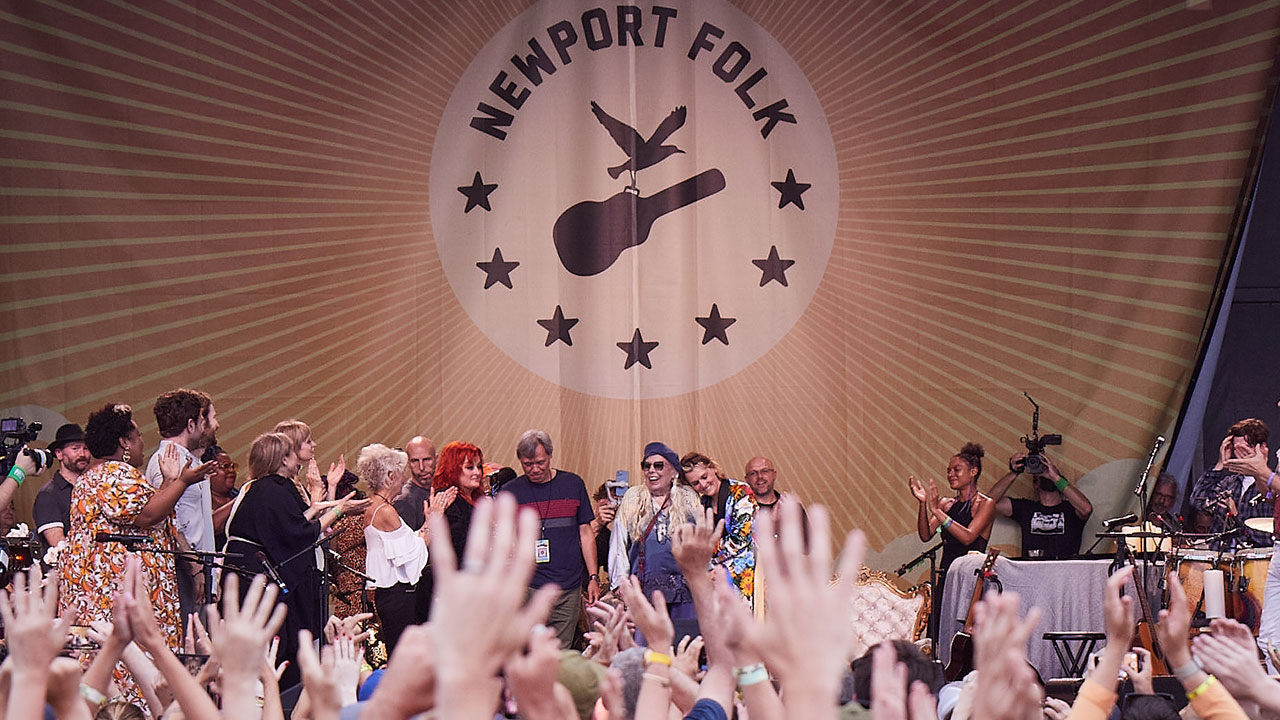 The musical summer camp weekend that is the Newport Folk Festival was as wide-ranging as ever this year, mashing genres together under a blazing sun on the (thankfully) breezy peninsula of Fort Adams State Park.

Newport's history as a folk festival sets a tone of respect for songwriting and artistry, and establishes a heartfelt vibe of kindness that lifts fans and artists alike. Handwritten signs (thank you, Nan Parati) gave us all friendly advice about where to sit and where to dance that went a long way toward keeping 10,000 music lovers flowing through the grounds with relatively few hitches. FUV also caught up with many of the artists ahead of both the Newport Folk Festival and Newport Jazz Festival, asking them just what playing "The Fort" this year meant to them.

The 2022 fest strayed pretty far from "folk" in its offerings, but the crowds were as big for Sylvan Esso, The Roots, and Dinosaur Jr. as for the earthier song stylings of Taj Mahal, Joy Oladokun and The Felice Brothers.

And while the breakout stories will surely include Madi Diaz, Neal Francis, The Ballroom Thieves, and The Backseat Lovers, it was the veterans who stole the headlines with generation-crossing megasets in tribute to Joni Mitchell and Paul Simon.

Sunday night's finale started as a set from Brandi Carlile & Friends, for which Phil and Tim Hanseroth were present as usual, featuring Lucius on vocals for "You and Me on the Rock" and a perfect version of "The Joke," leading into a short break to reset the stage.

The Joni Jam, which started as a dream in the fertile mind of Carlile, was a recreation of the artist gatherings that have developed over the past few years at Mitchell's home: a circle of stars perched on chairs and sofas across the main Fort Stage. What started as a tribute set shifted as Mitchell herself joined in, and then took over the space for a solo guitar performance ("Just Like This Train") followed by a series of faves and standards, from "Both Sides, Now" to a deep and lovely "Summertime."

Tribute-wise, we got a standout performance by Celisse Henderson ("Help Me"), vocal leads from Taylor Goldsmith and Marcus Mumford, and the support of friends Allison Russell, Blake Mills, and Wynonna Judd.

Saturday night's "American Tune Revue" was helmed by Nathaniel Rateliff and the Night Sweats, who brought out guests for a run of of Paul Simon tunes that were already giant crowd pleasers before Rateliff brought out Simon himself, who thanked the band and broke into "Graceland," "American Tune" (with Rhiannon Giddens), and "The Boxer" with Rateliff, Lukas Nelson, Lucius and friends. Things ended with a solo acoustic "The Sound of Silence" as the sun set over the harbor.

Remarkable as those closing sets were, they couldn't completely overshadow a fierce Friday night appearance from The National. Their 16-song set came out of the gate with the live premiere of "Space Invader (Threaded Gold)" and spanned multiple albums with the help of multiple vocalists (Cassandra Jenkins, Anaïs Mitchell, Hannah Georgas, and Adia Victoria). "Terrible Love" got Matt Berninger off the stage and into the crowd, trailing an epically long mic cord and a frantic phalanx of photographers. The evening ended with a full-crowd nearly a capella version of "Vanderlyle Crybaby Geeks," which included sweeping gestures toward the swans a-swimming in the surrounding waters.

Listening beyond the biggest names, what else had people talking?
Lee Fields proved that it's worth it to get there early and throw your blanket down fast because the dancing commences immediately.
The A's brought matching outfits and theatricality to their sweet-voiced songs.
The Pakistani poetry of Arooj Aftab was delivered with sweeping cinematic style.
Taj Mahal spoke directly to the fest veterans, shouting out the gray-haired folks in the field.
Goose! Better late than never to the Goose party, they made friends with their double percussion, big chimey guitars, and pleasing voices in harmony.
Courtney Barnett's Friday set was as dynamic as ever, making this fan wish that more people would turn their wry inner monologues into dryly funny lyrics and punctuate the best lines with perfect, crunchy guitar licks
Silk Road Ensemble's Rhiannon Giddens sang in Bengalese.
The Ballroom Thieves absolutely rocked the early morning Saturday spot, getting extra credit for their three-guitar coordinated dance moves.
Adia Victoria called up Southern ghosts, invited her Mom up to share a microphone, and crowd-surfed.
Madi Diaz stopped people in their tracks to fill the Harbor Tent, brought up guests Courtney Marie Andrews and S.G. Goodman for a cover of Patty Griffin's "Be Careful" ("All the girls in the pale moonlight...") and added a new verse for the women now watching their rights disappear.
Lucy Dacus was liked by literally everyone, with racy guitarwork that belied her serene composure, and songs that put the young folkers front and center.
Neal Francis drew a crowd that swelled beyond the bounds of the tent despite the sun.
Clairo was a master of contrast.
A Clusterfolk crew, substituting for Bonny Light Horseman, brought Natalie Merchant back to us, thank you.
The whining about having to decide between Bleachers vs. Lucius playing competing sets was quite a thing.
Black Opry Revue brought a series of songwriters to Newport who will hopefully get to keep coming back, including the bold Lizzie No, the heartstrong Leon Timbo, and the super-fun  Kentucky Gentlemen.
Lizzie No: "I play a lot of folk festivals, and normally it's like, one or two Black people. Maybe that's an accident, but more likely it's because we're extremely dangerous when we're all together."
For Sunday's Gospel morning, Lena Mae Perry got everyone Prayed Up and showed us what some spirit can inspire.
Who brought the Ukranian flags to DakhaBrakha? Brilliant.
The Linda Lindas are totally killing their summer vacation.
Taylor Goldsmith asked audience members to accompany him onstage (!).
The Roots turned a bunch of sweaty people into really, really sweaty people.
Japanese Breakfast got juggled around the schedule and landed opposite the Brandi-Joni megashow, so pay extra attention to her the next chance you get to make up for that!
See you next year, Newport family.
Big thanks to Gus Philippas for the fabulous photos (see below and on Flickr) and to Kelly Machold and Emma Philippas for helping to cover all the bases.