"So You're Going to Play Newport..."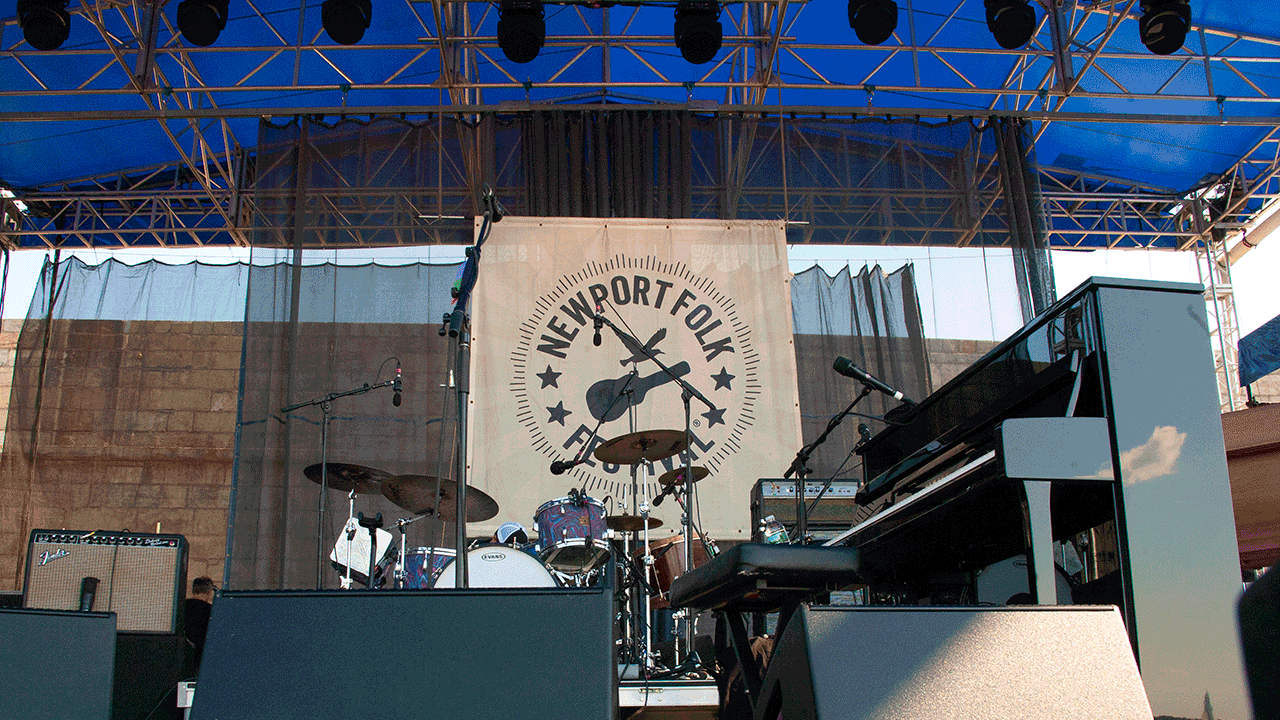 The summer pilgrimmage to this year's Newport Folk Festival (July 22-24) and Newport Jazz Festival (July 29-31) has never felt more necessary, especially after the last two and a half years. Anticipation for the good vibes, celebratory jams, and camaraderie of the two legendary festivals isn't limited to the fans making the trek to Rhode Island, but always extends to the musicians themselves.
Newport isn't a typical stop on a tour itinerary – playing either festival is a genuine homecoming: Musicians catch up with old colleagues, challenge themselves with serendipitous collaborations, and forge new friendships. For many, Newport is a goal of a lifetime, and for artists making festival debuts in 2022, it's an honor to finally claim their place in a kaleidoscopic history that stretches back to 1954 for the jazz festival and 1959 for its folk offspring.
The visionary legacy of late promoter George Wein, who launched the Newport Jazz Festival with Elaine and Louis Lorillard, and later aligned with Pete Seeger and Theodore Bikel to cofound the Newport Folk Festival, is a colorful tale of perseverance, dedication, and an intuitive love of music — Wein was a jazz musician himself. In memory of Wein, who died last September at the age of 95, the Newport Jazz Festival will feature an all-star set celebrating the man and his impact on Sunday, July 31, led by Trombone Shorty.
Forever Newport fans ourselves at FUV, we reached out to some of the musicians playing this weekend's Newport Folk Festival and next weekend's Newport Jazz Festival and asked what the event means to them — and why it's so damn magical:
So you're going to Newport ...
"There's a (as of yet) surprise set I'm very excited to be a part of. But I realize that's an obnoxiously vague answer. I'm also excited to experiment with doing a set by myself there for the first time. I'm gonna see how much audience participation I can get away with. The more I can blur the line between artist and audience, the more 'Newport' it'll be."  - Taylor Goldsmith (of Dawes)
"Oysters, always, and running into friends. Also very stoked to see Clairo." - Lucy Dacus
"I am such a fan of the history of this festival artistically. It's such an honor to be asked to grace a stage where so many great legends have performed." - Lady Blackbird
"The real joy of Newport is the unexpected. I don't even mean the preplanned surprises, which are always a treat, but rather the last minute one-off collaborations or afterparties or improvised happenings that can only come about when you get a bunch of musicians together in a small space and encourage them to stretch out. I don't have any indication as to what my potential highlight of this year's fest will be, because there's a good chance it's not even on the schedule yet." - Nick Sanborn of Sylvan Esso
"The thing about Newport is that it's evolved into something way deeper than a festival where artists present their own work. It's almost like an artist residency with the level of collaboration/experimentation/communion going on. I think I'm taking part in seven sets altogether! It's rare to get a chance to really play with people like that and I think our Bonny Light Horseman & Friends play Mermaid Avenue set is gonna be that times ten — a chance to really play with so many incredible guests who all want to come together to honor that record and what it meant to us." — Anaïs Mitchell
"Having the chance to reunite at the Fort with my Folk Family pretty much encapsulates everything im looking forward to most. I have the chance to bring my mother Ms. Jackie with me as well. So I'll get to experience Newport for the first time again through her! I worked with Aaron Dessner of The National on my second LP, Silences, and they're playing Friday the 22nd (my birthday!) so I'm quite jazzed to see him and the rest of the band for the first time since the pandemic." - Adia Victoria
"After being away from each other for a few years, we're so excited to play Newport Folk Fest again; it feels like a long-awaited family reunion (but with less fighting, better food, and you couldn't be more excited for the ones that show up unannounced)." - Holly Laessig of Lucius
"Newport is such a legendary festival. I'm honored to be on the lineup at all. Besides playing our own set, I'm so excited that our friends in Durand Jones & The Indications will be playing the same day as us. Really looking forward to hanging with them! Plus I'll be sitting in on a special late-night set that will be announced later." - Neal Francis
"There's something so special about the way Newport always encourages and welcomes collaboration. The last time we were present as Mountain Man, we learned most of the harmonies from the Graham Nash record, Songs for Beginners, in the day before Newport and then hopped onstage with a whole slew of amazing musicians, many of whom we'd never met and just had a pure musical experience. This year, with The A's, many of our friends will be present in various projects, and we are lucky to be able to pull some of them together to play our new record, Fruit, from front to back. So special." - Alexandra Sauser-Monnig of The A's
"The first time I actually saw some of my favorite folk and blues artists was through footage of the Newport Folk Festival from the '60s. Playing this year's festival is a full-circle moment and to be there alongside many of my peers and musical heroes is an honor." - Buffalo Nichols
"Playing Newport is about an amazing community of artists and fans in a beautiful place. I consider myself fortunate to be returning to The Fort!" - Eric Pulido of Midlake
"I'm so thankful to get the opportunity to play at Newport this year, it's really an honour. This festival is filled with such history and good music, I'm so excited to see it for myself." - Arny Margret
"The most thrilling part of Newport Folk to me is the collaboration between artists across genres. Newport Folk cultivates a strong community around musical diversity and we are honored to be a part of that." - Peter Anspach of Goose
"I started going to Newport Folk Fest with my family when I was a kid, as I was just starting to discover music and folk on my own terms. It's my first time coming to the festival as a performer, so it's meaningful on many levels to return to the festival with my songs; the festival and the Seeger family have shaped me and my music so much over the years, and this year's festival feels like a milestone that's a lifetime in the making. Josh Kaufman and Annie Nero are playing in my band, and will also be there as Bonny Light Horseman. Josh, Annie, and I recorded my album, An Overview on Phenomenal Nature, together in 2019 (with Stuart Bogie. J T Bates, and others), and this will be the first time we'll be playing these songs live together since we recorded them. I'll also have some other friends joining me – V.V. Lightbody will be on keys, as well as a few other special guests." - Cassandra Jenkins
"This is my first time playing the festival so I am excited in every way possible!! I'm looking forward to being among so many incredible musicians and getting to be a part of this festival that I've dreamt of playing since I was a little girl!" - Laufey
"We are incredibly honored to be a part of such a historically important festival along with many artists that inspired our musical careers. That's what we are most excited for — to be immersed in an environment with so many legendary artists. Unfortunately, we can't stay for the whole weekend because of our tight tour schedule, but we will be watching as many performances as we can on Friday." - Chester Hansen, Alex Sowinski, and Leland Whitty of BADBADNOTGOOD
"One of my favorite recordings is Ella, Billie, and Carmen live at Newport. They're a few of my biggest inspirations when it comes to singing jazz. Being a part of the same historic festival they participated in is an opportunity that I'm incredibly grateful for." - Samara Joy
Image Gallery