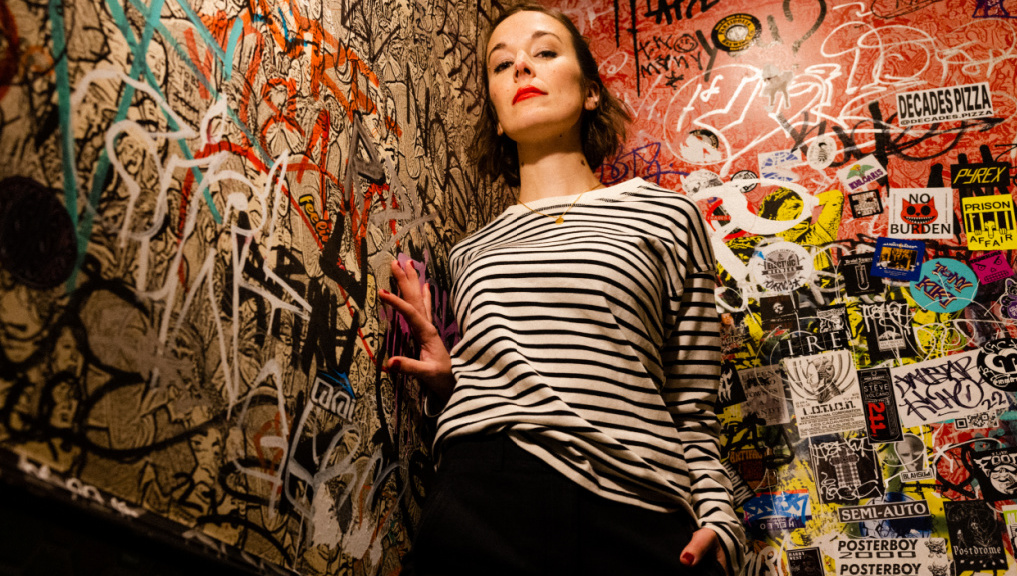 A quick look at some of the new songs you'll hear this week on WFUV:
boygenius, "Cool About It"
Julien Baker, Lucy Dacus, and Phoebe Bridgers' fourth single from their debut album, The Record, came out just before the album was released in March. If this gentle, acoustic song, which showcases the trio's seamless exchange of vocals and harmonies (and Baker on banjo), reminds you of a Paul Simon tune, there's a good reason: Simon & Garfunkel's "The Boxer" inspired it. In the liner notes, boygenius thanks Simon for his inspiration on the track.
Boygenius rolled through Forest Hills Stadium earlier this summer, and while there debuted a new song, "Boyfriend," an album outtake. The trio wrap their North American tour on August 5 at Red Rocks Amphitheatre.
Briscoe, "The Well"
More twangy banjo plucking! Austin folk rockers Briscoe, the duo of Truett Heintzelman and Philip Lupton, release their debut album, West Of It All, on September 15. The first single, "The Well," is very much about the transition to adulthood.
The album was produced in North Carolina by Brad Cook (who also plays bass on the album), of Bon Iver and Nathaniel Rateliff & The Night Sweats fame. Heintzelman and Lupton, who've been friends since about age 14, wrote West Of It All while still students at the University of Texas at Austin, eyeing their fast-approaching graduation.
They've opened for Caamp, Noah Kahan, and Ruston Kelly, have a support slot with the Dave Matthews Band on September 1 at The Gorge Amphitheatre, and will play their own New York headlining gig at the Mercury Lounge on September 28.
Grace Potter, "Good Time"
There's a sly hint of a Sheryl Crow swagger and even a George Michael "Freedom! '90" vibe in Grammy-nominated Grace Potter's "Good Time" — a soulful shimmy of a new single that appears on Potter's forthcoming fifth album, Mother Road, due out on August 18.
Says Grace of the album's title: "In [The] Grapes of Wrath, John Steinbeck called Route 66 the 'The Mother of all roads…the road of flight.' As I zeroed out my odometer and started west on my road trip across the US, I hoped that driving the road of flight would give me a bird's eye view of my life. But it didn't take long to realize that I was not flying; I was running away. In the solitude, I found myself smashing open the piggy bank of deeply-buried memories. Those gems of my real-life exploits spilled into my creative consciousness and emboldened me to write an album that reaches far beyond what actually happened–launching me down the alternate-reality roads of what could have happened."
Potter corralled some cool collaborators for the album, including Cage The Elephant lead guitarist Nick Bockrath, bassist Timothy Deaux (The Whigs, Kings of Leon) and keyboardist Benmont Tench. Potter recorded the album with producer Eric Valentine (Queens of the Stone Age, Nickel Creek). Check out her 2019 FUV Live session with host Alisa Ali too.
Grace and her band play New York's The Rooftop at Pier 17 on September 23.
Inhaler, "Just to Keep You Satisfied"
The Irish rockers — frontman Elijah Hewson, bassist Robert Keating, guitarist Josh Jenkinson and drummer Ryan McMahon —  released their second album, Cuts & Bruises, over the winter and have spent much of the year on the road. "Just to Keep You Satisfied," a synth-swept, mid-tempo groove, kicks off the album.
Inhaler play San Francisco Outside Lands Music and Art Festival the weekend of August 11.
LP, "One Like You"
Native Long Islander LP is back with a new album, Love Lines, due out on September 9. An early taste of that sixth album, the Sixties pop sparkle of "One Like You" would make Ronnie Spector proud and it's accompanied by a full mini-movie, directed by Juan David Salazar.
Says LP of Love Lines: "This is the essence of me and what I've spent my life doing and cultivating and trying to understand and figure out. Even as a human, I feel like I just keep getting more and more dense, concentrated. I'm more me every f**king year. I'm like that coffee that you gotta add water to that's like 15 times the strength."
LP's last album was 2021's Churches. They kick off a North American tour this fall and play New York's Terminal 5 on November 9.
Margaret Glaspy, "Act Natural"
Echo the Diamond is the name of Margaret Glaspy's third full-length album which drops August 18 on ATO. Collaborating and producing with her partner, the guitarist and composer Julian Lage, Glaspy's crunchy, elastic rocker "Act Natural" kicks off the new album. "[The song] is about trying to play it cool when you meet someone remarkable," says Glaspy in a press release, "I wrote it in the afternoon in the back of a tour bus and the riff came separately when I got home. It is one of my favorite songs on the record to play live."
Glaspy recorded the album in New York and has planned an in-store event at Rough Trade Records NYC on August 18 and plays the Bowery Ballroom on October 20
NewDad, "In My Head"
Over the last couple of year's Galway's NewDad, who formed in 2020 as the pandemic began, have released two critically acclaimed EPs: their 2021 debut, Waves, and 2022's Banshee.
The quartet's capacious sweep of shoegazing rockers have garnered them quite a following in their native Ireland and they recently signed to Fair Youth/Atlantic and are prepping their debut album. Two singles give an early indication of where they're heading — the euphoric shimmer of "In My Head" and the more contemplative "Break In." NewDad, who've supported Inhaler, Fontaines D.C., and Paolo Nutini,  have been recording at the legendary Rockfield Studios in Wales, but "In My Head" came together at Paul Epworth's The Church studios in London and mixed by Mike Crossey (Wolf Alice, MUNA).