New FUV Faves: Week of August 15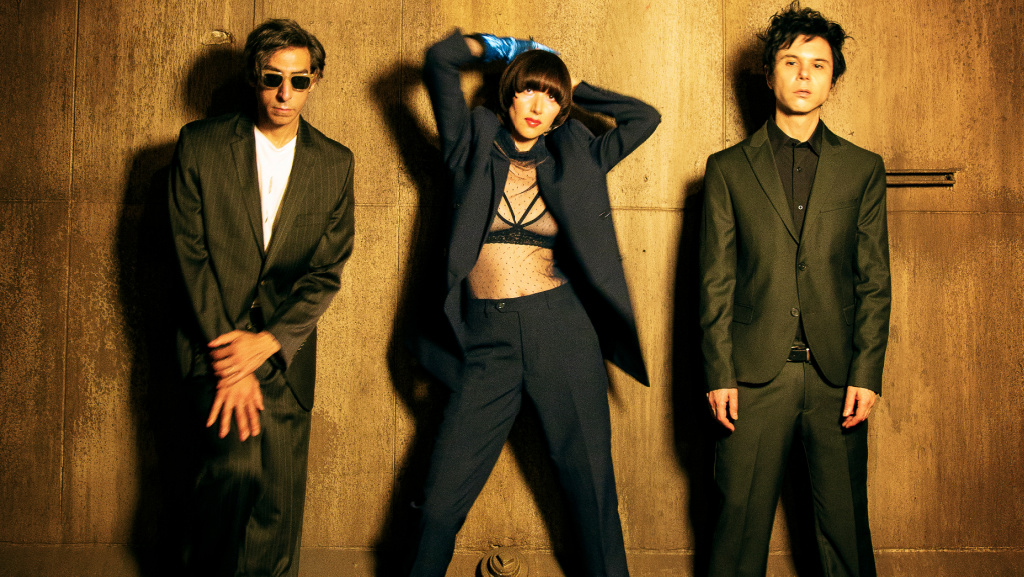 A quick snapshot of some of the new releases you'll be hearing on WFUV this week:
Allison Ponthier, "Hollywood Forever Cemetery"
Texas-born, Brooklyn-based Allison Ponthier has released a haunting new EP, Shaking Hands With Elvis, on which you'll find "Hollywood Forever Cemetery," which explores the dark allure of celebrity. "It's also about how people think being famous will fix them," explains Ponthier in a statement, "only others get more vicious and critical the less they see someone as a person." Ponthier's debut EP was 2021's Faking My Own Death and she's toured with Bleachers and Lord Huron, who featured Ponthier on their 2021 single, "I Tried." In 2017, when Ponthier was just 20, she moved from Dallas to Brooklyn, where she supported herself with a series of odd jobs that included modeling, selling handmade jewelry, and drawing commissioned pet portraits — until her recording career took off.
dodie, "Got Weird"
Dorothy Miranda Clark, who records as dodie, is a multi-instrumentalist, playing baritone ukulele, piano, guitar, cello, and clarinet. The British singer and songwriter's upcoming EP, Hot Mess, is released September 30 and she describes the first single, "Got Weird," as something she wrote after a "strange date." The new EP follows dodie's debut album of last year, Build a Problem, which climbed to No. 3 on the Official UK Album Charts. She also collaborated with Laufey last December for a Christmas song, "Love to Keep Me Warm." Dodie is a viral sensation, amassing over one billion streams with over seven million followers on all social media platforms.
Panda Bear & Sonic Boom, "Edge of the Edge"
This song comes from Reset, the brand new album from Animal Collective's Panda Bear (American Noah Lennox) and Sonic Boom (Britain's Pete Kember), ex of Spaceman 3. The longtime collaborators and pals are both based in Portugal. For Reset, the pair dug into some of their favorite records from musicians from the Fifties and Sixties for Reset, including Eddie Cochran, the Troggs, and the Everly Brothers. "Edge of the Edge" opens with a looped harmony from Randy & the Rainbows' 1963 doo-wop hit, "Denise."  Reset is the first album from Lennox and Kember that gives them shared billing — and a dollar from each sale of a CD or LP will go to an environmental non-profit organization, Earth Island.
Pixies, "Vault of Heaven"
A half-naked Zorro wannabe dragging a plush toy pony on wheels, an Elvis Presley impersonator, and more quirky characters gallop pell mell through the video for "Vault of Heaven," the new Pixies' single from Doggerel, the band's first album in three years, released on September 30. Per a Pixies explanation, "Vault of Heaven" lyrically alludes to a bad drug trip and a 7-Eleven ("I went to 7-Eleven to try and get me straight. I ended up there in outer space"). Pixies will be very much earthbound for four U.S. shows this autumn, including October 5 at Terminal 5. Back in 2019, Pixies did an FUV Live session with host Eric Holland around the time of their last album, Beneath the Eyrie.
Rosa Linn, "SNAP"
Armenian singer, songwriter, and producer Rosa Linn represented her country in the 2022 Eurovision Song Contest in Turin, Italy with "SNAP." Although Ukraine's Kalush Orchestra won, Linn's song also rode a viral wave, with millions of streams on YouTube, TikTok, and Spotify. "SNAP" even charted this summer in the UK Top 40 (the only other Eurovision 2022 song to do that was Sam Ryder's "Space Man"). Describing "SNAP," Linn says in a press release: "I think we've all been at a snapping point, where it felt like there's no way out and that the entire world is just crumbling down around you. You start questioning everything, including yourself. I have been there." Linn, who sings in Russian and English, describes her Armenian hometown of Vanadzor as "strict. conservative." She began playing piano at 6, began writing songs as a tween, and now has a shiny new major-label deal with Columbia Records.
Sam Fender, "Spit of You"
Shortlisted for the prestigious 2022 Mercury Prize, Sam Fender's 2021 Seventeen Going Under has already won the singer and songwriter a Brit Award, two NME awards, and other accolades. The North Shields musician describes the midtempo rocker "Spit Of You" as about fathers and sons. "It's based around my own relationship with my old man," says Fender, "and how we both struggle as blokes to communicate the way we feel to each other without it becoming a stand off." Fender, who had to cancel his appearance this week at Budapest's Sziget Festival due to a bout with laryngitis, opens for Florence + The Machine at Madison Square Garden on September 16
Tedeschi Trucks Band, "Soul Sweet Song"
This twangy gem, "Soul Sweet Song," is an early taste of the final installment of Tedeschi Trucks Band's four-part I Am the Moon series; the fourth installment is called Episode IV. Farewell. "Soul Sweet Song," written by guitarist Derek Trucks, keyboardist Gabe Dixon and vocalist Mike Mattison, pays tribute to the band's original keyboardist Kofi Burbridge, who died in February 2019. Trucks chatted with host Eric Holland earlier this year for an FUV Live session, which also included intimate live performances from Trucks and Susan Tedeschi. The band plays ABC's "Jimmy Kimmel Live!" on August 22, the 12-piece group's first television performance, and they're also on tour, making their way to New York's Beacon Theatre for shows from September 29 through October 8.
Yeah Yeah Yeahs, "Burning"
Yeah Yeah Yeahs have returned with a second single from Cool It Down, the trio's fifth album, released September 30. It's the trio's first full album since 2013's Mosquito. "Burning" references, lyrically and otherwise, Bob Gaudio and Peggy Farina's "Beggin'" — made popular by The Four Seasons in 1967 — and a real fire. "Back when I was 19 living in the East Village," recalls Karen O,  "one night a roommate dragged me out of the apartment for an impromptu drink across the street, I left a votive candle burning on a plastic yaffa block which in my absence set flame to my room." There's much more to the story, which Karen O descibes at length in an Instagram post. On October 1, Yeah Yeah Yeahs headline a fantastic Forest Hills Stadium bill with Japanese Breakfast and The Linda Lindas.