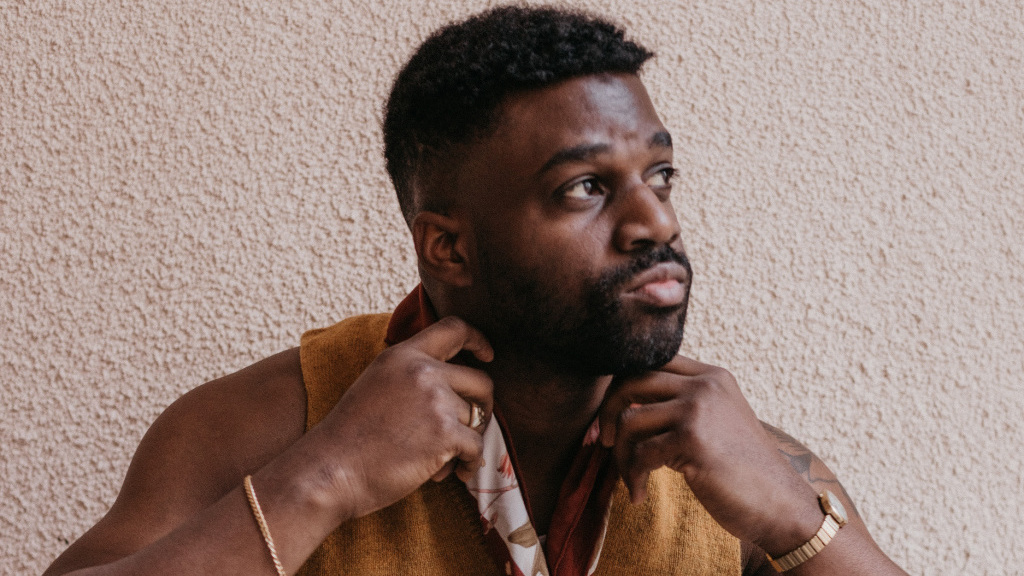 A quick rundown of some of the new songs you'll hear this week on WFUV:
Abraham Alexander, "Tears Run Dry"
Born in Greece to parents of Nigerian descent, Abraham Alexander moved to Texas with his family at the age of 11, to escape the racism they had faced in his birthplace. Not long after their arrival, Alexander's birth mother was killed in an automobile accident by a drunk driver, and he was eventually adopted by another family. A nascent soccer career ended abruptly following an injury, and music became Alexander's prime focus. A chance encounter with Leon Bridges altered Alexander's life; encouraged by Bridges, Alexander sang on Bridges' songs, including "River" and "Coming Home," and toured with him.
That dramatic start to life is very much woven into the emotions of Alexander's debut album, SEA/SONS, released on Friday, April 14. The torchy ballad "Tears Run Dry" is one of several singles released from the album, co-produced by Alexander, Matt Pence (The Breeders, Yuck), and Brad Cook (Hurray for the Riff Raff, Snail Mail). Guest collaborators include Gary Clark Jr. and Mavis Staples.
Alexander has also toured with Lucius, The Black Pumas, and Rodrigo y Gabriela, and opens for Wilder Woods on April 11 at Bowery Ballroom.
Alison Goldfrapp, "So Hard So Hot"
Alison Goldfrapp, of the long-running electronic duo Goldfrapp with Will Gregory, releases her solo debut album, The Love Invention, on May 12 on Skint/BMG. Although their last album was 2017's Silver Mountain, Goldfrapp toured in 2022 celebrating 2000's Felt Mountain, their debut album.
"So Hard So Hot" is the second of two songs she's released this year; "Digging Deeper" with Claptone came out in January. "I wanted to do something that had that very clubby, acid-y feeling to it," she said. "But I wanted lightness to come out of the chorus – there's tension there, as well as euphoric freedom."
Arlo Parks, "Impurities"
On the cusp of releasing her second album, My Soft Machine, on May 26, Mercury Prize winner Arlo Parks has another single from her forthcoming record out now, the delicate "Impurities." She describes it as a song about community and belonging, explaining: "It's about being around people who make you feel like your inner ugliness and failures and mistakes don't matter, who lift you up and make you laugh, who make you feel good and clean."
Arlo produced along with Romil Hemnani of Brockhampton and Carter Lang, and in a press release says she was inspired by nights listening to The Beatles and SZA.
Goose, "Borne"
Although this easygoing single was first released in January 2022, the slow burn of their fourth album, Dripfield, brings it all back home given the Norwalk, Connecticut jam band's ascendance. They sold out their five nights at the Capitol Theatre in Port Chester in March and have a long spring and summer roster of shows ahead, including a stop at the Stone Pony Summer Stage on July 4, the Saratoga Performing Arts Center on July 7, and the Newport Folk Festival on July 29.
At their April Fool's Day Show at Nashville's Ryman Auditorium, the group switched places — instruments and clothes — and played "Jive Lee" that way before reclaiming their correct gear.
Jenny Lewis, "Psychos"
Jenny Lewis will return with her fifth album, Joy'All, on June 9 on Blue Note/Capitol, her new label; Lewis's last album was 2019's On The Line. "Psychos" has actually existed in Lewis's live sets since 2019 — and the lyrics are fabulously blunt: "I'm not a psycho, I'm just trying to get laid."
Joy'All was produced by Dave Cobb. "Dave works fast and we cut the bulk of the record with his incredible house band — Nate Smith, Brian Allen and Cobb on guitar, and myself on acoustic guitar & vocals — live on the floor in a couple of weeks," Lewis told Rolling Stone. "Jess Wolfe came back to the studio to provide background vocals on the record and then Greg Leisz and Jon Brion added pedal steel, B-Bender guitar and Chamberlin, respectively, back in L.A."
There will be three chances to see Lewis in New York City this summer. She plays The Rooftop at Pier 17 on July 18 and joins The Postal Service on September 19-20 for their co-headliner with Death Cab for Cutie at Madison Square Garden.
Samara Joy, "Can't Get Out of This Mood"
Bronx-born Samara Joy is a hometown hero. She won two Grammys earlier this year, for Best New Artist (only the second jazz musician to ever win) and Best Jazz Vocal Album for her second album and Verve label debut, 2022's Linger Awhile, recorded at New York's Sear Sound. The album leads off with "Can't Get Out of This Mood," a Frank Loesser and Jimmy McHugh composition that's been covered in the past by Sarah Vaughan, Nina Simone, and Tony Bennett.
Joy studied in the jazz program at SUNY's Purchase College as a voice major and was named an Ella Fitzgerald Scholar. Samara Joy performs a six-night residency at the Village Vanguard from April 25-30 and she'll be at Princeton's McCarter Theatre on June 2 and The Levitt Pavilion for the Performing Arts in Westport, CT on June 3.
Also in the mix:
Lana Del Rey with Jon Batiste, "Candy Necklace"
Digging deeper into Lana Del Rey's ninth studio album, Did You Know That There's a Tunnel Under Ocean Blvd — and a mellow whisper of a song that features the Grammy 2022 Album of the Year winner Jon Batiste.
The Hold Steady, "Grand Junction"
A rollicking new single from the band's latest album, The Price of Progress, released on The Hold Steady's Positive Jams label via Thirty Tigers. The Hold Steady, who've been celebrating their 20th anniversary this year, join FUV as we celebrate our 75th — they'll be headlining the WFUV Highline Bash on Friday, May 12, at City Winery joined by Allison Russell, Allison Ponthier, Brandi and the Alexanders, and Sid Gold Request Room's Joe McGinty with the Superstar Piano Bar. Tix here.
The National, "New Order T-Shirt"
"You in my New Order t-shirt/Holding a cat and a glass of beer" — what a way to immortalize a band you love, and The National give the storied Manchester band a lot of love on this new single. Even better? New Order and The National have aligned for a limited-edition New Order T-shirt with a portion of the proceeds going to a charity of New Order's choice.
The single appears on the National's forthcoming First Two Pages of Frankenstein, released April 28 on 4AD. The National will play their first headlining gig at Madison Square Garden on August 18 with Patti Smith and Her Band supporting.
"There's a simplicity to 'New Order T-Shirt' that reminds me of our earlier records, but with the full maturity and experience we have now," says Aaron Dessner in a statement. "It feels like a really important song for the future of our band."