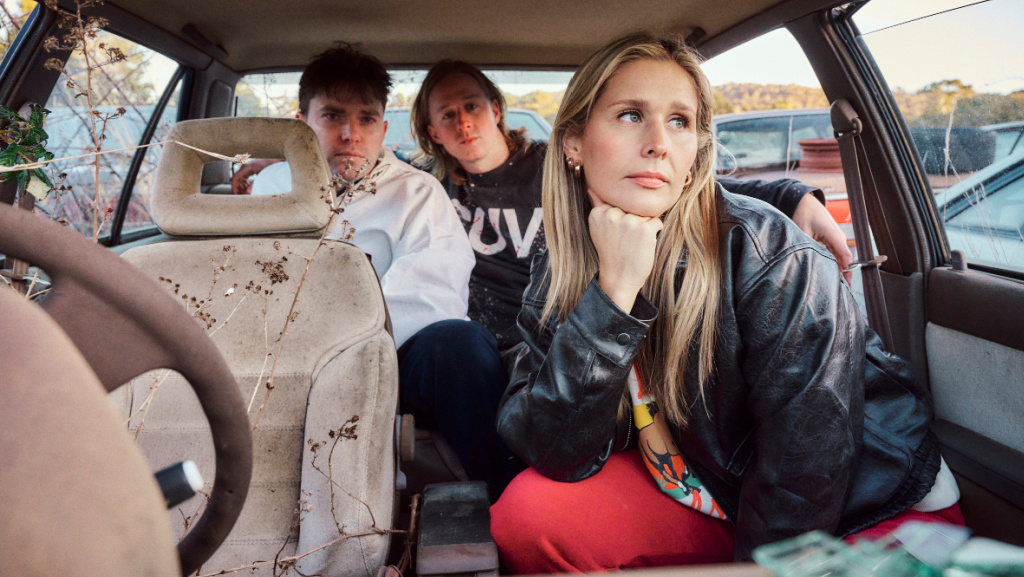 A quick perusal of some of new songs you'll hear on WFUV this week:
Middle Kids, "Highlands"
Hannah Joy, Tim Fitz, and Harry Day return with the road-trip-ready "Highlands," a jubilant driving song (slapped with the label of "yearncore") and the Australian trio's second single of the year. Joy was inspired by her Scottish forebears for this track and video.
"Since I was young, I've had this yearning to be free," says Joy in a press release. "I used an image of the 'highlands' as a euphoric place where I have the space to be me, and you have the space to be you."
She continues. "Part of the imagery comes from my Scottish heritage, which my grandmother was always proud of. I recorded some big slow piano chords which Tim (Fitz) mangled into the atmospheric hits in the intro."
"Highlands" was produced by Jonathan Gilmore, who has also worked with beabadoobee and The 1975. Catch up to Middle Kids at FUV via their 2021 "Marquee Live at Home" with host Kara Manning, and their 2018 FUV Live session with host Alisa Ali.
Middle Kids play Central Park SummerStage on August 23, opening for Manchester Orchestra and Jimmy Eat World.
Obongjayar, "Just Cool"
Making the most of all of the nuances of his sultry and husky voice, Obongjayar's funky new single "Just Cool" has summer scrawled all over it, with its infectious, club-ready groove — and carrying a deeper message too. It's his first new single since the release of his acclaimed 2022 album, Some Nights I Dream of Doors.
The London-based, Lagos-born musician, real name Stephen Umoh, recently played his first NPR Music Tiny Desk concert and has been a frequent collaborator with other musicians, including Little Simz, Sarz, Pa Salieu, Moses Boyd, and more.
PJ Harvey, "Seem an I"
PJ Harvey looked to her 2022 book-length poem Orlam as inspiration for the 12 songs on her first album in seven years, I Inside the Old Year Dying. Produced with longtime cohorts and friends John Parish and Flood, Harvey's brief for herself was clear: to continue to challenge the scope and range of her voice. The poem (and songs) are written in an old Dorset dialect, including "Seem an I," a delicate, ethereal track, that finds Harvey speak-singing against a simmering brew of drums, keys, and guitar.
In an interview with NPR Music's Ann Powers, Harvey speaks extensively about I Inside the Old Year Dying, and her determination to conjure something that defies easy categorization:
"I very much wanted to avoid tipping into predictable folk music, which these words and this subject matter would have lent itself to so well, so I went the opposite direction," Harvey explains. "Other than the main instrument and the voice, I really wanted everything to be quite unidentifiable and strange, because of that need to create this magical, mystical unknown universe that I wanted the words to inhabit."
Harvey's autumn UK and European tour is — not surprisingly — sold out. You can revisit PJ Harvey's FUV interview in 2011 with host Kara Manning and a Words and Music with Polly and John Parish in 2009, with host Rich McLaughlin.
Shakey Graves featuring Sierra Ferrell, "Ready or Not"
Shakey Graves' Alejandro Rose-Garcia releases his next album, Movie of the Week, on September 15 and the jaunty "Ready or Not," a duet with Sierra Ferrell, is a scrappy, sexy harbinger of things to come. Movie of the Week evolved from a sidelined soundtrack project; the movie collaboration might have tanked, but Rose-Garcia had an album's worth of material from it.
Shakey Graves will play The Rooftop at Pier 17 with Lucius on August 15; on August 18, he'll be at Stone Pony's Summer Stage in Asbury Park on a bill with headliner The War On Drugs as well as Lucius and Steve Gunn.
Tyler Childers, "In Your Love"
Coal country and queer love convene in Tyler Childers' cinematic new video for his song, "In Your Love," a pining ballad (and hit single) from his forthcoming album Rustin' in the Rain, released September 8. The moving storyline of the video, directed by Bryan Schlam and starring Colton Haynes and James Scully (both openly gay), was written by queer Appalachian author and Kentucky's poet laureate Silas House, a friend of Childers.
"[One] reason that I wanted to do this music video was my cousin growing up, who's like my big brother, is gay," Childers explained to NPR Music. "And he graduated from Northern Kentucky, went to Chicago and never came back. He taught me so much about singing; he was my first tough critic. And just thinking about him not having a music video on CMT that spoke to him."
Childers has made social justice a key motivation for his songwriting and Rustin' in the Rain is no different. He played two dates at Radio City Music Hall with friend Elle King earlier this month and headlines the Catbird Music Festival on August 20 at the Bethel Woods Center for the Arts. (The Lumineers headline on August 19.)
Wilco, "Evicted"
Jeff Tweedy and Wilco's lovely and lilting "Evicted" is the first single from their forthcoming (and lucky No. 13) album Cousin, due out on September 29.  Cate Le Bon produced the album — the Mercury Prize-nominated Welsh musician met Wilco when she played their 2019 Solid Sound Festival. It's the first time the Chicago band has used an outside producer since 2007's Sky Blue Sky, but Cate fit the bill by encouraging them to take risks, and brought in synths, drum machines and saxophonist Euan Hinshelwood. She's also produced albums for Kurt Vile, H. Hawkline, and John Grant.
"They're so mercurial, and there's this thread of authenticity that flows through everything they do, whatever the genre, whatever the feel of the record," says Le Bon in a statement. "There aren't many bands who are able to, this deep into a successful career, successfully change things up."
As for "Evicted," Tweedy says: "I guess I was trying to write from the point of view of someone struggling to make an argument for themself in the face of overwhelming evidence that they deserve to be locked out of someone's heart," says Tweedy. "Self-inflicted wounds still hurt and in my experience they're almost impossible to fully recover from."
Wilco begins a North American tour on September 25 with both My Brightest Diamond and Nina Nastasia playing different legs of the trip.