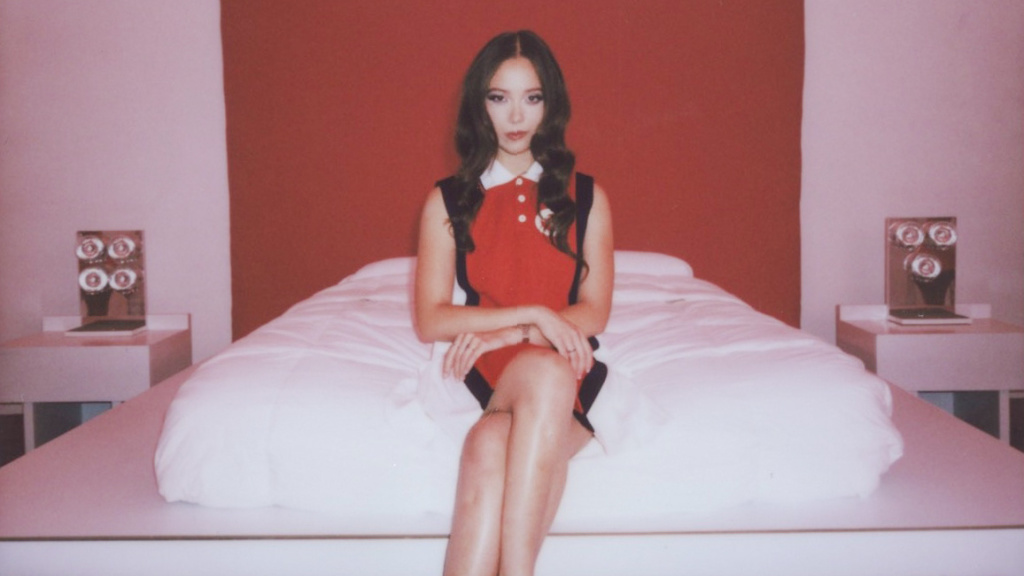 A quick overview of some of the new songs on FUV this week.
Laufey, "From the Start"
Laufey releases her second album Bewitched on September 8 — and she's also sold out her entire North American tour, including her two shows at New York's The Town Hall on November 1 and 2. The Reykjavík-born, now Los Angeles-based Laufey has released a few singles from the new album already, from the luxurious title track to the bossa nova-splashed "From the Start," and all are already viral sensations ("From the Start" already has over 79 million Spotify streams).
Her unique sound — inspired by classic jazz standards, but infused with a modern pop sensibility and witty lyrics circling love and twentysomething angst — has made her a major Gen Z star, along with friends like beabadoobee and dodie.
Laufey's debut album, Everything I Know About Love, was released in 2022, and earlier this year she released a live album with the Iceland Symphony Orchestra, called A Night at the Symphony. Listen back to Laufey's 2022 FUV Live session with host Kara Manning (recorded the day after her debut at the Newport Jazz Festival).
Noah Kahan, "Dial Drunk"
Americana singer and songwriter Noah Kahan released his breakthrough album, Stick Season, last year and from that, we've plucked (banjo pun!) "Dial Drunk."
There's also a version that's become a summertime hit with rapper Post Malone, but we're just as enthusiastic about Noah's original version, which we're playing on FUV.
"The reaction to 'Dial Drunk' has been so incredible and so overwhelming," said Noah on Instagram. "I never know when or why a song is going to land, and to see the meaning and connection you have drawn from this track has inspired me in a way I have never been inspired before. You can only imagine my shock and excitement when Post told me he wanted to not only sing on it, but write his own verse."
Noah Kahan plays Radio City Music Hall on August 31 with support from Ruston Kelly.
RAYE, "Worth It"
London's RAYE released her debut album, My 21st Century Blues, this winter — and now she's nominated for a 2023 Mercury Prize. The winner of that prestigious award will be announced in September, but RAYE, real name Rachel Keen, is already a winner, taking home a Ivor Novello Award for Best Contemporary Song for "Escapism," her chart-busting hit with 070 Shake.  She's also written for a starry list of other artists, including Beyoncé, John Legend and Charlie XCX.
RAYE plays Terminal 5 on October 3.
Rhiannon Giddens, "Too Little, Too Late, Too Bad"
With the release of You're the One, Giddens has not only dropped her first solo album in six years, but her first album of all originals. Those songs, as we learned in Rhiannon's early August FUV Live Marquee Member show at Racket (to air later this fall), were inspired by Giddens' beloved forebears, from Aretha Franklin (who inspired the rollicking "Too Little, Too Late, Too Bad") to Dolly Parton.
Giddens and fellow collaborator Michael Abels won the Pulitzer Prize for music for their opera, Omar, in May. That opera, about Omar Bin Said, a Muslim scholar who was captured in Africa and enslaved in the United States, will be performed in San Francisco in November at the War Memorial Opera House.
As for her tour for You're The One, Giddens plays dates this month and next, including Philadelphia's Keswick Theatre on September 26. (She'll play New York's Beacon Theatre on March 16, 2024.) As artistic director of the Silk Road Ensemble, Rhiannon will also tour with their latest project, American Railroad: A Transcontinental Journey, in November.
Sufjan Stevens, "So You Are Tired"
The hushed and absolutely beautiful "So You Are Tired" gently announced Sufjan Stevens' new album Javelin, his tenth, which is due out on October 6 on Asthmatic Kitty.
It is his first solo album of songs since 2020's The Ascension, and it also finds Sufjan in singer-songwriter mode, as on 2015's Carrie & Lowell. (2021's Convocations, a five-album set written in the aftermath of the death of Stevens' father, was entirely instrumental.) The 10-song Javelin finds Stevens collaborating with a circle of friends, including Bryce Dessner (who plays on "S**t Talk"), adrienne maree brown, Hannah Cohen, and others. Stevens also covers Neil Young's "There's a World," the album closer. Javelin will be released with a 48-page book of Stevens's art and essays.
The Mountain Goats, "Clean Slate"
Brand new The Mountain Goats ahead! The band releases Jenny from Thebes on October 27 — and yes, the character of Jenny is a recurring one. She  first made her appearance on All Hail West Texas, as well as on "Straight Six" from Jam Eater Blues and "Night Light," from Transcendental Youth.
The Mountain Goats recorded the album in Tulsa, Oklahoma with Grammy-winning producer and engineer Trina Shoemaker, who has worked with Sheryl Crow, Queens of the Stone Age, and Emmylou Harris.
"People like to hedge bets by using terms like 'concept album,'" says frontman John Darnielle of the new album, "but let's be clear, this is a rock opera about a woman named Jenny, who buys a Kawasaki to ride as far away as she can from a town she's been carrying on her shoulders too long."
Guests on Jenny from Thebes include Bully's Alicia Bognanno, Kathy Valentine of The Go-Gos, and Matt Nathanson.
The Mountain Goats have and extensive North American tour ahead this autumn, including a show at Infinity Hall in Hartford, CT on December 6 and Homer Center for the Arts in Homer, NY on December 8.