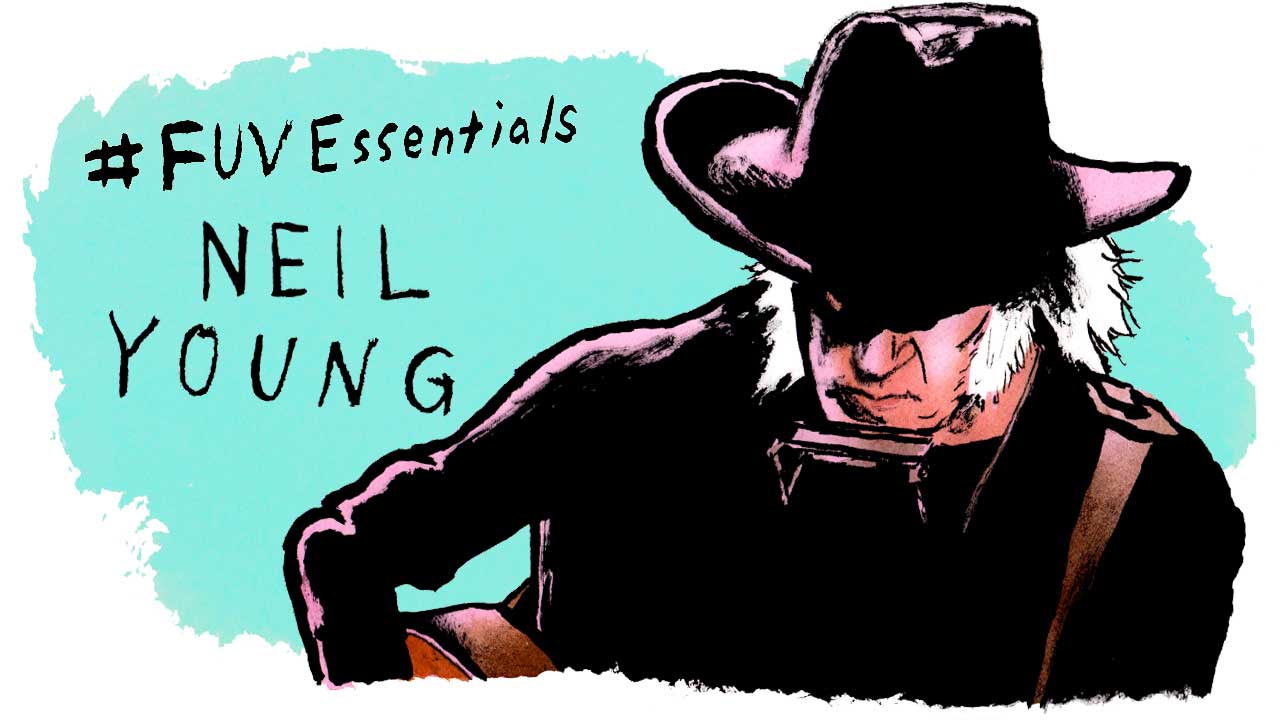 Nobody tells Neil Young what to do. Famously headstrong and opinionated, the determination that drove him to change gears so many times in his career is the very thing that made him a world-famous musician in the first place.
Respect for this godfather of grunge runs like rivers through every rock band that's plugged in an amp since. Certainly there would be no Pearl Jam, no Nirvana, no My Morning Jacket. But you can also credit him for the beautifully odd sensitivities you find in Radiohead and Beck ballads.
Neil Percival "Shakey" Young really was from that little town in North Ontario, raised by his fiercely loyal mother from age 12 on. An early bout of polio (coincidentally, the same epidemic that caught Joni Mitchell in its wake) and its rough physical aftermath helped turn him from a chubby kid to a lean, hungry young man.
Inspired first by the '50s rock and roll on the radio, he graduated from plastic ukulele to electric guitar. But the folkier sounds of Bob Dylan (still a friend) and Phil Ochs inspired him to trade in the ax for a 12-string acoustic, on which he wrote the first songs that trickled into the public eye.
When Young didn't set the world on fire from Winnipeg, told too many times that his "shaky" voice would hold him back, he doubled down. Piloting one of an endless number of vintage cars down endless Canadian roads, spending about as much time under them as in them (want one?), he swore to himself he'd make his musical fortune in America.
After a few too many times getting bounced back across the border from Detroit, Young packed up an old hearse with friends and gear and made out for L.A.  Stephen Stills was there, somewhere; he had established a beachhead and loomed in the distance as a fuzzy target. Luckily they caught sight of each other in a traffic jam, and history was made.
Stills and Young battled their way through bands together, their artistic passion making for great performances and occasional fights as members of Buffalo Springfield. They suffered from a mixed level of production and management support. That band's rocky road is revered in the rear-view mirror, though they never managed to capture their best work on vinyl. Stills' "For What It's Worth" and Young's "Mr. Soul" were the strongest contenders in the catalog. A lucky few got to see the surviving members revive the best of it at Bonnaroo in 2011.
As Young told Cameron Crowe for Rolling Stone in 1975: "We have total respect for musicianship and we both bring out the perfectionist in each other. We're both very intense, but that's part of our relationship. We both enjoy that. It's part of doing what we do. In that respect being at loggerheads has worked to our advantage."
Driven by his independent spirit, Young signed a solo record deal in 1968, teamed up with his own manager (Elliot Roberts, who still holds the job), and put out a mostly-forgettable debut. Back to square one, he recruited a new band — Crazy Horse — and leading up to 1969's Everybody Knows This is Nowhere, he wrote three songs in one day, while fighting a 103-degree fever. It must have been one heck of a flu, because the day resulted in "Down by the River," "Cowgirl in the Sand," and "Cinnamon Girl."
Back in the saddle, Young teamed up with frenemy Stephen Stills again as part of Crosby, Stills, Nash & Young. They'd all been traveling similar musical paths, riding the line between folk and rock, and the combination had brilliance. 1970's Déjà Vu was probably hell to make, but is still heaven to hear.
The early '70s were a peak time for lovers of Acoustic Neil: After the Gold Rush ("Tell Me Why," "Only Love Can Break Your Heart," "Don't Let It Bring You Down," "Southern Man") and Harvest ("Out on the Weekend," "Heart of Gold," "Old Man," "The Needle and the Damage Done") were the solo albums that made him a household name. Neither was a critical hit, but since then they've more than stood the test of time. This stretch cemented his career and his financial independence, allowed him to buy the Broken Arrow ranch he called home for decades, and gave him the license to do whatever he wanted, not that he needed it.
Since that point, Young has embraced the acoustic and electric sides of his artistry with equal fervor, wielding songs as weapons, lessons, and consolation. He lost friends to drugs, lost himself to drugs, then found himself again. He fell in love (Carrie Snodgress), had a child, wrote about heartbreak. He got married (Pegi Young), and had two more children. And while his songs, as always, reflected those personal changes, he also put more of the external world into his music — his concerns for the state of the environment and about American politics.
Highlights of Neil Young's 1970s were working with Linda Ronstadt, Emmylou Harris and The Band (see: The Last Waltz); the release of Comes a Time; the "Rust Never Sleeps" tour; the "My My, Hey Hey" / "Hey Hey, My My" anthems; and directing the Rust Never Sleeps concert film (1979), one of many cinematic projects he developed under the name Bernard Shakey.
The '80s weren't easy for any of us, and for Young they included the seriously varied Re•ac•tor and Trans (the vocoder one), the rockabilly years, the "This Note's for You" anti-corporate-greed era (take that, MTV), and "Rockin' in the Free World" (take that, G.W. Bush).
The '90s saw a return to Young's core music interests, the rock and the roots. 1992's Harvest Moon brought Linda Ronstadt and James Taylor into the fold; he did MTV Unplugged; he was inducted into the Rock and Roll Hall of Fame with a great speech by Eddie Vedder; he worked with Jim Jarmusch on a soundtrack and concert film; rocked a Crazy Horse tour and the H.O.R.D.E. Festival; collaborated with Phish, who declined an ongoing backing band tour invitation; and enjoyed a lucrative CSNY reunion tour.
The Greendale rock opera, concept album, firm, and biodiesel-powered tour launched in 2003. Soon after, Young suffered from a brain aneurysm and ensuing scary health complications. It naturally follows that the more introspective Prairie Wind album surfaced, with the first of three concert films by Jonathan Demme (Neil Young: Heart of Gold, 2006), though he never lost his activist drive, with continued work on environmental and political themes.
After 36 years of marriage, Young and Pegi divorced in 2014; he moved back to L.A., with Daryl Hannah. Throwing himself into environmentalism again, he then released the concept album The Monsanto Years, with its theme of sustainable farming (his 36th album, if you're counting), followed by Earth, which literally let nature speak for itself as part of the audio mix.
Though Young has changed musical gears frequently, his loyalty to important causes remains firm. He is still on the board of directors of Farm Aid, which he founded with Willie Nelson and John Mellencamp in 1985. He co-hosts and performs at its annual benefit concerts, which fund grants to family farms and promoting home grown farm food.
Young has two sons with cerebral palsy and a daughter who has epilepsy, as he does. He and Pegi helped found The Bridge School, an education center for kids with disabilities, in 1986. Its funding, through 2016, has been supported by annual benefit concerts featuring giant rock bands.
Young's ears are decidedly sensitive; he can discern between American and European current going through his equipment. He has long railed against the digitization of music and its crummy sound compression. In 2014 he launched the Pono player using high-quality, uncompressed digital audio, which in 2017 has given way to the Xstream service.
Also keeping him busy are The Neil Young Archives, the decades-long effort to compile his unreleased material and to remaster his existing catalogue; his beloved classic cars, which he works to restore back to life and then fuel sustainably; and his everlasting love of trains, which inspired a notable collection.
And he's not done: The 37th Neil Young album with backing band the Promise of the Real came out in 2017, called The Visitor. It includes his political response to Trump's slogan: the song "Already Great."
For much more, pick up the well-regarded Shakey: Neil Young's Biography by Jimmy McDonough (2002), or Young's own 2012 autobiography Waging Heavy Peace: A Hippie Dream.
There is only one Neil Young. He's his own man. Nobody gave him anything. He has worked his ass off to be the best musician he can be. His songs are all over the map; they can be graced with poignant beauty, drowned in cacophonous emotion, or both.
It can be hard to keep up. In an '88 Rolling Stone interview, he explains himself: "When people think that I'm just doing this on a whim, it discounts the music. Music is immediate to me. It's something that's happening right now, and it's a reflection of what's going on with the people who are making it. It has nothing to do with what they did or what they are going to do."
For his triumph over adversity, his steely vision, his sweet heart, and for the sweat and tears he put into becoming a transcendent artist, Neil Young is one of our FUV Essentials.
Listen
#FUVEssentials: Neil Young (Spotify playlist compiled by FUV's Carmel Holt)