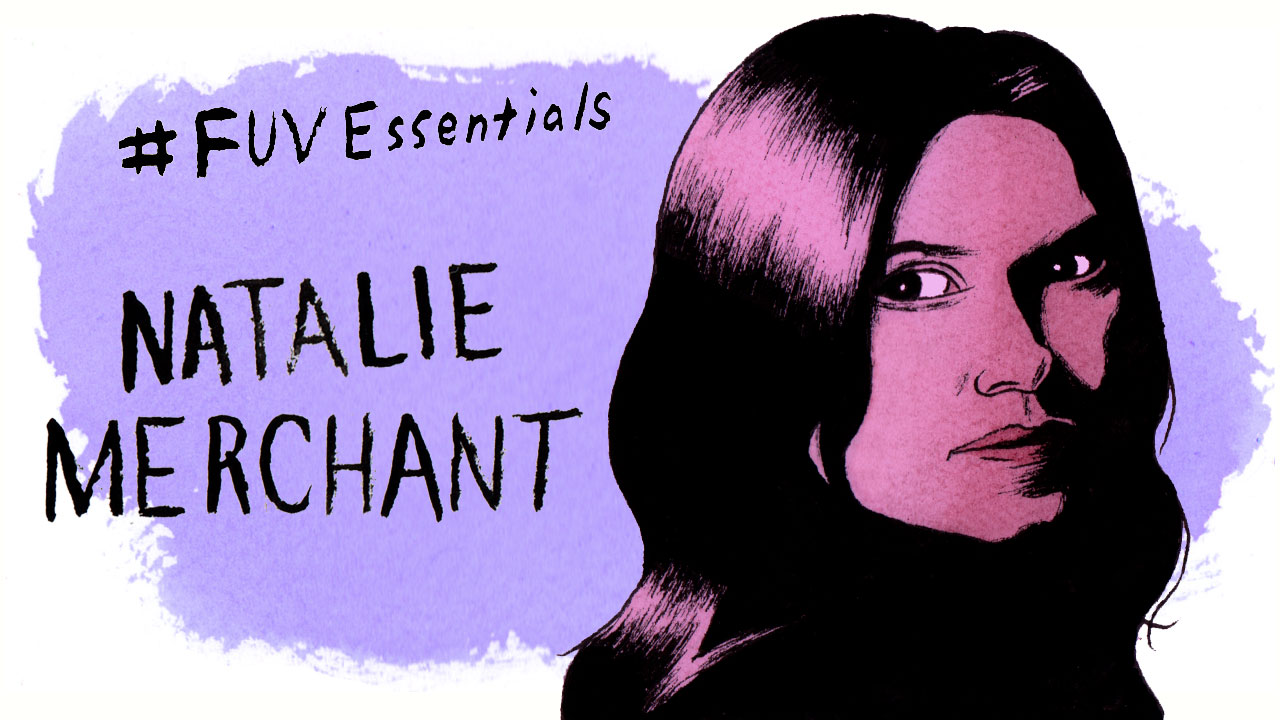 Watching Natalie Merchant perform, as she did as part of FUV's Holiday Cheer benefit concert two years ago, is to witness a thing of beauty and grace. Merchant has complete control of the warm, unmistakable alto that is one of her career trademarks. She practically floats above the ground, so smooth are her movements; she glows with the aura of serene goodness.
It was not always that way. The first glimpse of Natalie Merchant was as the reluctant frontwoman of the upstate New York combo 10,000 Maniacs. Hiding near the back of the stage in a vintage frock, Merchant stared at her boots, twirled in circles and sang pop melodies about not-so-pop friendly subjects, like child abuse and illiteracy. As her friend Michael Stipe described later, "everybody was talking about this girl who danced like a whirling dervish." (The two would also duet on a version of "To Sir With Love" at MTV's Inaugural Ball for President Bill Clinton in 1993.)
R.E.M. recruited the young band as their opener for two tours in the mid-'80s and it brought the jangly sounds and serious issues of the Maniacs out of the club scene and into expanded territory. When fans figured out what Merchant was singing, the lyrics turned out to be a kind of socially conscious poetry that didn't follow how songs were supposed to be structured. The Maniacs were not like anything else, and their music was a godsend for serious people who liked to dance. Some people got the biting satire in Merchant's words and some didn't.
The Maniacs' 1987 album In My Tribe caught on: the venues got bigger and MTV played their videos, including the hit "Like the Weather." Constant touring forced Merchant to overcome some shyness and get more comfortable onstage: a good thing, since the road is where 10,000 Maniacs spent the bulk of the next several years. Blind Man's Zoo, released in 1989, wasn't the smash that In My Tribe had been — that album ultimately went double platinum — but it meant another tour (which incidentally kicked off at WFUV's homebase of Fordham University). This time around, Merchant and her bandmates were big enough to get booked on television shows, and play arenas and art centers on their own.
The mature peak of Merchant's era with 10,000 Maniacs came with Our Time in Eden, released in 1992. It's a beautiful piece of work, with songs like "These Are Days," showcasing the lyrical deftness and intricate melodies that were the Maniacs' signature balance at the time. The album spurred on another mighty tour for the band, which they knew was their last; Merchant told the band during recording that she'd see Eden through, and then go. A live MTV Unplugged session, released as an album in late '93, marked the end of the Merchant-era Maniacs. It turned out to be hugely popular, and launched the singer into a world of publicity and visibility that prefaced her first solo release nicely.
Merchant doesn't do a lot of gushy sharing of personal details with the press, but her time off has meant being at home in the country, volunteering with kids, and doing the things that one hopes will connect a person back to the ground they stand on. Always a kind and generous soul, Merchant's songwriting and performance work for activist causes has gotten mixed into that "off" time. She worked on behalf of causes like domestic violence and the Hole in the Wall Gang camp, and has protested against fracking.
Her own, post-10,000 Maniacs career has also been entirely in her hands; often self-determined and self-published. Merchant's first solo outing, back in 1995, was a smash: that debut, Tigerlily, was not only a critical and commercial success. It's such a strong cultural statement for her admirers that the 20th anniversary reissue (and re-recording) of the album in 2015, called Paradise is There: The New Tigerlily Recordings, included a film in which fans speak effusively about what songs like "Carnival," "Wonder" and "River" still mean to them.
While Tigerlily was a somewhat homegrown project — Merchant paid for the project herself and worked with a small circle of young musicians — her next album was a lush fantasy in comparison. Ophelia, released in 1998, cast the singer in a series of archetypal female roles, one as complex as the next — all women too singular and strong to live within polite patriarchal society. It was gobbled up by smart women and spawned adult radio hits like "Break Your Heart" and "Life is Sweet." The album's timing was just right too: Sarah McLachlan's music festival, Lilith Fair, swept Merchant up into a co-headlining spot.
Following Lilith Fair, Merchant spent the next couple of years steeped in the experimental Americana-slash-world-music songs of Motherland, which she co-produced with T-Bone Burnett. Upon its release in November 2001, Elton John called it "timeless," but the lyrics drew some criticism in a post-9/11 world. Merchant responded by saying, "The most patriotic act I can perform is to be awake and outspoken."
Motherland was her last album for her label, Elektra. Now completely free to do as she wished (which she probably would have figured out how to do anyway), Merchant got married, had a daughter, and released music as she was moved to do so. The House Carpenter's Daughter (2003) moved her the rest of the way out of the pop music world, into her own folk arrangements of traditional songs. Elektra released a retrospective of "hits" in 2005, but that was all the world heard from Merchant for a while. She lived like a civilian until inspired to release a double-album of children's poetry set to music, Leave Your Sleep, five years later. It wasn't until 2014 that Merchant's fans got to hear the original songs that had been piling up in her upstate New York home.
According to FUV host (and Merchant's friend) Carmel Holt, the eponymous 2014 album Natalie Merchant "blends topics one would expect [Merchant] to touch on." The album has personal songs, as well as socially and politically driven songs inspired by the world we live in. On tracks like "Giving Up Everything," "Seven Deadly Sins," and "The End," Natalie addresses growing older and dealing with life's struggles.
But as she reaches her early fifties, Merchant exudes confidence and satisfaction from what she learned from life lessons. "It's A-Coming" reflects on the challenges facing mankind today. "Go Down, Moses" addresses post-Katrina New Orleans.
And that's all we have for now. The society of Natalie Merchant lovers waits for more original songs, quietly. Her fans keep themselves busy doing things like cataloguing every appearance she's ever made and watching the "Paradise is There" documentary on Amazon Prime. That's okay, she'll let 'em know when she's ready.
For her irresistible sing-along voice, for her lyrical prowess, and for her natural independence, Natalie Merchant is an FUV Essentials artist.
People shallow, self-absorbed
see the push and shove for their rewards
I, me, my is on their minds
you can read about it in their eyes.
People ruthless, people cruel
see the damage that some people do
full of hatred, full of pride
it's enough to make you lose your mind
I know that it will hurt
I know that it will break your heart
the way things are
and the way they've been
— "Break Your Heart" from Ophelia
More:
FUV Essentials: Carmel Holt on Natalie Merchant
Natalie Merchant - FUV's Holiday Cheer 2014
Natalie Merchant - Words and Music - 2010
Mixtape: