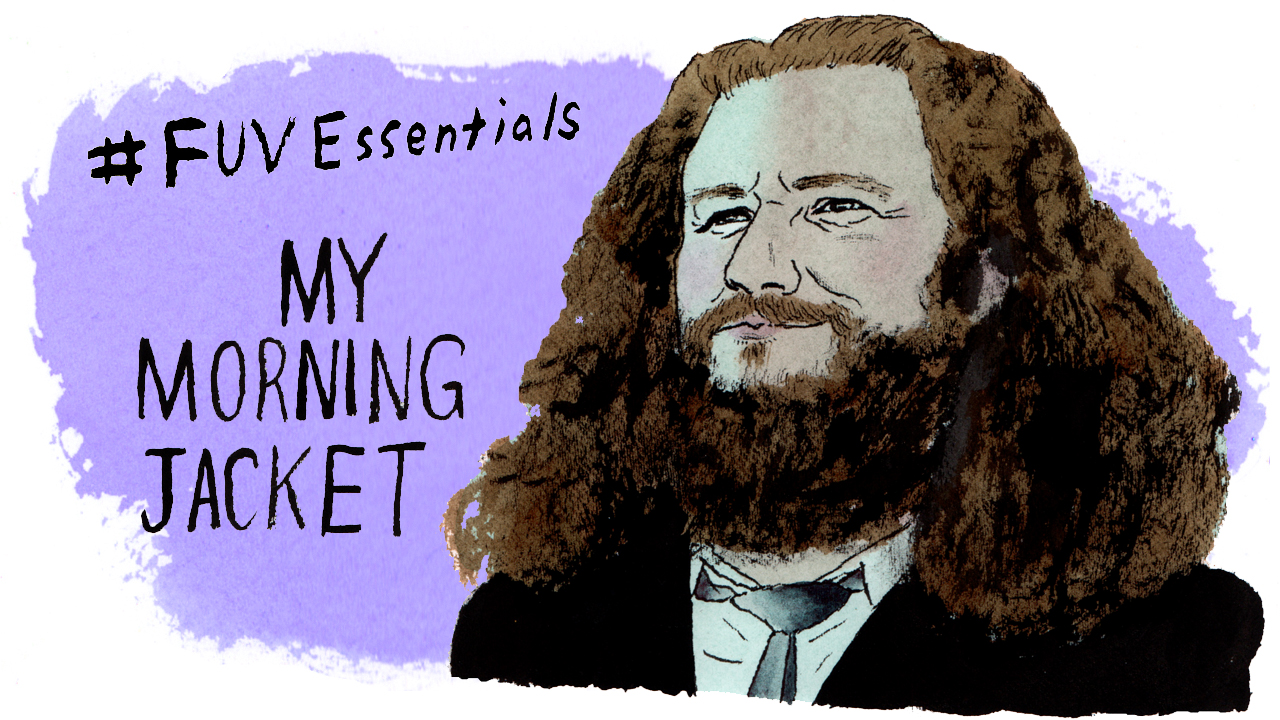 Don't try to pin down My Morning Jacket to one genre or a made-for-radio-programming acronym because it's downright impossible. For nearly twenty years, this hirsute, Kentucky-bred force of nature has unleashed seven studio albums that are corn mazes of contradictions and surprises.
With ringleader and founder Jim James at its hairy helm, My Morning Jacket is a rock 'n' roll derecho of alt-country psych-rock inclinations, yearning melodies and ferocious reverb. The quintet spins mind-bending melodies dappled with whatever mood strikes their fancy: heavy, seismic blues ("Honest Man") cunning funk-pop heightened by James' to-the-rafters falsetto ("Holdin On to Black Metal"), tender or lusty entreaties ("Touch Me, I'm Going To Scream Pt. 2"), and epic labyrinthine jams ("Lay Low").
Live, they are legendary. Back when James began the group in the late '90s, he and his bandmates planted themselves onstage like mighty, bearded desperadoes — a human Wall of Jericho with three guitars, keyboards and a dervish of a drummer. My Morning Jacket nimbly raged and cavorted through their sets — their shaggy halos of hair whipping wildly in a rock 'n' roll gale — but like any storm racing through open plains, beyond the tempest lay a horizon of transformative and quiet beauty. The delicate hush of "Knot Comes Loose,"  the haunting harmonies of 2003's "Golden," or the effervescent Motown vibe of 2015's "Compound Fracture" are unabashedly pretty asides, belying the band's tough dude exterior. Few bands can be comfortably compared to both Radiohead and the Allman Brothers, but My Morning Jacket's gutsy risks and experimentation, wily band folklore (James famously recorded his early album vocals in an empty grain silo), and marathon live sets have earned them the fervent admiration of fans and the ardent respect of critics.
Along with James, original member and bassist Tom Blankenship has been with My Morning Jacket from the start. Drummer Patrick Hallahan, guitarist Carl Broemel and keyboardist Bo Koster were on board by the early or mid-Noughties and as a unit, this army of Kentuckians launched the band's breakthrough fourth album, 2005's Z. The group has faced challenges along the way — lineup changes, the exhausting (and debilitating) pace of touring,  James' bad stage fall in 2008 (which inspired his first solo album), and his near-fatal bout with pericarditis three years earlier — but even a health crisis fueled a creative epiphany: the band's next album, Evil Urges, spun out of that latter experience.
But every My Morning Jacket album is its own Southern gothic novel. While Circuital flirted with stratospheric, fuzzed-out freakouts and space jams that gleefully nudged towards Flaming Lips-land, the band's most recent release, 2015's The Waterfall, offers a counterpoint to the usual breakup album: far from being mopey, it's positively ebullient.  Relief to be rid of romantic disappointment never sounded so sweet as it does on tracks like "Believe (Nobody Knows)."
James recently released a second solo album, 2016's Eternally Even, and his other projects include the supergroup Monsters of Folk with M. Ward, Conor Oberst, and Mike Mogis and the New Basement Tapes with Elvis Costello, Rhiannon Giddens, Marcus Mumford and others. He also produced Ray LaMontagne's 2016 release Ouroboros.
As My Morning Jacket, those formidable Louisville sluggers, head to Queens, New York, during their 2017 tour, for a show at Forest Hills Stadium on Saturday, July 15, it made sense to give the ever-eclectic and experimental My Morning Jacket at least one definitive tag: as FUV Essentials. Even better? We'll be broadcasting that show live on 90.7FM and via WFUV.org that night, beginning at 6 p.m. EDT with Gary Clark Jr.'s opening set.
Listen