Miss Grit: Five Essential Albums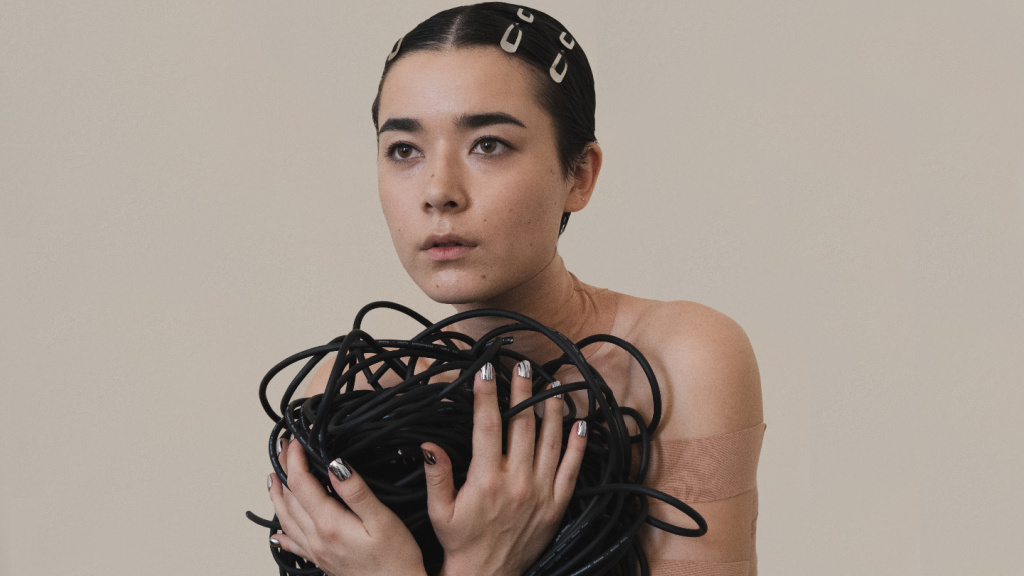 May is AAPI month and FUV is spotlighting artists we admire, on air and online.
Technology, especially artificial intelligence, is at once menacing, disarming, and strangely seductive, avenues rigorously and artfully explored on Miss Grit's debut album, Follow the Cyborg, released in February on Mute. The New York-based musician, real name Margaret Sohn, devised a conceptual pathway for the album, slipping into the persona of a non-human machine and concurrently exploring themes of otherness, including racial (Sohn is Korean-American) and queer identity.
Despite the futuristic angles of Follow the Cyborg, Sohn's songs are achingly human in their cerebral untangling of psychological conundrums, trapped cycles of "Can't figure out how to make things right" ("Nothing's Wrong") and "I am alone; I am my ghost" ("Follow the Cyborg").
Releasing two other EPs in the lead up to their self-produced debut album, 2019's Talk Talk and 2021's Imposter, Sohn's own discomfiture about attention and praise has been impactful creatively too, as has their reckoning with their mixed race heritage. "There's such a mindf**k about being biracial," they told Them. "I grew up in a pretty white, conservative neighborhood, and it definitely informed the way that I view myself as a Korean person. It's really hard to figure it all out, but indulging more in the culture and learning Korean helps me understand myself better."
Miss Grit has tour dates ahead including New York's Mercury Lounge this Wednesday, May 24 and the Over Yondr Festival in West Greenville, New York on June 16. They'll also support Nation of Language on a North American tour this autumn, beginning October 13 in Pittsburgh.
A thrilling and adroit guitarist who once told the NME that watching St. Vincent's Annie Clark inspired them to buy an electric guitar, Sohn's affinity for Clark and fellow shredders is apparent on their "Five Essential Albums" for FUV.
Miss Grit: Five Essential Albums:
St. Vincent, St. Vincent
This album really helped me embrace more sounds that weren't "pretty." Its attitude in particular was really entrancing for me in high school.
Wilco, A Ghost is Born
I've always loved Jeff Tweedy's song structures and this album features so many beautiful lyrical moments as well as some of my favorite guitar solos. They're also my favorite band to see live. I've seen them so many times.
LCD Soundsystem, Sound of Silver
An album I've turned to in so many different phases of my life. It's just one of my favorites and takes me back to so many moments and emotions.
Trent Reznor and Atticus Ross, The Social Network (soundtrack)
I've loved this album for a long time, but I had a really transformative mushroom trip on this album so it's become a really special one for me now, ha ha. It's so great at creating a really visceral atmosphere. I think it's one of my favorite pieces of music.
Björk, Homogenic
Björk is a big source of inspiration for me when it comes to self-expression. The way she projects herself and takes up space is so beautiful. This album is my favorite from her and always something I will turn to for any type of inspiration or outlet.
- Miss Grit's Margaret Sohn
May 2023