Middle Kids: Five Essential Damon Albarn Songs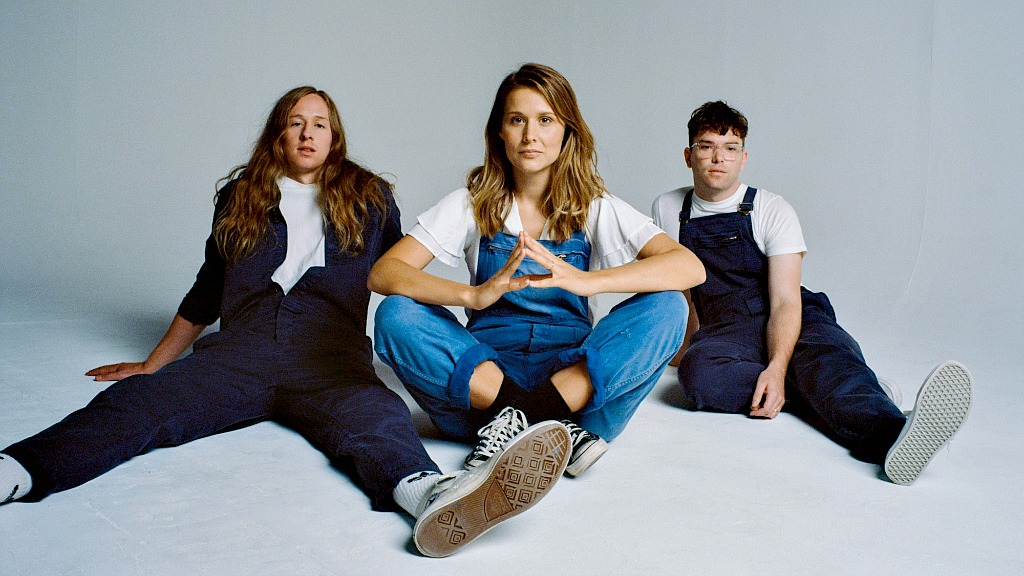 [May 2018 update: The Middle Kids' debut album, Lost Friends, is out now.]
The dynamic Australian trio Middle Kids is on the cusp of releasing its debut album, Lost Friends, on May 4. The collection captures all that's captivating about these young Sydney rockers: a dozen songs blissfully drifting between dreamy, propulsive behemoths ("Mistake") and raucous, blissed-out choruses ("On My Knees"), all ably steered by singer Hannah Joy's yearning entreaties.
Middle Kids turned heads (including Elton John's) in 2016 with their lilting, pedal steel-brushed debut single "Edge of Town," a song that also made its way onto Lost Friends. But while countless interviews (including an FUV Live session) with Joy, her husband and guitarist Tim Fitz, and drummer Harry Day have touched upon their fondness for artists like Pixies, Arcade Fire, and Ryan Adams, the three also share an affinity for classic '90s Britpop and the songwriters who emerged from that era. For Day, that especially includes Damon Albarn's music in every guise — in Blur, Gorillaz, and as a solo artist.
Before Middle Kids hit the road for the year on tour — they'll play New York's Governors Ball on Sunday, June 3 — FUV caught up with Day, who once called Albarn one of his "favorite musicians in life," and asked him to write about his "Five Essential Damon Albarn Songs."
Middle Kids' Harry Day: Five Essential Damon Albarn Songs:
Blur, "Tender," 13 (1999)
Damon Albarn is from the part of England that my mum grew up in, Essex, and Blur was one of the first bands she showed me when I was a kid. To me, this song is like a warm hug from a loved one when you're down and you don't believe in yourself. I remember I sang this song to my year group during our last week of high school, so it reminds me of leaving the safe and the familiar and stepping into the unknown. I love when the choir enters behind Damon in the chorus; all those voices create a sense of solidarity, you feel like you're gonna make it through, and it's gonna be okay.
Blur, "Sing," Leisure (1991)
This album was the soundtrack to a period of my youth, so it was hard to pick any one song from it. It combines pop melodies with shoegazey, wall-of-sound guitars —all with a certain catharsis — and those have all remained some of my favourite things in music. This song is pretty exemplary of all those elements with the lush, reverb-soaked guitars and melodic bass in the verse. That vocal line in the chorus feels like you're ascending to the heavens.
Gorillaz, "Clint Eastwood," Gorillaz (2001)
Something I've always admired about Damon is his readiness to explore different genres in music and his success with it. In Gorillaz, he draws from so many different styles and influences but manages to create a unique and coherent sound. I remember listening to this song on my Discman when I was on the bus to school band camp when I was about 11 years old. The record was one of the first I owned that drew from hip hop and it opened up that whole new world to me. I aspire to be able to combine my different influences in such a compelling way on the drums in Middle Kids.
Gorillaz, "On Melancholy Hill," Plastic Beach (2010)
In each of his different bands, Damon has had no trouble writing amazing hooks that you'll remember for all eternity. That opening bell line is an absolute earworm. This song makes me want to dance and cry at the same time, which is often how I feel about life.
Damon Albarn, "You and Me," Everyday Robots (2014)
I think Damon's first solo record has some of his most earnest, self-reflexive work to date. This song is pretty tense and brooding until the release of the last section. I remember seeing Damon touring this project at the Sydney Opera House and it was magical in that space. Lots of Damon's lyrics are about memories and they have a certain nostalgia and melancholy to them which I find very emotional. I could listen to the last section of this song on repeat for days.
- Middle Kids' Harry Day
April 2018