Martha Plimpton: Five Essential Aimee Mann Songs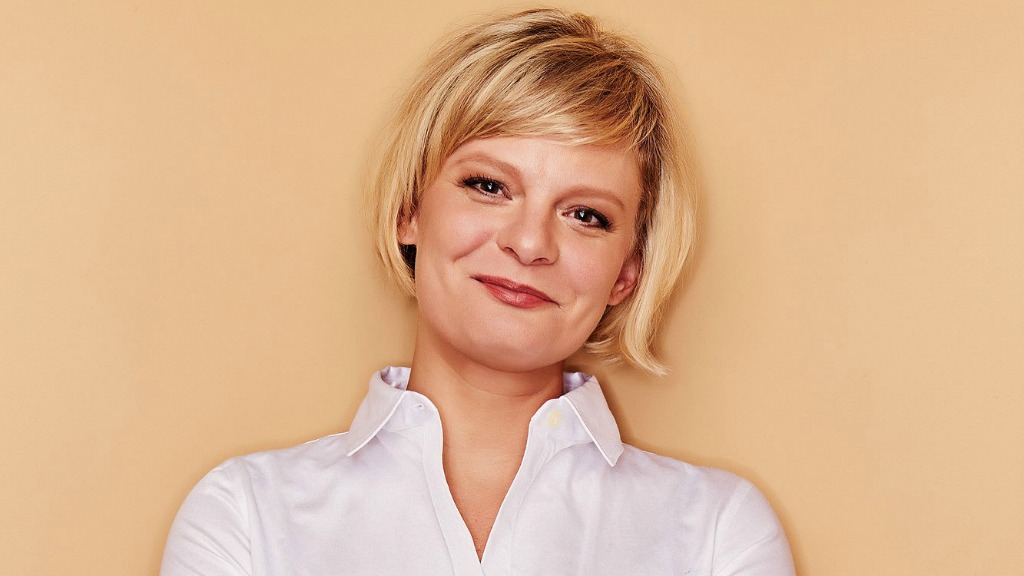 As an actress and activist, Martha Plimpton's résumé is a pretty impressive one. She won an Emmy for her work on CBS's legal drama "The Good Wife," was Emmy-nominated for her role as the ferociously funny Virginia Chance in "Raising Hope," and recently starred in ABC's "The Real O'Neals." In theatre, she's won an Obie (for Hobson's Choice), a Drama Desk award for The Coast of Utopia, and was nominated for three consecutive Tony awards (for The Coast of Utopia, Top Girls and Pal Joey).
Plimpton began her film career as a child, taking on diverse roles that have ranged from intense, heartfelt dramas like "Running on Empty" to comedies like "Parenthood" or the late '90s cult fave "200 Cigarettes" (her music-loving, party girl character fated to never meet Elvis Costello). Upcoming, she'll play the foster mother of a troubled teen in the forthcoming indie film "Natalie," co-starring Julia Sarah Stone.
Most proudly, Plimpton is co-founder of the non-profit reproductive rights organization A is For, advocating for a woman's right to choose and access to safe abortion care.
Despite a Tony-nominated turn in the Broadway musical "Pal Joey," co-starring with Stephen Colbert in Stephen Sondheim's Company with the New York Philharmonic, and duetting with Lucy Wainwright Roche on Bruce Springsteen's "Hungry Heart" on Roche's 2008 album, 8 More, what a lot of folks don't know is that Plimpton is a singer — and a fantastic one at that. Back in February, on Presidents' Day, Plimpton premiered her concert of nothing but Aimee Mann covers, "All the Presidents Mann," at Joe's Pub, matching each Mann song to a particular American president. The concert, described as a "minefield of love, loss, and electoral misjudgment," includes Roche, Julian Fleisher, and music director Dan Lipton.
Since Plimpton has always loved Mann and her music — now more than ever as Martha covers mighty Mann classics like "Save Me" or "That's Just What You Are" — FUV asked if she'd choose five of Aimee's tunes that mean the most to her for FUV Essentials.
Martha Plimpton: Five Essential Aimee Mann Songs
Getting this list down to five is a near-impossible challenge. Aimee Mann is among the greatest songwriters, alive or dead, of all time, in my opinion. There's just too many to choose from. Putting together a show of her music that's under an hour and a half was almost an act of self-torture, considering how impossible it is to pick favorites. But I'll try. In no particular order:
"Poor Judge," Mental Illness (2017)
This song fairly crushes me. It's a heartbreak song really, but it's clear-eyed and pragmatic in a way most heartbreak songs aren't. I think that's why it crushes me. The lack of sentimentality. From the first verse lyric, "I rose like smoke with the steam from your cup…" to the almost shrugging clarity of the last verse, "I came up short, but you do what you can," kills me. Plus the structure of the melody is deceptively simple, but there's this odd, off-kilter time and phrasing thing that makes you wonder if you're on solid ground. Slays me.
"That's Just What You Are," I'm With Stupid (1995)
I love how often Mann invokes a demand for accountability in so many of her songs and this one is probably the most straightforward example of that that I can think of. It's vindicating and direct and I love it.
"You're With Stupid Now," I'm with Stupid (1995)
Another song about accountability, I think. More political, as I hear it, though. But maybe that's just because of the Margaret Thatcher reference. It's too smart a song for me to analyze intelligently. It's a pretty clear indictment though. Of whom, I'm not sure. We do it in our show as a samba. Who knows?
"How Am I Different," Bachelor No. 2 or, the Last Remains of the Dodo (2000)
This song pretty perfectly captures the horror of realizing you have to trust again and risk ending up singing "Poor Judge" inevitably. It's a cynical song sung from a hopeful heart. "Just one question before I pack? When you f**k it up later do I get my money back?" Basically, yeah, I'll do this, but I don't have to like it, bub. It's a good song for a tough broad with the guts of a sap. Which I find pretty relatable.
"Beautiful," The Forgotten Arm (2005)
This is one of my favorite love songs of all time. It's wonderfully besotted and utterly in love. And it's full of praise and amazement. She's not always giving love the side eye and this song is part of why I love Aimee Mann. We've all felt this way at least once in our lives and it's such a glorious, urgent feeling that feels like you're about to burst. It makes me smile, this song.
- Martha Plimpton
June 2018