Lucius: The Sheen Center 2022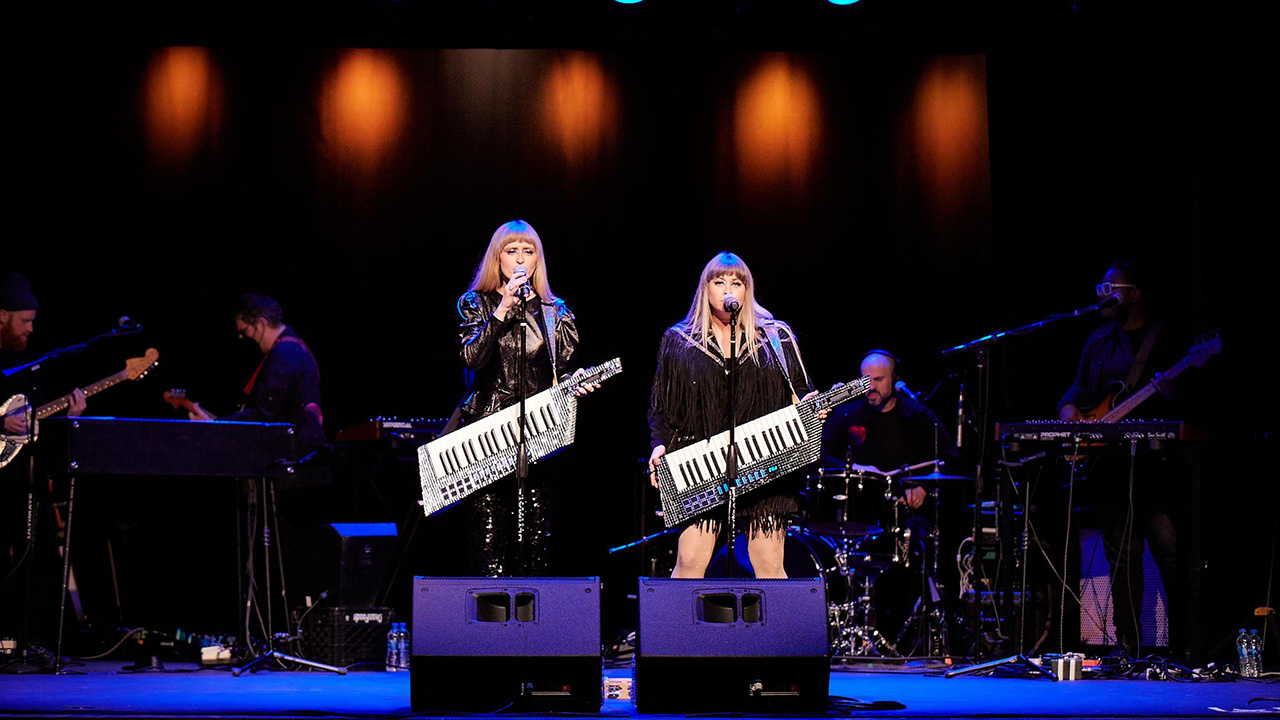 Lucius will be joining "Holiday Cheer for FUV" for a second time at the Beacon Theatre on December 6 — they first joined us back in 2015. This year, they'll arrive as 2023 Grammy nominees thanks to their collaboration with another Cheer alumna, Brandi Carlile (who produced Lucius's latest album, Second Nature).
Carlile's song "You and Me on the Rock," featuring Holly Laessig and Jess Wolfe, was nominated for Best Americana Performance, Record of the Year, and Carlile's In These Silent Days got an Album of the Year (and Americana Album of the Year) nod. ("You and Me on the Rock" was also nominated for Best American Roots Song.)
Don't miss seeing Lucius — along with fellow 2023 Grammy nominees Spoon, 2021 Grammy winner Christone "Kingfish" Ingram, and newcomers Say She She at "Holiday Cheer for FUV," hosted by Anthony Mason of CBS News. Get your tickets today.
The keytars were glittering and the lights were shining bright at The Sheen Center for Thought and Culture during our recent "FUV Live" show with Lucius. It was a celebratory night with our Marquee Members getting to see this band that FUV has loved for so long, during a big week when Lucius later performed at the Beacon Theatre. Watching the twin-like singers Holly Laessig and Jess Wolfe glide around the stage was mesmerizing, and their new songs — and reworked older ones — were even catchier than I could have anticipated.
WFUV first connected with Lucius when they released their debut, Wildewoman, in 2013. (As Jess mentions in the show, FUV was also the first radio station to play them.) We've enjoyed all the music they've made since then, and that includes some incredible vocal performances by Holly and Jess with other artists, including Jackson Browne, Roger Waters, Sheryl Crow, and The War on Drugs. It's no wonder that Jess and Holly are in such high demand by fellow musicians and fans: singing to Lucius is Second Nature, which is actually the name of the band's new album.
Produced by Brandi Carlile and Dave Cobb, the album is filled with sleek songs that are guaranteed to get you moving, physically and emotionally. The sonics hit just right thanks to band members Dan Molad, Peter Lalish, Alex Pfender, and Solomon Dorsey. It's a pristine collection of songs that is so enjoyable to get lost in, and so was this show!
Dive into "FUV Live" with Lucius anytime by listening in the player above, checking out the videos, or tune in this Friday, June 10, at 1 p.m. EDT when I play the whole set for you on WFUV.
Setlist:
Second Nature
Next to Normal
Promises
24
The Man I'll Never Find
Dusty Trails
Heartbursts
How Loud Your Heart Gets
Turn It Around
I Feel Love
Encore:
Two of Us on the Run
[Recorded: 5/2/22; Engineers: Hear No Evil and Jim O'Hara; Producer: Sarah Wardrop; Big thanks to the crew at The Sheen Center]