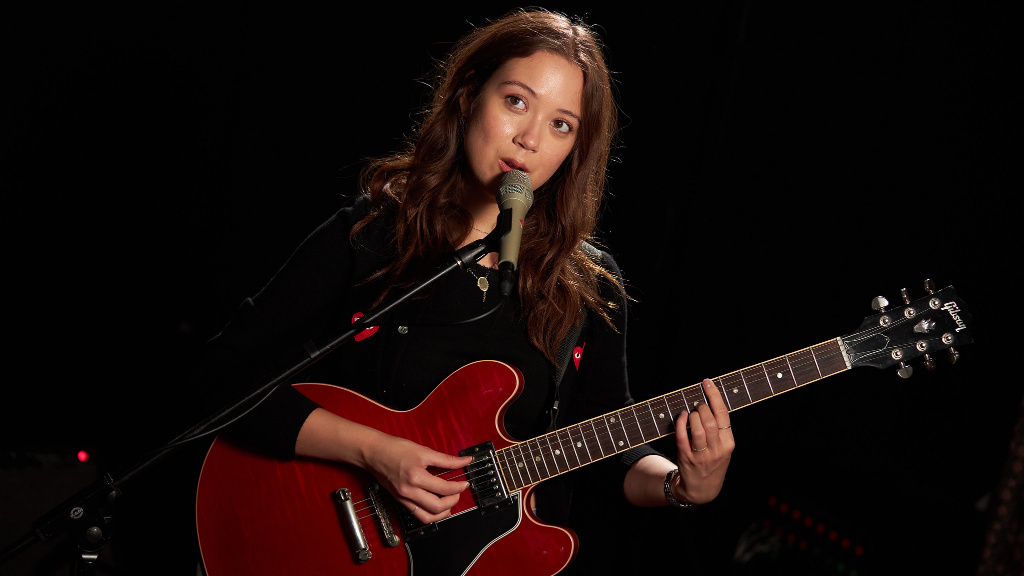 Over the past three years, Laufey has rapidly ascended as one of the world's most popular modern jazz artists. The Icelandic musician, full name Laufey Lin Jónsdóttir, first began releasing her songs online during the grim days of the pandemic while still a student at the Berklee College of Music and she swiftly became a social media phenomenon.
A classically-trained multi-instrumentalist who plays piano, guitar, and cello (her mother is a violinist with the Iceland Symphony Orchestra and her grandfather taught violin at China's Central Conservatory of Music), Laufey translated that viral TikTok momentum into a debut EP, 2021's Typical of Me. A 2022 debut album followed, Everything I Know About Love, as well as a 2023 live album with the Iceland Symphony Orchestra and two more EPs. (She made her first FUV Live visit last year, the day after her debut at the Newport Jazz Festival.)
A second studio album, Bewitched, was released in early September and it is a luminous collection, a testament to Laufey's discerning ability to look to the future with reverence for the past. Her lyrics are wise and witty, contemplating the vagaries of love and how not to lose oneself in its drama. She has sold out her entire North American tour this fall, but ahead of that road trip (which includes her first-ever concert in Beijing with the China Philharmonic Orchestra on September 26), she stopped by Studio A for a second session and conversation about her extraordinary year of music (and some mischief). And there's even a song with a friend, Bea Kristi Laus of beabadoobee, on the horizon.
Listen in on demand in the player above and watch videos below of solo acoustic versions of "Bewitched," "From the Start," and "Promise."
[Recorded: 9/6/23. Engineered by Allen Wang, Jim O'Hara, and Lauryn Williams; produced by Meghan Offtermatt]
Flickr Gallery