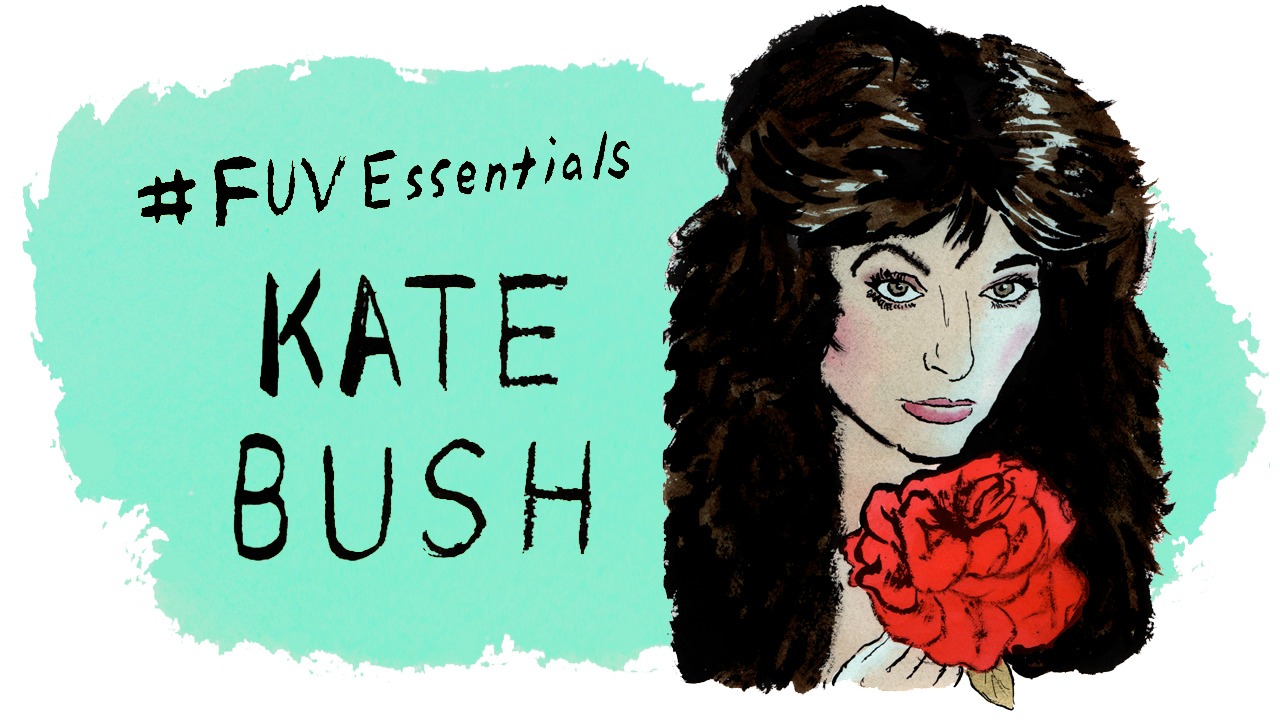 For five surreal weeks in 2014, as summer faded to early autumn, a unicorn— luminous, barefoot and beaming with joy — played London's Hammersmith Apollo for 22 sold-out nights.
Well, she wasn't quite a unicorn, it's true, but for anyone who has ever loved Kate Bush, the cathartic "Before the Dawn" concerts were mythic and monumental happenings, a once-in-a-lifetime chance to see one of the world's most innovative and eminent artists after a 35-year absence from live performance (and only one tour ever, in 1979). Bush's three-hour concerts were communal baptisms for rock's devout, from the moment she entered to the undulating wave of "Lily," to her spirited encore of "Cloudbusting."
The "Beyond the Dawn" shows, eloquently captured on a 2016 live album released last November, were awash in love and tears proffered from audience to musician. But it was Bush's genuine surprise to receive such adoration and affirmation that was startling—as if she could have been easily forgotten. As captured on Before the Dawn, at the denouement of "The Ninth Wave," the epic suite from 1985's Hounds of Love theatricalized in the second act, Bush strolled across the stage to the sweet sunrise of "The Morning Fog" — followed by her guitar-strumming bandmates and son Bertie — and drifted near tears herself as she gratefully thanked the crowd at song's end, seemingly amazed by the rapturous ovation.
While her Stateside fame never reached the mainstream pinnacle of peers like David Bowie, Peter Gabriel or Prince— for one thing, she never cared much about celebrity — Bush is revered in Britain. Three years ago, London felt a bit more special while she held court and not surprisingly, the tickets to all 22 shows of "Before the Dawn" sold out in under 15 minutes. She's retreated from time to time, notably for a 12-year hiatus following the 1993 release of The Red Shoes; she finally re-emerged with 2005's Aerial. That wondrous, pastoral album, explained that hiatus to concerned fans, assuring them that all was fine: she was swimming by moonrise ("Nocturn"), raising her son ("Bertie"), and doing the laundry ("Mrs. Bartolozzi").
A Kent-bred piano prodigy, Bush was championed early on by Pink Floyd's David Gilmour, a family friend, and then swiftly signed by EMI Records when she was just 16. "Wuthering Heights," released when she was 19, was no mere ode to Heathcliff, Cathy and Emily Brontë's Yorkshire moors, but an art-pop thunderbolt — there was absolutely no one and nothing on the radio that sounded like Kate Bush. She seemed to have descended from a celestial firmament, a fully-evolved genius with a very clear idea of her path and her persona. But ask her about her process, even today, and she'll often skirt the query. "I don't know, it's very difficult to talk about music, you know?" she coyly told the Fader in 2016. "It's one of those things that you feel."
Although she toured for one month in April 1979 following the 1978 release of both The Kick Inside and Lionheart (she made her U.S. television debut on "Saturday Night Live" in December 1978), rather than spending months on the road, Bush chose to wield her magic in the recording studio and on the small screen. Her pioneering work with the Fairlight CMI digital synth and sampler, which she first used on 1980's Never For Ever ("Babooshka") and more fully on The Dreaming and her first entirely self-produced album, Hounds of Love (famously on "Running Up That Hill") was revolutionary; she was sensitive to the instrument's power and its pitfalls, marveling in its versatility.
That restless drive for experimentation fed the expansive visual dimension of Bush's music too — the allure of short and long form videos. Her dance and mime training became the nascent foundation of her video performances and, as if anticipating the launch of MTV, she turned to film for her earliest singles, like 1978's "The Man with the Child in His Eyes" and "Wuthering Heights." Her cinematic interpretation of her seventh album The Red Shoes, a 1993 film called The Line, The Cross and the Curve (released late in the States, but nominated for a 1996 Grammy), was not a concert film but, like Jacques Demy's The Umbrellas of Cherbourg, told a story, years before Beyoncé's Lemonade followed a similar template.
As a songwriter, Bush audaciously explores gender fluidity, feminism, sexuality, philosophy, vaudeville, mythology, romantic betrayal, grief and mortality, rapidly shifting between hues of tenderness, circumspection, and defiance. A soprano, her vocals are a tempest of textures and moods — she can soothe ("Under the Ivy"), tantalize ("Suspended in Gaffa") and scorch ("Love and Anger"). She is a storyteller and a keen observer of the extraordinary stakes of an ordinary life: both the romantic and the reviled. Beguiled by the natural world ("Hello Earth," Aerial's "A Sky of Honey" suite) and the draw of classic literature ("The Sensual World," "In Search of Peter Pan"), she has also turned a sharp eye to more sociopolitical ideas too, writing of bereavement and war ("Army Dreamers") and the Australian persecution of indigenous Aboriginal people ("The Dreaming").
Like Bowie, Gabriel and Prince, Bush radically reshaped the theatrical intersection of music, dance, performance, and production. The four shared a mutual fondness for one another too: Bush and Gabriel's duet, "Don't Give Up," from his 1986 album So, remains a source of consolation over 30 years after its release.
Bush considered Bowie one of her "great heroes," and she studied with his mime teacher, the dancer Lindsay Kemp. Although there was never a Bowie and Bush studio recording, they were friends and she wrote eloquently about him after his passing. Prince got turned onto Kate's music partly via producer Michael Koppelman. Eventually, Bush and Prince did collaborate, along with comedian Lenny Henry, on "Why Should I Love You" from her 1993 release The Red Shoes (although not in the way that Bush originally requested). In turn, she lent backing vocals to Prince's "My Computer," found on 1996's Emancipation.
There is a heady list of contemporary artists who consider Kate Bush to be seminal catalyst for their own musical paths, among them St. Vincent, Björk, PJ Harvey, Sia, FKA Twigs, Florence Welch, London Grammar's Hannah Reid, Wild Beasts, Tracey Thorn, Perfume Genius, Saint Etienne's Sarah Cracknell, Everything Everything, Lady Gaga, Tricky and Tori Amos, who began to tire of constant critical comparisons to Bush when she released her first album, Little Earthquakes.
So, while it's satisfying that the Rock & Roll Hall of Fame has finally given Bush her first nomination, years after she was first eligible in 2003, it doesn't take that institution to affirm what the whole of Britain and most music-savvy folks worldwide have known for four decades: Bush is one of rock and art-pop's most innovative musicians and producers. An inimitable artist who has the rare ability to heal, electrify and inspire with every song she's ever released, Kate Bush is one of our FUV Essentials.
Listen
#FUVEssentials: Kate Bush (Spotify playlist compiled by FUV's Kara Manning)