Holiday Cheer for FUV - FUV Live - 2014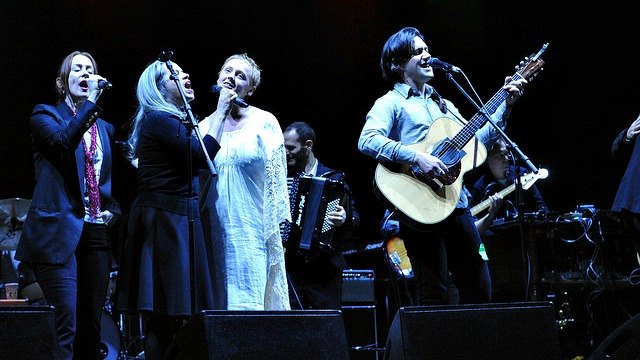 Guided by Conor Oberst, this year's sold-out Holiday Cheer for FUV offered warmth and celebration courtesy of Natalie Merchant, Suzanne Vega, Laura Marling, The Lone Bellow, The Felice Brothers and Jonathan Wilson.
Conor and his bandmates opened with "Lenders in the Temple," followed by The Lone Bellow; the trio focused on songs from their next album, Then Came The Morning. Armed with an acoustic guitar, Laura Marling fiercely delivered two songs, including "Strange" from her forthcoming release, Short Movie. The Felice Brothers brought a summertime vibe to their set, joined by Oberst and trumpeter Nate Walcott on "Wonderful Life."
After a break, the coolly observant Suzanne Vega, joined by guitarist Gerry Leonard, played two songs from 2014's Tales from the Realm of the Queen of the Pentacles. Jonathan Wilson and his band unleashed a 12-minute jam, "Valley of the Silver Moon." Natalie Merchant's thoughtful quartet of songs included a cover, "Weeping Pilgrim," featuring Oberst and fiddler Greg Farley of The Felice Brothers. Conor Oberst closed out the night, diving into Bright Eyes' "Landlocked Blues," and songs from Upside Down Mountain. Oberst and Suzanne Vega dueted on Vega's own "Headshots" and The Felice Brothers returned for a rollicking cover of John Prine's "Pretty Good."
The show closed with John Fogarty's powerful anthem "Have You Ever Seen The Rain." Oberst, flanked by Merchant, Vega, Marling, The Lone Bellow, The Felice Brothers, Wilson, Williams and Walcott, compelled every single person in the audience to sing along, their voices raising the rafters of the Beacon Theatre. Read the full recap of the show.
Listen to all of Holiday Cheer for FUV: Live from The Beacon Theatre below and check out photos from the evening. Or, listen to individual performances from each of this year's Holiday Cheer artists:

Special thanks to MSG Entertainment and The Beacon Theatre.