Holiday Cheer for FUV 2017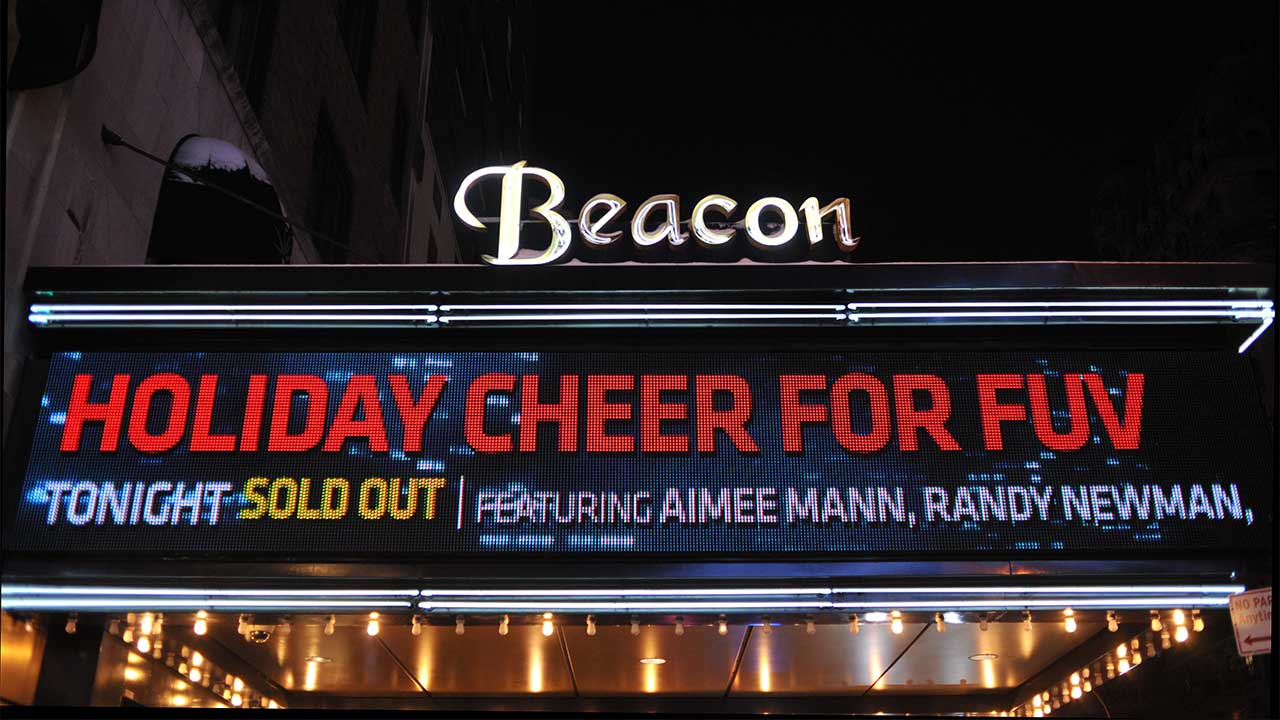 This year's sold-out Holiday Cheer for FUV at New York's Beacon Theatre, the thirteenth annual concert to benefit the radio station, focused on four intimate sets from a multi-generational span of artists sharing a similar worldview: Aimee Mann, Randy Newman, Jeff Tweedy and newcomers Lo Moon. Glancing back in the rear view mirror of what could generously be described as a chaotic year around the world, it was both invigorating and comforting to have it all broken down for us — with sharp wit and a sharper eye — by some of FUV's favorite artists.
You can listen to the show anytime in the player above, and see photos from the whole evening on our Flickr stream.
On December 15, snow fell steadily outside the Beacon Theatre, blanketing the streets and sidewalks, but all was cozy and warm inside. FUV's Program Director and ambassador of good cheer, Rita Houston, kicked off the concert, describing the night ahead as a "master class in songwriting." The newest face in that rock 'n' roll schoolroom was the fast-rising Los Angeles trio Lo Moon — Sam Stewart, Matt Lowell and Crisanta Baker — who have been a featured artist across public radio this year by in NPR Music's Slingshot project. The band's three-song set — "Thorns," "This Is It" and their first single, the dramatic, shapeshifting "Loveless" — was a convincing affirmation of their promise and an early taste of the group's debut album, due out later this winter.
There's no denying that an undercurrent of dreamy shoegaze steers the trio — a whisper of Slowdive sidles through Lo Moon's lush effects and melodic majesty — and the group's singer and songwriter Matt Lowell commands the stage with undeniable charisma. Flanked on either side by Stewart and Baker (their respective guitar and bass as snow-white as the weather outside), Lowell implored the crowd to "take a chance on us" throughout the epic "Loveless" — and the enthusiastic FUV crowd, nearly all seeing Lo Moon live for the first time, certainly did. The moment didn't get by Lowell either, who happily declared that FUV was "the first station that ever played us, and now we're at the f***ing Beacon Theatre!"
Daytime host Carmel Holt introduced one of her favorite artists, Jeff Tweedy. Although playing solo and acoustic, the ghosts of all of Tweedy's bands — Wilco, Loose Fur, Uncle Tupelo, Golden Smog and Tweedy — always hover by him, like Dickensian memories of Christmases past. The bespectacled musician cut a striking sartorial figure in a taupe jacket and fedora, his long greying hair tumbling down his shoulders. Shifting between three guitars, Tweedy began his set with a brand new song, "Bombs Above," which he also performed earlier this month at NPR Music's 10th anniversary concert in Washington, D.C. It's not, as the title might suggest, a commentary on North Korea, but a brief, poignant apology: "I leave behind a trail of songs/from the darkest gloom to the brightest sun/I've lost my way, but it's hard to say/What I've been through should matter to you."
Over the course of ten tender and tough songs, Tweedy shifted between stripped-down Wilco classics, like Yankee Hotel Foxtrot's "I'm The Man Who Loves You" and Schmilco's "Locator," Uncle Tupelo surprises ("We've Been Had" and "New Madrid") and even a Loose Fur tune, 2006's "The Ruling Class" — which, unlike "Bombs Above," was aimed squarely at a political target. As any devout Wilco admirer knows, Tweedy's between-song patter is almost as good as his songs, and he excels at self-deprecation. After a sweet and raspy "I Am Trying To Break Your Heart," Tweedy revealed that he was dealing with a sore throat and, as the audience murmured in sympathy, he grinned and chirped, "That's exactly the reaction I was looking for! Plus it's a benefit, so it doesn't have to be good!"
Although framed onstage by a bank of illuminated Christmas trees and puffy pillows of artificial snow, Tweedy also made funny excuses for his not-quite-merry setlist. As he launched into Uncle Tupelo's "New Madrid" — the opening line is "All my daydreams are disasters" – he broke off and joked, "They're the only holiday songs I can think of! My catalog isn't particularly celebratory," before resuming the song. A mention of New York City in the same tune — and cheers from the crowd — brought the swift Tweedy rejoinder, "Too easy!" Later in the set, he came a little closer to a seasonal song, revisiting "Pecan Pie" from Golden Smog's 1995's Down By the Old Mainstream, whipped cream sentiments and all.
Tweedy's set was intimate and riveting, and a chance to see his deft acoustic guitarwork in action too (an instrumental break in "Laminated Cat" was particularly thrilling). As he strode offstage, he was greeted and hi-fived by the entire FUV DJ staff too, who were backstage for a group photo.
Before intermission, Russ Borris, music director and host of "The Alternate Side," introduced most of FUV's overnight and weekend staffers onstage — Eric Holland, Sarah Wardrop, George Evans, "Mixed Bag" host Don McGee, "The Boogie Down"'s Binky Griptite, "UKNY" host Kara Manning, and "Sunday Supper" presenter John Platt. (The absent Paul Cavalconte of "Calvacade" had been hit by the flu, and Marshall Crenshaw's "The Bottomless Pit" goes on indefinite hiatus this weekend.) FUV general manager Chuck Singleton also greeted and thanked the audience for supporting the radio station.
During the break, a big, brooding grand piano was rolled onto the Beacon Theatre stage, and the second act began with morning host Corny O'Connell and late night presenter Darren DeVivo introducing the man who would command that mighty instrument: Randy Newman.
It's rare and special to see the 74-year-old Newman in concert these days — his Oscar and Emmy-winning work in film and television keeps him busy — but with the release of 2017's Dark Matter, his first studio album in nine years, he's got a lot to say beyond the realm of benevolent Pixar features.
The marvel of Newman's incisive sociopolitical commentary was most evident this night in songs: he opened with the acerbic and cynical "It's Money That I Love" from 1979's Born Again, which Newman dryly called a "Christmas spiritual." His sharply-etched observations were abundant in selections like "Putin," a prickly satire from Dark Matter; "It's a Jungle Out There," the Emmy-winning theme song from the TV series "Monk"; and the mournful, timely "Louisiana 1927," a track from 1973's Good Old Boys, reborn as a charity single following Hurricane Katrina in 2005, but also deftly reflecting this year's catastrophic storms.
Like Tweedy and Mann, Newman is a sublime raconteur, and his explanations of his songs are frequently witty and deeply revealing. The slow vamp of "You Can Leave Your Hat On" led to his humorous postscript of "two other geriatric artists" who had a hit with his song, Tom Jones and Joe Cocker, who had sped up the tempo of the track on their recordings. "They must have sex differently than I do," he quipped.
But while Newman's selections zigzagged between lucid social commentary and the frailities of human behavior, there were many moments of redemption, hope and tenderness. As a songwriter, he's a caustic romantic: tattered, wiser, and grateful for real love. The perfect last song of his set, "Feels Like Home" from his 1995 musical Faust and 2008's Harps and Angels, is a love song, a respite from darkness and despair. And while Newman's songs might not be typical holiday fare, the song's contented lyrics — "I'd never thought I'd love anyone so much" — were every bit as luminous as a Christmas carol.
FUV's afternoon host Dennis Elsas and FUV evening host Alisa Ali introduced Aimee Mann's 45-minute set, which found Mann bounding through as many songs as she could in a short amount of time. It was a career-spanning overview that including "Save Me" from 1999's Magnolia soundtrack (and Bachelor No. 2, or the Last Remains of the Dodo), "Little Bombs" from The Forgotten Arm, and an especially gorgeous version of "Labrador" from 2012's Charmer. Her excellent 2017 album, Mental Illness, was represented too by "Stuck in the Past," "Patient Zero," a song inspired by actor Andrew Garfield (overwhelmed by Hollywood), and the softhearted ballad "Goose Snow Cone," a song sparked by an Instagram photo of a friend's white cat wearing a "cone of shame" after a medical procedure.
While Mann is usually lauded for her intelligent lyrics, she's also an excellent guitarist and masterful when it comes to arranging harmonies. Accompanied by a string section tonight, songs like "Labrador," "Stuck in the Past" and "The Moth," from 2002's Lost in Space, were especially satisfying.
Equally nice was the introduction of Mann's friend, Christmastime foil and The Both cohort, Ted Leo, for two holiday tunes — their own "Nothing Left To Do (Let's Make This Christmas Blue)" and a cover of "You're a Mean One, Mr. Grinch," from the 1966 animated TV show, How The Grinch Stole Christmas. Leo did his best Thurl-Ravenscroft-as-Boris-Karloff imitation, bathed in green light.
A fast-approaching venue curfew meant that the proposed last song of the set — a cover of Vince Guaraldi and Lee Mendelson's "Christmas Time is Here" from A Charlie Brown Christmas — got lost in the ethers, but it seemed right that Mann ended with an unconventional take on the holiday season; like Scrooge, the Grinch finds his heart — an idea that concluded every other artist's set this evening. The Beacon Theatre briefly became Whoville, and as another Holiday Cheer for FUV ended and everyone tumbled through the doors to the Manhattan snowscape outside, it was the perfect way to embrace the spirit of the season and this night's benefit concert: with love and thanks.
Setlist
Lo Moon
"Thorns"
"This Is It"
"Loveless"
Jeff Tweedy
"Bombs Above"
"We've Been Had"
"I Am Trying To Break Your Heart"
"Laminated Cat"
"New Madrid"
"Passenger Side"
"The Ruling Class"
"Pecan Pie"
"Locator"
"I'm The Man Who Loves You"
Randy Newman
"It's Money That I Love"
"It's A Jungle Out There"
"She Chose Me"
"You Got A Friend in Me"
"Short People"
"Marie"
"You Can Leave Your Hat On"
"I'm Dead But I Don't Know It"
"Louisiana 1927"
"Putin"
"Feels Like Home"
Aimee Mann
"Little Bombs"
"Stuck in the Past"
"Patient Zero"
"The Moth"
"Labrador"
"Goose Snow Cone"
"You Never Loved Me"
"Save Me"
"Nothing Left To Do (Let's Make This Christmas Blue)" (with Ted Leo)
"You're A Mean One, Mr. Grinch" (with Ted Leo)
Special thanks to MSG Entertainment and The Beacon Theatre.