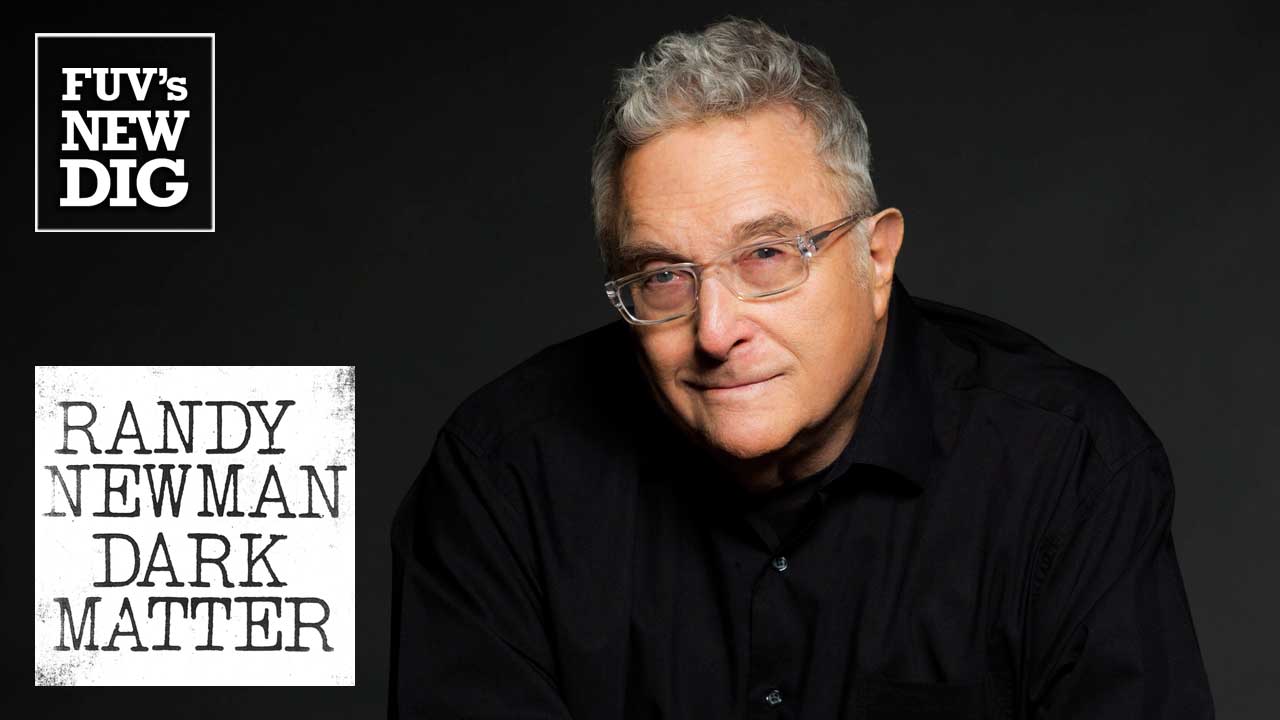 Randy Newman
Dark Matter
Nonesuch Records
Nine years is not a long time — not if you are award-winning singer and songwriter, Randy Newman. Newman has a new album called Dark Matter, his first studio recording of all new, original material in nearly a decade.
It's also only his fifth studio album of new material since 1980. Since the mid-Eighties, long delays between albums have become the norm for Newman, but his fans know the wait is always worth it. In turbulent times of political and social unrest,  Newman is someone to automatically turn to for commentary, opinion and insight. But as any fan of the man's work can attest, don't expect his writing to ever be obvious or superficial.
Newman avoids the predictable and he stays far away from the sensational. Instead, he takes a topic and tries to find out what makes it tick. He shakes it a little, bangs it on the table, throws it against the wall, and turns it upside down in a quest to find something few have noticed or paid attention to. Dark Matter takes this "look under the hood" approach that matches these controversial days.
Numerous songs on Dark Matter play like theatrical productions or selections from movie soundtracks. The album begins with "The Great Debate," an eight-minute, self-contained mini-musical which deals with a science-versus-religion debate. It's presented as a sporting event held in a Durham, North Carolina arena ("in the heart of the research triangle"). On one side is an assortment of scientists, doctors and other smart folk and on the other are members of many different religious groups, several gospel musical groups, and other holy rollers. Newman plays the narrator — or referee — as each side argues its case.
"Brothers" is a fictional conversation between John F. Kennedy and his brother, Robert Kennedy. The two are together in the Oval Office in 1961, just before the Bay of Pigs invasion of Cuba. Their serious discussion over the escalating situation in Cuba culminates with a sudden celebration of Cuban singing sensation, Celia Cruz.
The trilogy of vignettes that opens Dark Matter wraps with "Putin," a satirical song-and-dance number that targets the Russian president. This is how Dark Matter proceeds: it's an album heavily influenced by Newman's work in motion pictures and theatre. Peppered throughout the album, as respites from the bigger-budget productions, are simpler ruminations on aging, like the poignant "Lost Without You" and a playful tune about an aging surfer called "On The Beach."
Newman addresses love in "She Chose Me" whereas in "Sonny Boy," he tells the story of the bluesman known as the original Sonny Boy Williamson.
Dark Matter is the follow-up to 2008's Harps And Angels. During the nine years since Harps And Angels was released, Newman issued the second and third volumes of his "Randy Newman Songbook" album series, which feature stripped-down, re-recorded versions of older songs. He released his second live album, Live In London, and, of course, involved himself in significant movie soundtrack work.
For this new release, he turned to drummer Matt Chamberlain, bassist David Piltch, guitarist Blake Mills, keyboardist Mitchell Froom and a large gathering of backing vocalists.  Newman played piano, sang, wrote all of the songs and handled the orchestration, including arranging and conducting. Froom teamed up with Lenny Waronker and David Boucher to produce the album.
Such a long wait for nine new songs may be frustrating for some, but Dark Matter arrives at the right time and delivers the commentary and insight we crave from Newman. He makes you forget about the time that has passed and puts the focus on where it belongs: the present. The man is one of the era's great songwriters, composers, and storytellers, and Dark Matter perfectly fits in his legacy.
On Monday, August 7 at 8 p.m. EDT, FUV Live features Randy Newman sharing songs and stories at Electric Lady Studios, joined by host Rita Houston and a lucky crowd of WFUV Members. Listen live on 90.7FM and WFUV.org, or on-demand in the Vault.