Guster's Brian Rosenworcel: Five Essential R.E.M. Albums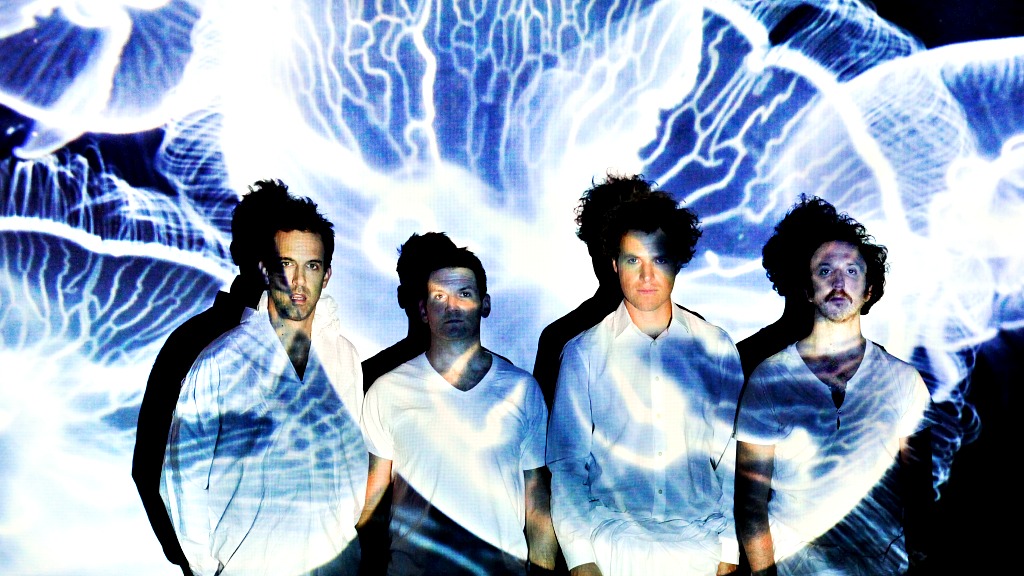 Like this week's FUV Essentials artist, R.E.M., a band that spiralled from the University of Georgia in Athens, the three founding members of Boston-bred Guster also met in a college town, while students at Tufts University in the early '90s. Their unlikely (and now legendary) initial setup—two acoustic guitars and bongos—has progressed artfully for over two decades and seven albums, including 1999's masterful Lost and Gone Forever and their most recent release, 2015's Evermotion, a record produced by Richard Swift.
Guster, now a quartet, nurtures their bracing dynamic of smart, chiming guitar pop with a crafty and ambitious percussive drive. They visited the station last year for an FUV Live session, which not only highlighted their ever-evolving songwriting chops, but the longtime friends' great sense of humor too.
And the men of Guster like R.E.M. quite a bit—the bands share a similar knack for unearthing a yearning beauty in their songs. Guster were a part of a Carnegie Hall tribute to the band back in 2009 and they have covered R.E.M. songs, like "Shaking Through" from Murmur, in their sets.
When we asked Guster's kinetic drummer (and bongo sensei) Brian Rosenworcel to write about his Five Essential R.E.M. Albums, he turned in this terrific, thoughtful list that gives special insight into fellow man-with-sticks Bill Berry's contributions too.
Chronic Town (1982)
Chronic Town is a five-song EP, but it simply can't be ignored. It's a less-refined R.E.M. than most people know, but the energy on this record was rarely matched on their more studio-oriented albums. Michael Stipe introduces himself to the world with a unique mix of talky attitude, soaring melody, and esoteric lyrics that feel like scraps of abstract poems.
It was a lethal combination and when it was in lock step with Peter Buck's melodic guitar parts, they created a pinata of guitar pop that bands have only swatted at with a stick ever since. R.E.M. was the type of four-piece band where you could point to every guy and admire what they were contributing to the whole. They were at their best when they were less cerebral, and Chronic Town was the sound of a raw live band with great songs, pop instincts, and so much more to say.
Murmur (1983)
Just a year later, Murmur came out and I'd like to say I was there in the moment, soaking it up in rock clubs with handfuls of other enlightened fans. But I was nine years old, and like most people, R.E.M. came onto my radar when they came onto the radio later in the '80s. All we missed was the sort of debut album that fires on every cylinder.
"Radio Free Europe" starts the record off with big hooks and suggests a more deliberate writing and recording style than what we knew from Chronic Town. "Talk about the Passion" adds acoustic guitars and cellos to the mix without rocking any less. "Shaking Through" is irresistibly held together by Bill Berry's driving hats.
People often ask me about my favorite drummers, and I tell them about Ringo and Levon who were simple tastemakers, playing parts that I can emulate with my limited chops. When I mention that Bill Berry is on my list, I get the sense that it's the first time anyone's heard that. Why? The guy was R.E.M.'s engine. He wrote drum parts that were as catchy as melodies (check out the roto tom part on "Moral Kiosk") and organized the band in the studio the way drummers often do. He pushed the beat or laid it back as necessary: see Murmur's most mature track, "Perfect Circle." He is exactly what I aim to be as a drummer. Murmur is an essential part of this band's legacy.
Life's Rich Pageant (1986)
"Swan swan, hummingbird. Hurrah we're all free now. What noisy cats are we." Stipe was no less abstract in 1986 when R.E.M. put out its last underground record, Life's Rich Pageant, and yet they were one year and one album away from a top ten hit. The half hour of music on Life's Rich Pageant is R.E.M. right in their sweet spot. While there was some branching out, like the Spanish megaphone sway of "Underneath the Bunker," this album feels like a band coalescing behind what they do well.
Mike Mills's voice solidified itself as a weapon on this record, and even takes the lead on "Superman." Stipe introduces some politics into his lyrics with environmental themes on "Fall on Me" and "Cuyahoga." And songs like "These Days" and "I Believe" are part of the great canon of upbeat pop that R.E.M. created and yet they're not songs the band is well known for. In that way, Life's Rich Pageant feels a bit like R.E.M.'s Exile on Main Street—the album plays through in a perfect pocket, seemingly without a care in the world what anyone thinks.
Document (1987)
Putting out a record every year is a great idea when you're young and can do no wrong. Document began R.E.M.'s shift to the mainstream, completely on the band's terms, and "The One I Love" is about as great a song as you can ever hope to break through with. Stipe's sparse and dark lyrics play a subversive trick on any casual listeners who think it's a love song from the title. "Finest Worksong" finds them hitting a noisier, heavier sound out of the park, and luxuriating in a newfound mid-tempo that's somehow more energetic than the fast stuff.
"It's The End of the World As We Know It (And I Feel Fine)" is the joyride of my teenage years for a reason—have you ever heard another song like it? The sitar-tinged "King of Birds" flexes another muscle still, with a more mature version of the laid back groovy pop they reached for on "Flowers of Guatemala" the year before. There are typewriters, McCarthy era speeches, saxophones, and other new touches introduced here, and the record-breaking-record-deal that followed Document was one of the most deserved and hard-earned I can think of.
Automatic For The People (1992)
By now R.E.M. are global megastars, and yet still able to reinvent their sound with success. On Automatic For The People the band laid it back with more acoustic guitars, an unlikely mellow first single "Drive," and more organ and string textures. Defying expectations while hitting their strengths hard, it's a great album and strikes new emotional chords with its now larger audience. Bill Berry found new ground in percussive studio overdubs, and penned the song "Everybody Hurts" which was so shockingly direct and accessible for an R.E.M. lyric; many of us are still recovering from it.
There are a lot of theories about what happened to R.E.M. later in their career after the departure of Berry. What was effortless became arduous. R.E.M. still wrote great songs but there were no great albums after Automatic For The People. And while R.E.M. experimented with new sounds and new musicians, the problem was that a chemistry and a confidence was gone. Self-doubt and frayed relationships are difficult paths to great art, but R.E.M. lived in the sweet spot through many years and many albums. Forever grateful!
Follow all of FUV Essentials and FUV's Five Essentials.