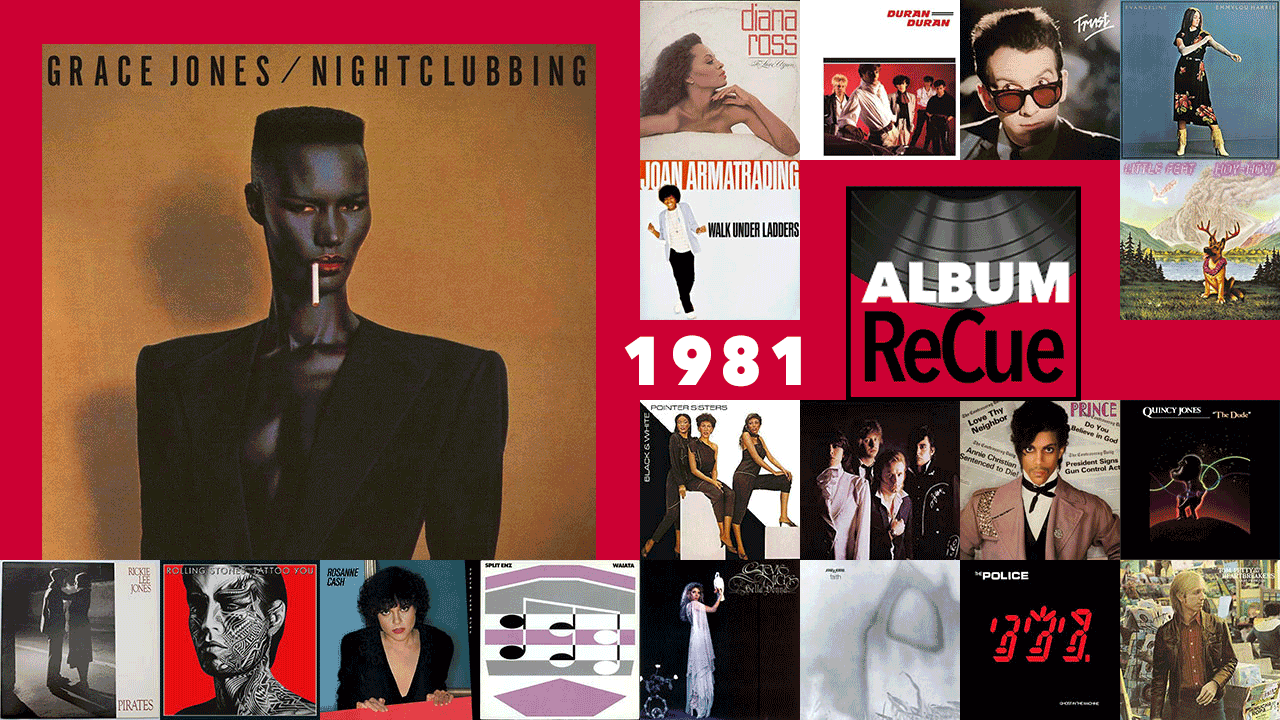 "Album ReCue" for Throwback Thursday celebrating 40th anniversaries: 1981 releases chosen by FUV hosts. Above, listen to Alisa Ali's conversation with Eric Holland about his selection, Grace Jones's fifth album, the ambitious, genre-defying Nightclubbing, and below, Kara Manning's overview of that release. 
Once upon a time, magic was afoot at Compass Point Studios in the Bahamas: Two of FUV's four 1981 "Album ReCue" selections this month were conceived there concurrently — Tom Tom Club's eponymous debut and Grace Jones's landmark fifth album, Nightclubbing.
Forty years after Jones released that behemoth of an album, which rippled with taut eroticism and insatiable reggae, dub, and funky rock grooves, it still sounds pretty damn contemporary. The Jamaican-born, Paris-nurtured, New York-conquering Jones made as much of a meteoric impact as Jean-Michel Basquiat or David Bowie, reigning over her own Planet Grace of music, fashion, and performance art.
Onstage, Jones's iconic androgyny, towering frame, commanding contralto, and theatrical physicality was mesmerizing to behold. She embraced gender fluidity and queer culture like a post-punk Marlene Dietrich; a gleeful stroke of liberation for Jones, a genre-crushing Black woman who shook up early Eighties rock and pop with breathtaking ferocity.
Produced by Island Records founder Chris Blackwell and Alex Sadkin, Nightclubbing followed Jones's "disco trilogy" of the late '70s (Portfolio, Fame, and Muse) and 1980's Warm Leatherette, which marked the first time she worked with Blackwell and Sadkin and waded into New Wave and post-punk. As on Warm Leatherette, Jones was ably assisted by one of the best backing bands ever, the so-called Compass Point All Stars of drummer Sly (Dunbar) and bassist Robbie (Shakespeare), Wally Badarou on keys, guitarists Mikey Chung and Barry Reynolds, and percussionist Uziah "Sticky" Thompson.
"Chris took all my different worlds and stuck them all together to create the Compass Point All Stars – the erotic French side, the acid tripping rock 'n' roller, the Jamaican drum and bass, the androgynous android electronics," wrote Jones in her 2015 memoir, I'll Never Write My Memoirs.
On the nine-track Nightclubbing, Jones includes five covers, but she didn't merely cover songs; she reassembled them like an installation of barbed wire, smoldering cigarettes, and pillowy kisses. With a canny mix of throaty wit, regal sensuality and even a little menace, songs like Sting's "Demolition Man" or Bill Withers' "Use Me" became spiny deep-sea creatures slicing through underground clubs in the depths of late night. Jones sounded absolutely unlike anything — or anyone — else.
Jones's own "Pull Up To the Bumper," co-written with Kookoo Baya and Dana Manno, is a throbbing directive of literal "auto" eroticism, with double entendres nestled against glissades of synths, bass, and even cowbell. It's still, even today, a radical spin. Another Jones original, "Art Groupie," co-written with Barry Reynolds, came to be following a spat with her then-boyfriend, Jean-Paul Goude, a photographer who also collaborated with Jones on her startling style. (The track's lyrics also inspired the title of I'll Never Write My Memoirs.)
There's back-to-mine reveries too, notably the fragile cover of Marianne Faithfull and Barry Reynolds' "I've Done It Again," wrapped in muted horns and shimmering keys, which illuminates a deeper dimension of Jones's voice: its airy, unpredictable beauty.
"Some records you can hear a kind of influence, sometimes just one sound, sometimes the whole feeling – but that's no surprise, because so many people still say that those are the best records they ever heard, those Grace Jones collections that we did," Sly Dunbar told Fact Mag in 2014. "And yes, I'm proud of them. If you listen back to those tracks, how smooth the vocal is, how each part fits in, you can hear that everybody was just grooving, even the engineer – he could balance the song perfectly, even while we were playing it live. It shows you how everyone feeling good in the studio makes a good record. I still listen to the tracks myself all the time, I'll still grab people, say 'listen to this track!'"
The dazzling Jones, the subject of Sophie Fiennes's 2018 documentary "Bloodlight and Bami," will curate London's 27th annual Southbank Centre "Meltdown" in 2022 (rescheduled from 2020 due to the pandemic). So far, she has picked artists like Solange, Peaches, and Baaba Maal to play at the event. (Former Meltdown curators have included David Bowie, Robert Smith, and M.I.A.)
But undoubtedly the most anticipated performance will be from amazing Grace herself: vibrant, visionary and absolutely impossible to imitate.
Listen
WFUV's Album ReCue: Grace Jones's Nightclubbing