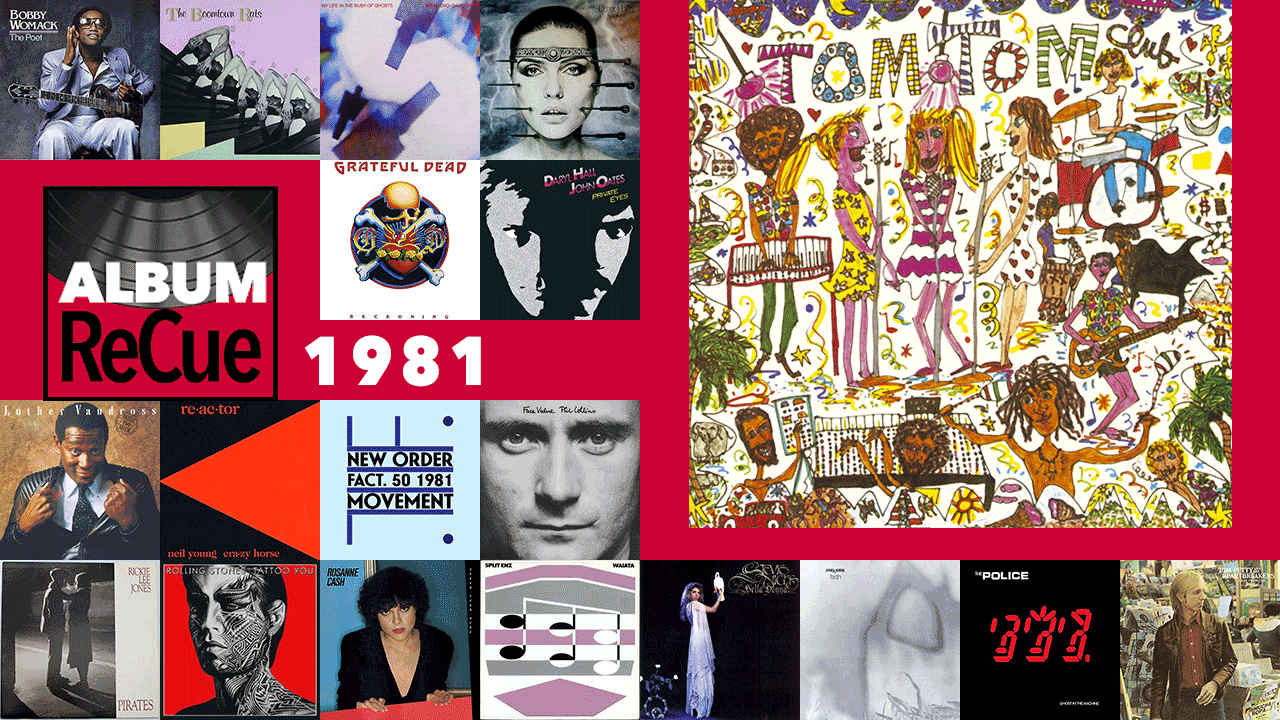 "Album ReCue" for Throwback Thursday celebrating 40th anniversaries: 1981 releases chosen by FUV hosts. Above, an archive of Alisa Ali's conversation with Corny O'Connell about his selection, Tom Tom Club's self-titled 1981 debut, and below, Kara Manning's overview of that release. 
Want to fill up a dance floor fast? Thank Chris Frantz and Tina Weymouth for one of the most reliable secret weapons in any DJ's arsenal: Tom Tom Club's groovalicious 1981 single, "Genius of Love." It's perfect: The spiky blurt of the song's first five seconds is instantly recognizable before the beat drops, and its syncopated saunter — a surreal lyrical splatter of incarcerated woes, a laughing (unhappy) boyfriend, and name checks of funk, reggae, and rap luminaries (Bootsy Collins, Hamilton Bohannon, Kurtis Blow etc.) —  is delirious club manna.
While that track (which owes a debt to Zapp's "More Bounce To the Ounce") and the giddy-yet-influential UK hit "Wordy Rappinghood" might be the best-known singles on Tom Tom Club's eponymous debut of 40 years ago, the entire album is a funked-out funhouse. Recorded in a sun-soaked idyll, at Chris Blackwell's Compass Point studios in the Bahamas (the debut single, "Wordy Rappinghood," was a kind of audition for Blackwell of Island Records), Tom Tom Club vaulted drummer Frantz and bassist Weymouth to center stage as early hip hop acolytes and innovators, beyond the married couple's main gig as Talking Heads' rhythm section.
Weary of tension with David Byrne and producer Brian Eno during the long odyssey of Talking Heads' Remain in Light, Weymouth and Frantz made the most of that band's hiatus while their taciturn frontman focused on a solo album. As Tom Tom Club, the duo were in technicolor euphoria, rounding up a family of collaborators that included Talking Heads' touring guitarist Adrian Belew, Sly Dunbar and Robbie Shakespeare (who were recording Grace Jones's Nightclubbing next door), pianist Tyrone Downie, percussionist Uziah "Sticky" Thompson, and Weymouth's sisters, Lani and Laura, on backing vocals. Lee "Scratch" Perry, who was supposed to produce, never showed up, so Weymouth and Frantz co-produced with Jamaican engineer Stephen Stanley, who was just 23 at the time.
Is it anathema to say that Tom Tom Club was earthier, sexier, and more feral than Talking Heads? There's an admirable looseness to Tom Tom Club, shaped by experimentation and serendipity, skittering between rap, reggae, dub, dance, and rock. The heavy, hypnotic funk of "L'éléphant," sung in French, follows an elephant and a hippopotamus who stumble upon a war-ravaged village, while "On On On On …" is a frisson of staggered post-punk beats, girl group harmonies, and ululating yips.
The magic of "Genius of Love" has never faded — it remains one of the most sampled songs in history. Grandmaster Flash & the Furious Five, Mariah Carey, Mark Morrison, Redman, and scores more have exulted in its everlasting groove.
Frantz and Weymouth celebrate 44 years of marriage in 2021, romantically dovetailing with Tom Tom Club's new reissue of 2000's The Good, The Bad, and The Funky. In July, they paid tribute to late artist James Rizzi with a new clip for "Time to Bounce," recutting his "Genius of Love" and "Pleasure of Love" videos. Frantz released his memoir, Remain in Love, in 2020 and Weymouth was inducted into the Connecticut Women's Hall of Fame in 2018.
When asked by The Quietus in 2011 about the reasons behind creating Tom Tom Club, Weymouth described it simply: "We wanted to make a dance record, we didn't want to sound like our other band and compete with that. We wanted to make something more escapist. And I think we succeeded rather well, actually."
Listen
WFUV's Album ReCue: Tom Tom Club's Tom Tom Club