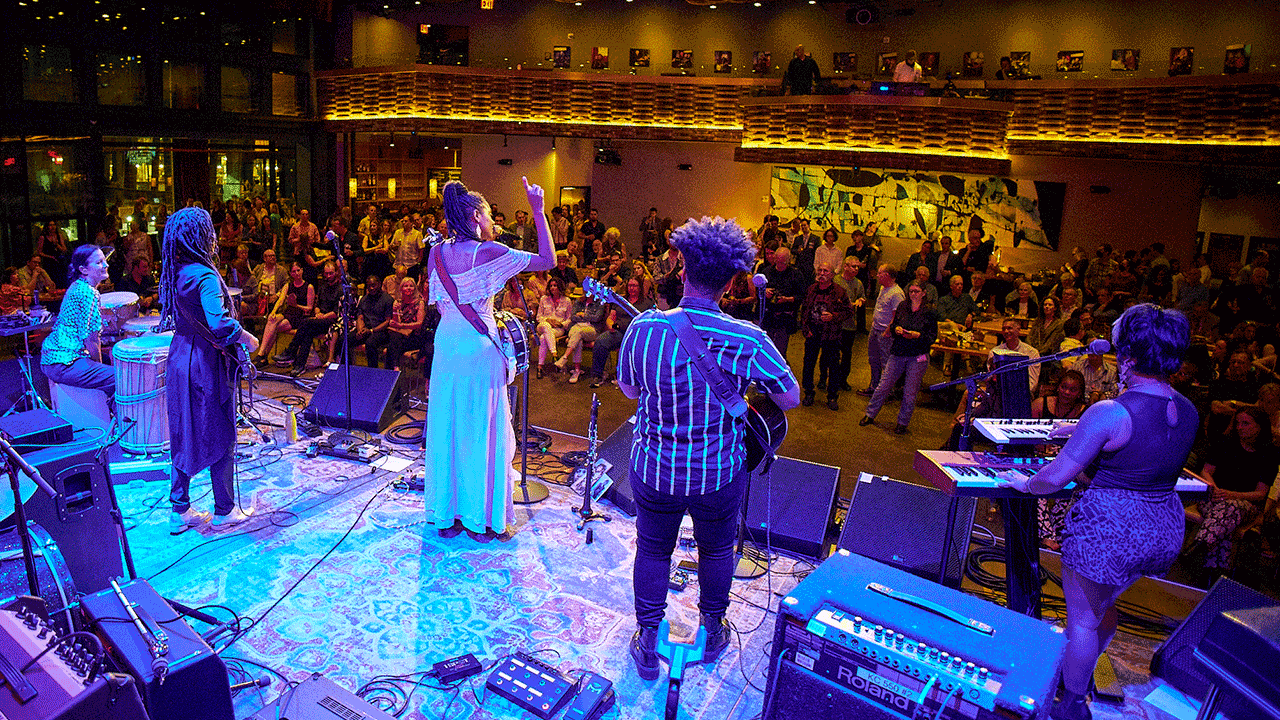 Storytellers—and 75 years of WFUV history—drove the narrative at this year's High Line Bash, on a very warm spring night at City Winery, overlooking the Hudson River. Amid "Bash Bubbles" Conquilla Cava Brut toasts, a global fusion food menu, and warm camaraderie, was the overwhelming consensus that great music inspires—to borrow from one of the evening's artists, the Grammy-nominated Allison Russell—"the rainbow coalition of the loving."
Along with Russell, the mainstage lineup included Midwest-bred, Brooklyn-strong The Hold Steady, marking their own 20th anniversary; singer and songwriter Allison Ponthier; and soul-funk rockers Brandi and the Alexanders. Joe McGinty of Sid Gold's Request Room steered the Superstar Piano Bar in The Loft at City Winery, always a karaoke highlight. [See performance photos here.]
Special onstage guests included Fordham University President Tania Tetlow, just returned from the New Orleans Jazz and Heritage Festival and ready to enjoy more live performances. Russ Borris, FUV's music director, kicked off the night as DJ for the pre-show VIP party.
In addition to listeners, donors, and FUV staffers, including General Manager Chuck Singleton and Program Director Rich McLaughlin, our DJs were on hand including Corny O'Connell, Alisa Ali, Eric Holland, Darren DeVivo (hosting the Superstar Piano Bar), Paul Cavalconte, Delphine Blue, Janet Bardini, John Platt, and Kara Manning.
Openers Brandi and the Alexanders, introduced by Blue, are part of the extended FUV family—the drummer is FUV's assistant program director Eric Gottlieb. At soundcheck, it was already clear a resounding set was in store from the Brooklyn-bred band as singer Brandi Thompson casually belted a run pulled from Aretha Franklin's "Respect" — what a voice Thompson has! Her impressive range gives Brandi and the Alexanders the freedom to tackle any genre, as showcased by tonight's setlist, which mixed originals, such as their own sultry disco gem "(I Want To) Watch You Dance" from their 2022 Reflection EP, with a couple of well-selected covers, one of which was a yearning rearrangement of David Bowie's "Let's Dance."
Weaving together classic underground New York club grooves, Detroit and Philly soul ("Higher"), and new jack swing (TLC's "Waterfalls"), Brandi and the Alexanders' briskly buoyant set showed off their chops as well as their confidence. The resonant "Fire," also found on Reflection, was a highlight; Thompson introduced the song as her contribution to what was happening in 2020, a track that she further developed during the rise of Black Lives Matter protests after the murder of George Floyd. That compelling story also fit the evening's developing arc, one of personal recollections, tales of fortitude, and lives examined via scraps of conversations, peripatetic wanders, and uncomfortable encounters.
Texas-raised, Brooklyn-based Allison Ponthier has only released two EPs and a handful of singles, but the depth of her talent was arresting to witness throughout her thoughtful seven-song set. Introduced by Ali, Ponthier, accompanied only by amplified acoustic guitarist Stu Pender, began with "Autopilot." Like many of her songs, it has surprising roots, inspired Ponthier's fear of driving and seeing the film "Christine," an adaptation of the Stephen King horror yarn about a murderous car.
Ponthier's crystalline, sweet vocals belie the hard-edged angles of her lyrics, whether ruminating on grief ("Hollywood Forever Cemetery") or celebrating her newfound agency of coming out as queer ("Cowboy"). Ponthier sang as if in dialogue with both Pender and the audience; she frequently swept her hands to her heart, grasping the microphone cord as if a tether to the intimate tale she was telling. A sanguine gentleness was braided throughout her set, especially when she mentioned the death of a loved one that led her to write "Shaking Hands with Elvis."
There well might have been an Elvis Presley (or Costello) tune or two sung upstairs in The Loft at City Winery where Joe McGinty of Sid Gold's Request Room was leading the Superstar Piano Bar throughout the night. Hosted by Darren DeVivo, McGinty tackled a few warm-up songs himself, like The Beatles' "Ob-La-Di, Ob-La-Da" and The Cars' "My Best Friend's Girl." A few DJs got into the act too: Paul Cavalconte drolly warbled The Kinks' "Sunny Afternoon" and Delphine Blue channeled Macy Gray with an impressive "I Try."
But it's always the Bash crowd that enthusiastically takes the biggest chances — and Maritess Lilien, the winner of the FUV silent auction bid to sing with Brandi and the Alexanders' Brandi Thompson, picked Gloria Gaynor's "I Will Survive" as the final Superstar Piano Bar super cover at evening's end.
"I Will Survive" would be a very apt mantra for Allison Russell too. The Juno Award-winning singer, songwriter and multi-instrumentalist has exorcised trauma through her music — and conjured real magic in that brave excavation of the soul. Her acclaimed debut album, Outside Child, starkly grapples with the violent sexual abuse she suffered as a child and teenager. Russell doesn't sugarcoat that raw wound in her set. She introduced a propulsive new song, the epic and bluesy "Eve Was Black," as a "letter to my abuser," coolly describing her stepfather's own legacy of generational torment.
But out of the depth of darkness comes light — and hope is Russell's signature as a multi-faceted musician, performer, and inadvertent healer. Joined by an all-star backing band of Brooklyn keyboardist Elenna Canlas, percussionist Elizabeth Pupo-Walker, New Orleans guitarist Joy Clarke, and bassist Ganessa James,  Russell also introduced a guest, guitarist Keyanna Hutchinson, to join on two more new songs unveiled this evening: a Southern gothic fever dream of a song called "Snakelife" and the jaunty "Demons." Throughout the set, Russell, a sylph-like presence in an ivory, sequined gown, shifted between instruments, from banjo (which she handles like a lead guitar) on "Eve Was Black" to the clarinet on the mesmerizing opener "Hy-Brasil," from Outside Child, and "Demons." Russell is a sage, poet, and bonfire; the iridescent sparks of her songs crackle heavenward.
Closing with "Nightflyer," her Grammy-nominated song, Russell speaks of being "an angel of the morning" and a "violent lullaby," and both sides were evident in her gripping performance (which was introduced by Eric Holland), uplifted by her remarkable band of colleagues. It was an unforgettable set in Bash history.
Stories are also at the very heart of all that The Hold Steady represents, thanks to frontman Craig Finn's observant eye for a rogues' gallery of characters and ordinary folks encountering a Jericho's Wall of complications. As Cavalconte noted in his introduction, the Brooklyn-nurtured band's 2008 message of "Stay Positive" is an affirmation that saw everyone through the last handful of years.
For over 20 years, The Hold Steady have been local heroes, playing their very first show — as Finn noted — at the old NorthSix, now Music Hall of Williamsburg, an experience they replayed this past January 30 to celebrate those double decades. Finn, drummer Bobby Drake, guitarist Tad Kubler, keyboardist Franz Nicolay, bassist Galen Polivka, and guitarist Steve Selvidge were on hand on this Bash night, and welcomed an additional guest for their set, tenor saxophonist Stuart Bogie.
The Hold Steady not only selected songs from their ninth and most recent album, The Price of Progress ("Grand Junction," "Perdido"), but reached into all corners of their career, resurrecting rarely-heard gems like the wistful closer "Oaks," from 2014's Teeth Dreams, which showcased a Bogie solo.
Finn's loquacious introductions are just as entertaining as the songs themselves (and sometimes the same length). For example: most THS songs, explained Finn ahead of "Modesto is Not That Sweet," are sparked by places they'd never been, but since, 20 years in, they've actually landed in most of those locales; the odd, not-visited city, like Modesto, California, is an anomaly. Another: Finn confessed that he had no idea, after writing and recording "Me & Magdalena," from 2021's Open Door Policy, that there was a Monkees song of the same name, released in 2016 and written by his friend Ben Gibbard of Death Cab for Cutie. There were many more stories; a Hold Steady gig is as much about Finn's quirky tangents—from warring couples to itinerant gamblers—as it is the band's own raucously tender take on the song that evolves.
That eccentric journey has always endeared The Hold Steady to WFUV and, as Finn drove home at set's end, why the communal bond between a band and a radio station matters so much.
In addition to performances, Bash attendees also cast bids during FUV's silent auction which included, aside from the karaoke opportunity with Brandi Thompson, a seven-night stay at the Gallery Bay Resort & Spa in Antigua; VIP tickets to the Beach Road Weekend festival in Martha's Vineyard; VIP tickets to "The Late Show with Stephen Colbert" (whenever the WGA strike is settled); Mets tickets; and even an acupuncture session with FUV's Janet Bardini, a seasoned practitioner of Chinese medicine.
The food, catered by City Winery, was a bite of the five boroughs and beyond, with a "Taste of New York" station (including Reuben egg rolls, soft pretzels, smoked salmon on rye toast), Asian fusion with mini poke bowls and pork potstickers, Italian flatbread pizzas and cannolis, and Greek delicacies.
The 2023 High Line Bash was a relaxed and happy affair, one that reminded everyone of the stories we've exchanged and cherished over the years, Most of all, we were all delighted to be under one roof together again—musicians, listeners, supporters, and FUV staffers—and celebrating FUV's diamond anniversary.
If you attended the 2023 High Line Bash—or would like to go next year—you can relive the night via scores of photos found on FUV's Flickr stream, with our thanks to Gus Philippas and Neil Swanson. We also used #FUVBash on Twitter and Instagram; the latter has live video too.
Image Gallery