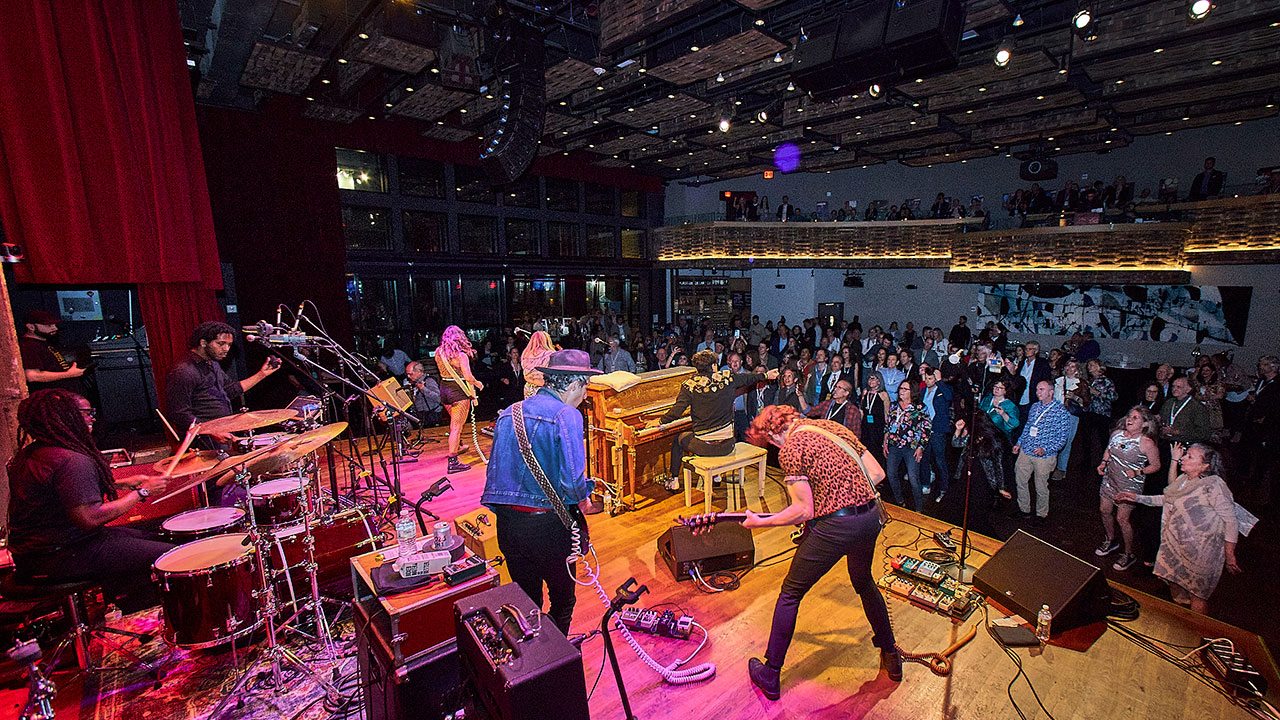 Never has an FUV fundraising benefit been more abundant with love, laughter, euphoric grooves — and free-flowing champagne — than WFUV's 2022 High Line Bash this past Friday night, May 13, returning after a two-year hiatus.
Set at a new venue, the beautiful City Winery, with its dramatic waterfront views overlooking the Hudson River and Little Island, this was an evening of reconnection, relief, and remembrance. The legacy of FUV's late, beloved program director and Bash Creative Director Rita Houston was reflected throughout the evening, notably via the performances of the artists she'd originally chosen for a 2020 High Line Bash that never took place. Almost all of the musicians who joined the 2022 lineup were Rita's picks from two years ago: Low Cut Connie, Bettye LaVette, and The Kennedys. [See our photo album: FUV Bash 2022 on Flickr.com.]
Rounding out the night, another Rita favorite, Rachael & Vilray, generously stepped in for Seratones after illness prevented the Shreveport group from attending. Right before his set, Steve Earle had a family emergency that forced him to cancel too. But over the last couple of years, last-minute changes are the norm and understandable: everyone was grateful to be in a room together at last, winning a trifecta of terrific music, an abundance of good food and drink and, above all, the camaraderie of friends and the FUV family. One of the big hits of the night was Paul Leschen's Superstar Piano Bar in the City Winery Loft, with Paul Cavalconte serving as karaoke master of ceremonies, for anyone longing to belt out a tune (like Rén with the Mane's Renée Orshan, who tackled ABBA).
In addition to listeners, donors, and FUV staffers, including General Manager Chuck Singleton and Program Director Rich McLaughlin, most of the DJs mingled with the crowd, including Paul (sporting a Some Girls Rolling Stones tie), onstage Bash co-hosts Alisa Ali and Benham Jones, plus Dennis Elsas, Eric Holland, Darren DeVivo, Delphine Blue, Russ Borris, Janet Bardini, Don McGee, John Platt, and Kara Manning.
Longtime FUV friends Pete and Maura Kennedy of The Kennedys kicked off the VIP party at the start of the evening, dedicating their set to Rita (and warmly shouting out "Sunday Supper" host John Platt too). The couple's chiming, rich harmonies (and ruby-red guitars) guided an uplifting, career-spanning set that included "Half a Million Miles" and "Stand."
Rachael & Vilray, the Brooklyn duo of Lake Street Dive's Rachael Price and guitarist Vilray Blair Bolles, resurrect the spirit of Peggy Lee or Les Paul and Mary Ford—with a contemporary twist. Their jazzy, swinging performance looped in songs from their self-titled 2019 debut album, like the Johnny Mercer-inspired "Laundromat Swing," with some new gems from a forthcoming 2022 album, including "Hate Is the Basis" and "Why Do I." Rachael, resplendent in a shimmering silver frock, urged the crowd to join in too, as on the call-and-response of "Oh, Johnny." As twilight deepened, hors d'oeurves nibbled, and flute glasses filled with "Bash Bubbly," the sophisticated, retro-minded elegance of Rachael & Vilray's set made everyone feel especially cocktail-party glamorous.
Celebrating the 60th anniversary of her debut single this year, the forever young Bettye Lavette should have "queen" permanently affixed to her name. Ever a style icon too, she jauntily strode onstage, absolute funk-rock royalty and stunningly chic in cigarette-slim leather trousers, vertiginous stilettos, a glittering draped blouse, and dark sunglasses. Accompanied by a bassist, guitarist, and keyboardist, she belted out classics like 1972's "The Stealer," from her album, Child of the Seventies, with electrifying grit, but turned down the volume for poignant selections too. A cover of the Beatles' civil rights anthem "Blackbird," also found on LaVette's 2020 album Blackbirds, was inspired by her "sisters of soul," she explained, a bridge from past influences, such as Aretha Franklin and Dinah Washington, to the present. At the song's emotional apex, LaVette raised both arms heavenward, as if about to take flight.
Low Cut Connie's irrepressible piano mountaineer Adam Weiner also spoke of the past by paying tribute to an early champion. "Rita Houston saw something in us that we didn't see in ourselves," he ardently explained. The Philadelphia-based band—frontman Weiner on upright piano acrobatics, drummer/percussionists Jarae Lewis and Attis Clopton, dynamic backing dancer-vocalists Amanda "Rocky" Bullwinkel and guitarist Abigail Dempsey, guitarist Will Donnelly, and bassist Linwood Kirk—had an extra-long set, giving the gyrating, glad-handing, indefatigable singer plenty of time to get pretty schvitzy. By the end of the set, a drenched Weiner had wrapped a towel around his head in a towering turban before throwing it across the piano.
And what a performance! Experiencing Low Cut Connie live for the first time is a revelation, the best party you never knew existed. The endlessly charismatic Weiner gambols and gyrates across the stage as the City of Brotherly Love's own Elvis Presley. A whirlwind of joy, he blew kisses to the room, clasped the hands of anyone near the stage, clambered atop his piano and vaulted off the stage, all while rollicking with his crack band through crowd pleasers like "Charyse," "Big Boy," and a particularly slinky cover of INXS's "Need You Tonight." At set's end, soaked with perspiration and undershirt ripped, Weiner soulfully duetted on Meatloaf's "Two Out of Three Ain't Bad" with Silent Auction karaoke winner Kevin (who outbid everyone else once again, as he'd done in 2019). It was all giddy, euphoric fun, the clearest affirmation of what the world missed when live music disappeared during lockdowns.
There was plenty to eat and drink all night long. The global menu, catered by City Winery, included a Vietnamese bánh mì station, American Southern specialties (pulled pork, fried chicken, waffles), Spanish delicacies (eggplant tombet, meatballs, and spicy patatas bravas), and Italian flatbread pizzas. Anyone with a sweet tooth found chocolate-dipped cannolis, macarons, and black-and-white cookies. For those searching for spirits stronger than champagne, there was even a tequila and mezcal bar, hosted by Matt Trebeck and Oso Harlem restaurant.
In addition, the Silent Auction generated a slew of competitive bids, with offerings that included: hotly contested VIP tickets to "The Late Show with Stephen Colbert;" getaways to Barbados, Antigua, and Turks and Caicos; private Zoom concerts with Warren Haynes, Rhett Miller, or 2022 Tony nominee Larry Kirwan; a concert trip to see The Lumineers in Los Angeles; and even CD collections from Rita Houston's private music stash.
After such a long wait, the 2022 High Line Bash was a triumph of the restorative magic of live music and the deeply personal bond between this radio station, turning 75 years old later this year, and its loyal supporters and listeners. It was a moving and meaningful celebration, but most of all, a hell of a lot of fun.
If you made it to the 2022 High Line Bash — or hope to go next year — you can relive the night with scores of photos found on the FUV Flickr Stream. We also used #FUVBash on Twitter and Instagram, the latter has live video too.
Out deepest thanks to:
Paul Leschen and Joe McGinty of Sid Gold's Request Room
Steve Earle and Seratones
Bash Co-Chairs: Sarah Connors and Michael Dorf; Theo and Will Dotson; Joann and Michael Rooney; and Jill and Richard Spitz
Sustaining Supporters: Bloomberg Philanthropies; City Winery; FJC: A Foundation of Philanthropic Funds; WB Wood; WisdomTree
Photographers Gus Philippas, Neil Swanson and Chris Taggert
WFUV DJs, Staff, Advisory Board, Community Advisory Board Members
City Winery NYC
Matt Trebeck and Oso Harlem