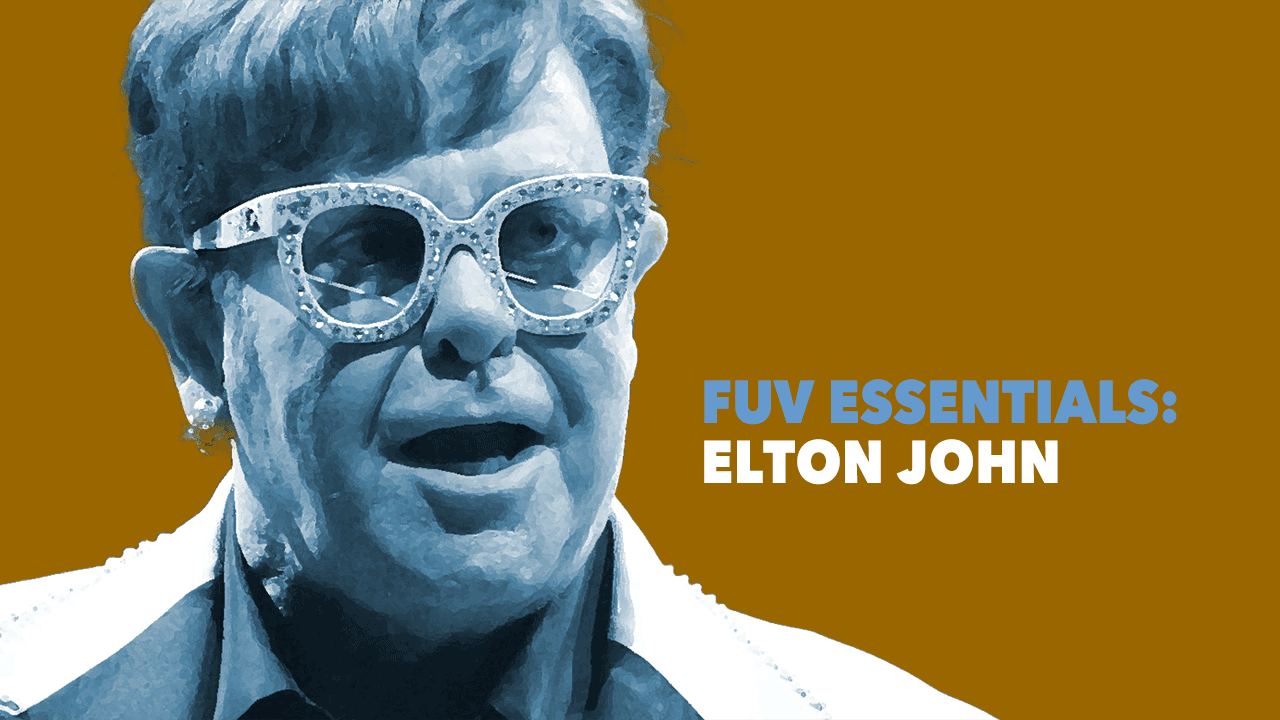 It's nearly impossible to confine Elton John to a single descriptor or a particular era—his career has spanned an astonishing six decades and more than 32 studio albums. The British superstar and knight (yes, he's "Sir Elton") turns 75 on March 25, 2022.
A child prodigy on the piano, John was born Reginald Dwight in Pinner, northwest London. Adopting the bold alter ego of Elton Hercules John, naming himself after his former Bluesology bandmates Elton Dean and Long John Baldry, he became one of the most gifted, ambitious, mercurial, and indefatigable titans of contemporary music.
John's rock and pop ascent was fairly swift over seven prolific years—of his 11 albums released between 1969 and 1976, John and his longtime lyricist and creative partner Bernie Taupin wrote an astonishing string of now-classic songs. The alleged backstories were as vivid as the tracks themselves: there were songs inspired by love and Leon Russell's piano chops ("Your Song"), shooting stars and maybe David Bowie ("Rocket Man (I Think It's Gonna Be A Long Long Time"), the cynicism of the music industry ("Bennie and the Jets"), New York City ("Mona Lisas and Mad Hatters"), John's circumvented near-marriage to his then-girlfriend ("Someone Saved My Life Tonight") or even Taupin's first wife Maxine ("Tiny Dancer"). The specter of British music halls or an Englishman's fantasy of the American west course through albums like 1970's Tumbleweed Connection, 1973's Goodbye Yellow Brick Road and 1975's Captain Fantastic and the Brown Dirt Cowboy.
Oddly, it wasn't until his charming one-off single with Kiki Dee in 1976, "Don't Go Breaking My Heart," that John finally hit No. 1 on the singles charts in Britain. His most successful single—and one of the best-selling singles of all time—was the 1997 re-recorded "Goodbye English Rose" version of the 1973 song "Candle in the Wind," performed at the funeral of his friend, Diana, Princess of Wales and released as a charity single, benefitting her memorial fund. (Taupin and John later auctioned off the handwritten lyrics, raising over $400,000 for the Children's Hospital Los Angeles.)
But along with the hits were lesser-known masterpieces too, like "Skyline Pigeon," from 1969's Empty Sky, which John still includes in concerts (sung in a far deeper baritone now), "Razor Face," from 1971's Madman Across the Water and "Home Again," off of 2013's The Diving Board.
While the John-Taupin collaboration likely reached its apex with the release of 17-track masterpiece Goodbye Yellow Brick Road, the pair's intuitive understanding of their creative partnership (sometimes fraught) allowed for separations, hiatuses, and eventual reconciliations too. Singles like 2001's "I Want Love" (which famously cast a recovering Robert Downey, Jr. in its video) and "This Train Don't Stop There Anymore" (its clip cleverly transforming Justin Timberlake into a young Elton) from Songs from the West Coast and 2006's "The Bridge," from the conceptual album The Captain & The Kid, are as classic John-Taupin collaborations as anything they released in the Seventies.
Three of John's most recent albums albums, including a 2010 collaboration with his beloved idol Leon Russell (who died in 2016), The Union, have been produced by T Bone Burnett. That triplet of albums (including 2013's The Diving Board and 2016's Wonderful Crazy Night, the latter which required a label leap to Island) point to John's determination to always challenge himself with new music and projects instead of relaxing—as he easily could—into only relying on his enormous catalog of songs. In the winter of 2016 he even chastised the Rolling Stones for their artistic passivity, urging them to do a blues album—something which the Stones curiously recorded and released by that December. (Did they heed Elton's tough love advice?)
John's youthful optimism is also reflected in his attention to new music and eager championing of younger artists like Ed Sheeran, Bruno Mars, Parekh & Singh, Bob Moses, Lady Gaga, White Denim, Young Thug and scores more, often via his radio show, "Elton John's Rocket Hour" on Apple Music's Beats 1. He's allegedly working on a Broadway show too, his first since The Lion King and Aida, writing a musical adaptation of the book and film The Devil Wears Prada, collaborating with lyricist and bookwriter Paul Rudnick.
Elton John has transcended his music too, emerging over the years as an LGBTQ icon and activist (he also frequently writes about gay rights issues and violations, stretching from the Ukraine's discriminatory legislation to violence against transgendered inmates in the States). Notably, John is one of the most dedicated philanthropists in entertainment; the Elton John AIDS Foundation, founded in 1992, was an early bellwether for HIV/AIDS research and patient-care organizations and remains a leading charitable force, raising millions of dollars each year.
But even he regrets, as he told Rolling Stone in 2016, that he didn't do more in the early years of the AIDS epidemic. "I should've been there at the ACT UP marches," John told the magazine. "I should've been there and I wasn't. I know I did the f**king record with Dionne Warwick and Stevie Wonder and Gladys Knight. I wasn't omnipresent, and I've felt a lot of guilt about that."
Married to his partner of nearly a quarter century, David Furnish, John is the father of two boys and an avid sports fan, following tennis, American football, and especially English football (soccer)—he once owned the Watford Football Club and the now-defunct Los Angeles Aztecs.
Gleefully fearless, self-deprecating and pretty cheeky in his sartorial choices, he memorably played New York's Central Park in 1980 in splashy wardrobe that included a full Donald Duck getup for his encore of "Your Song." (Poignantly, in that same concert, John covered John Lennon's "Imagine," chatting about his friend's forthcoming album, a mere three months before Lennon's death.) John's good humor carried over in his many appearances on "The Muppet Show" too—he relished being upstaged by the Muppets' Miss Piggy or Kermit.
Although the 2020 Covid-19 pandemic interrupted John's "Farewell Yellow Brick Road" retirement tour, he didn't sit on the sideliness. He released The Lockdown Sessions in 2021, a remotely-recorded collaborative album with a genre mashup of A-list guests that included brand new and older songs with Dua Lipa (the No. 1 U.K. single "Cold Heart (PNAU Remix)," Gorillaz, Stevie Wonder, Stevie Nicks, and many more. Impressively, the album went to No. 1 on the UK album charts and landed in the top 10 of the U.S. album charts. As of now, John's long retirement tour is back on the road and expected to reach its end point in July 2023.
Back in 1983, John released "I'm Still Standing" — a tough declaration of resurrection cloaked as pop confection— when he was only 36. One of the song's key lyrics suits him even more as he reaches this year's milestone birthday: "Looking like a true survivor, feelng like a little kid." John's enthusiasm, ability to embrace change, and desire to always challenge himself has been his core strength. His impressive discography, especially those albums and songs co-written with Taupin, are an indelible part of the world's pop and rock DNA.
Elton John will always be one of our FUV Essentials.
More:
Okkervil River's Will Sheff: Five Essential Elton John Songs
Listen