Elle King: FUV Live At CMJ 2014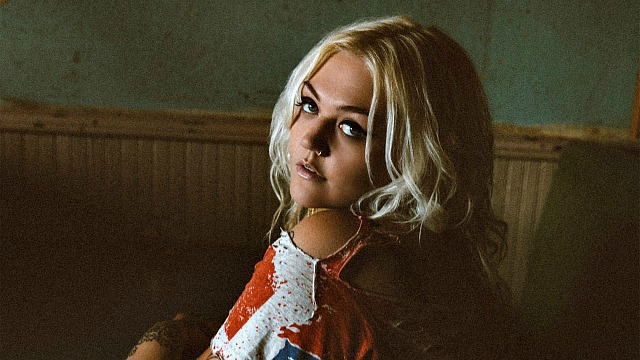 On songs like the torchy lope of "Ex's and Oh's" and the wistfully funny "Good To Be A Man," Elle King's smoky, soulful vocals and forthright, heart-on-her-sleeve attitude make her an irresistible force of nature. Elle will be joining Happyness, Son Little and Horse Thief for WFUV and The Alternate Side's CMJ Music Marathon showcase, FUV Live at CMJ, on Tuesday, October 21, at Rockwood Music Hall in New York City from 5-9pm.
The showcase, the very essence of FUV's mission of music discovery, will be broadcast live on 90.7FM WFUV, also streaming online. In addition, a 12-inch vinyl EP, featuring one song from each band, will be recorded and pressed at Rockwood Music Hall that night and given away to FUV listeners at the event. FUV Live at CMJ is supported by Squarespace.
Elle King resides in Brooklyn these days, but the young, banjo-plucking singer was born in Los Angeles (her father is Rob Schneider of "Saturday Night Live" fame). Following her parents' divorce and her mother's remarriage, she was raised in southern Ohio. King has traveled quite a bit since that time, picking up a steadfast admiration for country, bluegrass, soul, rock and the blues. Those influences came together on King's self-titled 2012 EP, released by RCA Records/Fat Possum, and spawned songs like "Playing For Keeps," used as the theme for VH-1's "Mob Wives Chicago." Taking her time to record her debut album, King, who toured earlier this year with David Ramirez and played Willie Nelson's Heartbreaker Banquet at his ranch during SXSW in March, recently released the first taste of that forthcoming full-length, the single "Ex's and Oh's."
Elle King just recently moved back to New York, so heading to CMJ and FUV's showcase next month won't take up too much traveling time, aside from subway delays. "I always find my way back here," says Elle, who has also lived in far-flung locals like Copenhagen. "Most of my old haunts are still around. So I make sure to visit my favorite watering holes with old friends, and seeing my mom and dad. New York City is the best place for all night eating, drinking, and living life loudly."
What else is on Elle's CMJ agenda? "I'm excited to see The Kills," she says, "but I've been locked up in studios recording this album leaving me totally out of the loop. So I'm looking forward to hearing new bands!"
Below, watch Elle King's quirky video for "Good To Be A Man" from her EP.
FUV Live at CMJ is free to the public (first come, first served) and doors open at Rockwood Music Hall, 196 Allen Street, at 4:30pm. Full line-up and set times:
5pm-5:40pm: Horse Thief
6pm-6:40pm: Elle King
7pm-7:40pm: Son Little
8pm-8:40pm: Happyness
---
Funding for WFUV's ongoing coverage of live concerts and festivals comes from The Agnes Varis Trust, supporting affordable access to the arts, education and healthcare.