Elle King - FUV Live at CMJ - 2014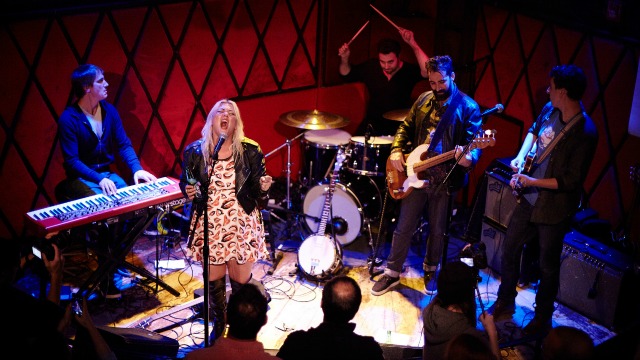 Elle King has a voice that cannot be ignored. It's raspy, it's sexy, it's confident... It's a VOICE, which feels like it requires all caps. Elle is also charming, funny, warm and engaging, and as she proved at our FUV Live at CMJ showcase, she is a talent to be reckoned with.
The obvious strength of a four-song EP released two years ago landed her opening slots on major tours, and her television debut on the Late Show With David Letterman, and on the Rockwood Music Hall stage, we got a live preview of songs from her full-length debut, which is due out early next year on RCA Records.
King says that music is what she has wanted to do her whole life, and her dream (come true) is to have audiences singing along. It was clear from this performance that Elle King is doing what she was born to do, and is well on her way to much bigger stages with much bigger audiences singing her songs.
Set List:
I Told You I Was Mean
Can't Be Loved
Good To Be A Man
Good For Nothing Woman
Where the Devil Don't Go
Kocaine Karolina
Playing For Keeps
Ex's & Oh's
Ignition (Remix)

[recorded 10/21/14]
---
Funding for WFUV's ongoing coverage of live concerts and festivals comes from The Agnes Varis Trust, supporting affordable access to the arts, education and healthcare.
Flickr Gallery