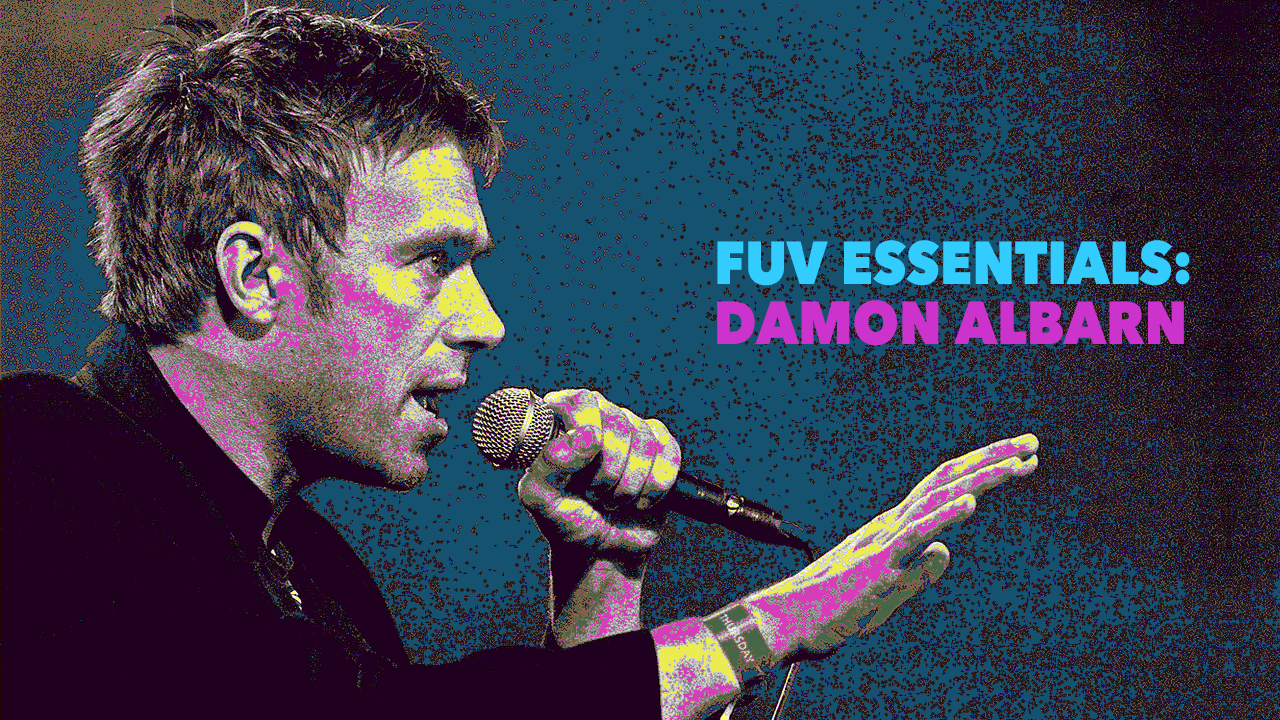 Back in the hazy mid-Nineties, a lithe, wide-eyed Damon Albarn sauntered through candy-colored Blur videos and dutifully smirked in countless cover shoots for the NME. However, there was no guarantee, despite the group's astronomical success and Albarn's clear talent, that the magnetic frontman of one of Britain's most mythical bands would override the music press's Britpop branding that eventually hobbled many of his peers. (Menswear, anyone?)
But the London-born, Essex-raised Albarn was more artistically ambitious than some cynical journalists had reckoned. In a career that's three decades old this year, his indefatigable drive for innovation and regeneration has shaped Albarn as one of the most compelling, idiosyncratic songwriters in contemporary music. He has spanned broad genres, like rock, pop, world music, theatre, opera, and even hip hop.
Beyond Blur, Albarn helms Gorillaz and the supergroup The Good, the Bad & the Queen with the Clash's Paul Simonon, the Verve's Simon Tong, and Fela Kuti's longtime drummer Tony Allen (they're finishing their sophomore album this year with producer Tony Visconti). He's been a driving force behind Africa Express and has co-written untraditional musicals like Monkey: Journey to the West (with Jamie Hewlett), the baroque Dr. Dee, and most recently, the Lewis Carroll-inspired Wonder.land. There was even another brief dalliance with another supergroup, Rocket Juice & the Moon, with Allen and Flea of Red Hot Chili Peppers. Albarn didn't even get around to releasing a solo debut album, Everyday Robots, until 2014.
The first dozen years of Albarn's career were spent with his Blur bandmates — his childhood friend, the guitarist and vocalist Graham Coxon, bassist Alex James and drummer Dave Rowntree. Along with Manchester's ever-pugnacious Oasis, acerbic Pulp, glam-tastic Suede, and scores more, London-by-way-of-Colchester's Blur dominated the UK mainstream charts during that "cool Britannia" halcyon era. However, as they frankly discussed in the 2010 Blur documentary, "No Distance Left To Run," the four men were miserable in that superstar stratosphere too, buffeted by the strafe of fame, and tumbling into heavy drinking, drugs, and too many parties. Although outwardly cocky, Albarn, Coxon, James and Rowntree were inwardly uneasy, which gave their songs, like haunting, heroin-laced "Beetlebum," from 1997's Blur, or the heartbreaking "Tender," from 1999's 13, a discernible vulnerability.
Blur was not an overnight success and the band's early stumbles shaped them; it took several years for the group to find its bearings, but they did so with persistence. Forming in late 1988 as Seymour, with an early identity as a scrappy art school band out of Goldsmiths College, the quartet's first label, Food Records, demanded a new moniker and the group obliged.
As Blur, the band released its debut album in 1991, the Madchester-buzzed Leisure. It was critically regarded as lackluster, despite several decent singles, but the coup de grâce was a demoralizing Stateside tour supporting the record. It was a cross-country journey of tiny clubs, fraught with fisticuffs that nearly tore the band apart. They were also lost in a sea of faux Nirvanas, shouting from the radio, as they traveled America. As James observed in "No Distance Left To Run," Albarn's intense loathing of grunge made the singer "almost defiantly British."
Rebounding from their Stateside thrashing, Blur dug more deeply into their English identity, aware of artists who'd done the same via albums like The Kinks Are the Village Green Preservation Society, the Who's Quadrophenia, or the Jam's All Mod Cons. Albarn's refreshed lyrics, teeming with young, colorful and pretty skint characters roaming London clubs and the suburbs, tapped into the mood of adolescent and twenty-something Britain. The quartet's second album, Modern Life is Rubbish, was a bold, roguish reinvention, and by the time they'd released 1994's Parklife, a commercial and critical triumph, they were credited for launching Britpop, a tag that they came to universally loathe.
Blur's innate Englishness and eclecticism made them a harder sell in the States than the more straightforward, Beatles-worshipping Gallagher brothers. Even the wiry post-punk of Elastica, led by the fiercely mordant Justine Frischmann, was quickly accepted into the American mainstream. As Frischmann recently recalled, since Albarn was her longtime boyfriend (they were the Beyoncé and Jay-Z of Britpop), that imbalance didn't make things easy at home. Strangely, despite Blur's sophisticated albums, like 1995's The Great Escape, and singles like "The Universal" or "Stereotypes," it wasn't until the release of their mocking pastiche of grunge, 1997's volcanic "Song 2," that they finally launched into the upper tier of the American modern rock charts.
But these days, Albarn, who turned 50 on March 23, doesn't really care if the average American knows his name. In fact, the rollout of Gorillaz' 2001 eponymous debut, which outsold every prior Blur album combined in the U.S., was initially cloaked behind the animated, anonymous conceit of four cartoon characters; fans saw the blue-haired 2-D in the virtual band's videos instead of Albarn.
He had co-created Gorillaz in 1998 with illustrator Jamie Hewlett, Albarn's friend and roommate around the time of his breakup with Frischmann. The band — raucous, spiky-haired characters and all — rejuvenated the heartbroken songwriter as he rebounded from the collapse of his seven-year relationship and as Blur became more interpersonally tense. "Gorillaz isn't about anything specific," Albarn told the Guardian in 2017 as he geared up for the release of their fifth album, Humanz, after a seven-year hiatus. "It's very unruly. You can go anywhere and do anything, and that's the whole point of it. There's no agenda."
Yet Gorillaz allowed Albarn the freedom of fresh vistas, digging into hip hop, synth-pop, and even dance; the dizzying roll call of Gorillaz collaborators and rotating bandmates has included the Clash's Mick Jones and Paul Simonon, Bobby Womack, De La Soul, Super Furry Animals' Gruff Rhys, Mos Def, Neneh Cherry, Lou Reed, The Fall's Mark E. Smith, and on 2017's Humanz, even Grace Jones and his one-time "rival," Noel Gallagher. In a 2017 FUV Live interview, Albarn spoke at length about the many catalysts, from Brexit to the present resident in the White House, that sparked the darker tangents of Humanz.
Of all of Albarn's many left turns, his most revealing work is found on his solo album, Everyday Robots, released on April 25, 2014. As he told FUV four years ago, the album was an autobiographical meditation on memories, encompassing his childhood, adolescence and early adulthood. Although songs like the epic and achingly wistful "You and Me" seemed to retrace his long ago love affair with Frischmann, there's a stirring, hopeful resonance to tracks like "Heavy Seas of Love," which reflects his 20-year relationship with artist Suzi Winstanley and their teenage daughter, Missy.
Albarn, who works daily and keeps office hours (really), has plenty to keep him busy in the months ahead. Although another Blur album in the near future is unlikely — the four mates reunited for 2015's The Magic Whip and a subsequent tour — The Good, the Bad & the Queen are in the studio with an album likely to emerge by year's end and Gorillaz kick off more tour dates this June in Europe, the UK, and Japan. As Albarn teased at a recent concert in Chile, there's likely a new Gorillaz album on the horizon and a track featuring Snoop Dogg, called "Hollywood," seems to be on it.
A visionary man with a workaholic's tenacity, Albarn has never ceased exploring and learning; he's the consummate student. Whether writing lyrics in his beloved Iceland (as he did for The Magic Whip), traveling to Mali to work with local artists, or organizing an ambitious tour with the Orchestra of Syrian Musicians via the Africa Express collective, Albarn relishes his chances to be global ambassador. A whirlwind of writing, ceaseless ideas, and richly-crafted songs, Damon Albarn is one of our FUV Essentials.
Nearly a year to the day that Gorillaz took over the FUV studios, on April 26, 2017, we'll rebroadcast our FUV Live interview with Damon Albarn and session with Gorillaz on Wednesday, April 25, 2018 at 8 p.m. EDT, featuring Jamie Principle and Peven Everett.
More:
FUV Live: Gorillaz 2017
FUV Live: Blur 2015
FUV Live: Damon Albarn 2014
Middle Kids: Five Essential Damon Albarn Songs
Listen
#FUVEssentials: Damon Albarn (Spotify playlist compiled by FUV's Kara Manning)