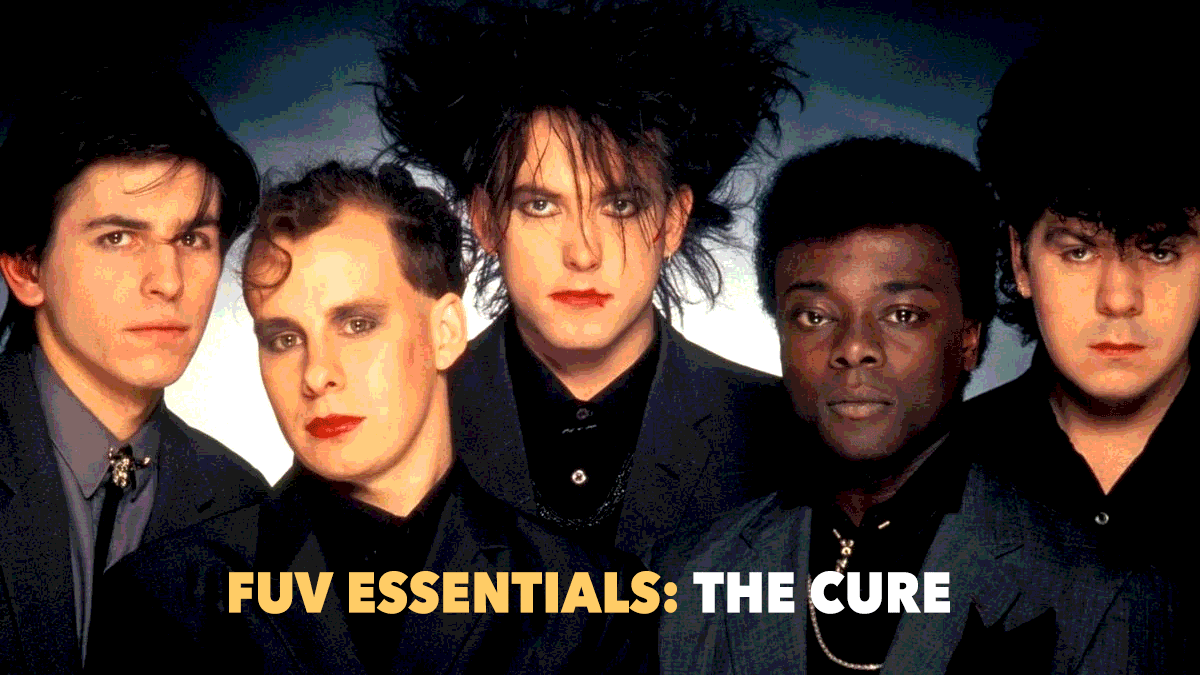 [April 2019 update: Robert Smith of the Cure is crossing several significant thresholds in 2019. He turns 60 this Easter Sunday, on April 21; the Cure's debut album, Three Imaginary Boys, marks its 40th anniversary on May 8; and as of May 2, what many fans consider the crown jewel of the band's discography, Disintegration, will have comforted the melancholy for exactly 30 years. And while Smith was skeptical about the outsized hoopla surrounding the band's induction into the Rock and Roll Hall of Fame this spring — his very dry response to an overeager red carpet reporter went viral — it did give him ample opportunity to reveal the Cure's autumn plans: a brand new album, with a release date hovering near Halloween, that will be the band's first release of fresh material in a decade, and a Stateside tour celebrating (in a woebegone way) Disintegration's watershed anniversary. A lot has happened since FUV first profiled the band as one of our Essentials back in 2016.
"It's so dark. It's incredibly intense," Smith told Rolling Stone of the new album, which was recorded at Rockfield Studios on Monmouthshire, Wales. "And I've waited 10 years to do something that means something. It's going to work really well. I'm not sure how much of it we'll play this summer at festivals. It's not really festival music. The songs are like 10 minutes, 12 minutes long. We recorded 19 songs. So I have no idea what to do now. The others are saying, "Triple album!" I'm saying, no let's not. I'll pick six or maybe eight songs and do like a single album. But I think it will delight our hardcore fans. And probably really, really infuriate everyone else. At my age, I'm still doom and gloom."
Smith and the band's current lineup — Simon Gallup, Roger O'Donnell, Jason Cooper and Reeves Gabrels — will spend most of the year on tour. Among the venue and festival highlights: they'll take over the Sydney Opera House for four days in late May, headline Glastonbury on the Pyramid Stage in late June (for the first time since 1995), and head to Japan for the Fuji Rock Festival in late July. One sad note this year: the Cure's former drummer Andy Anderson, who joined the band in 1983 and appeared on 1984's The Top and the live album, Concert, passed away in February, shortly after a cancer diagnosis.
Last summer, Smith even had the chance to curate his very own festival, Meltdown at London's Southbank Centre, with a lineup that included Nine Inch Nails, My Bloody Valentine, Mogwai and more.
In his eloquent induction speech for the Cure, Nine Inch Nails' Trent Reznor spoke passionately about Smith and the ongoing impact of the band, 40 years on. "Despite making challenging music that deals with the biggest themes, their impact has been gigantic," said Reznor. "They've sold the best part of who gives a s**t how many million records and been an essential touchstone in the genres of post-punk, New Wave, goth, alternative, shoegaze and post-rock. They've been in and out of fashion so many times in the last four decades that they ended up transcending fashion itself. Though they might be a hip name to drop in 2019, this wasn't always the case. Their dedication to pushing sonic and artistic boundaries while making music for the ages wasn't always rewarded with glowing reviews in the press. But they never failed to attract a passionate, intelligent and loyal fanbase who always knew the truth: the Cure are one of the most unique, most brilliant, most heartbreakingly excellent rock bands the world has ever known."]
Robert Smith of The Cure is a curious contradiction. This master of the lachrymose, broken-hearted song is really an affable romantic: he's been married to his childhood sweetheart, Mary Poole, for 28 years (in fact, that's Mary twirling with Smith in the video for "Just Like Heaven.") Smith's halo of unkempt hair, smudged lipstick (preferred color: Mac's Ruby Woo), and ruggedly kohl-lined eyes is also a declaration of love: as he's said in many interviews, it's a look that pleases his wife and he sees no reason to change.
For an Englishman so comfortably entwined in a long, satisfying relationship, Smith, the one consistent member of the Cure for over forty years, confounds expectations. Smith and company have intuitively tapped into the visceral, bottomless ache of loneliness, despair and anxiety: the band's most recognizable calling card. There may be no more magnificently bleak album than 1982's Pornography, but there's also plenty of joy in the Cure's repertoire. Smith cavorts cheerfully through "Doing the Unstuck," "High" and "The Lovecats," although those moments of bliss are often fleeting and ephemeral.  There's a hearty amount of sex too, lurking in the voluptuous, sax-bleating flurry of "Icing Sugar" or the post-coital contentment of "The Only One." Cushioning the Cure's lyrical sobs shrugs, and swoons are some of the most beautiful melodies and arrangements in modern rock: from the shimmering majesty of "Underneath the Stars" to the sensual, motorik drive of "A Forest."
Over the course of 13 studio albums since 1979, from the post-punk minimalism the Cure's debut, Three Imaginary Boys (known in a different configuration Stateside as Boys Don't Cry until properly released in the U.S. by Rhino in 2004), to 2008's grandly euphoric 4:13 Dream, Smith and his cohorts have intimately bonded with their devout fans, offering a healing salve for sadness and self-doubt.
Mourning an unrequited love? Find comfort in Disintegration's five stages of grief: denial ("Pictures of You"), anger ("Prayers for Rain"), bargaining ("Untitled"), depression ("Closedown"), and acceptance ("The Same Deep Water As You"). Drifting in a grey mist of existential ennui? Blue skies break through storm clouds on 1992's disarmingly upbeat (for the most part) Wish and 1985's The Head on the Door, even when punctuated by that perfect lovelorn pop gem, "In Between Days."
Smith's lyrical moodswings and vocal tics shape the emotional tides of the Cure's songs, a cornucopia of hiccuped yelps, distressed vibrato, tender murmurs, and bereaved, bone-chilling wails. But it's also Smith's nimble and underrated guitarwork, notably his use of the distinctive six-string Fender Bass VI beginning on 1981's Faith, that set the tone of the Cure's emotive, atmospheric sound on tracks like "Pictures of You." Over the years, since Smith, bassist Mick Dempsey and percussionist Lol Tolhurst first solidified the early version of the Cure in 1977 (with the passage of other musicians through the nascent, pre-Cure phases of Obelisk and Easy Cure), a parade of talented musicians has marched through the Cure's lineup, including lead guitarists Porl Thompson and Reeves Gabrels, bassists Simon Gallup and Phil Thornally, drummers Boris Williams and Jason Cooper, and keyboardists Roger O'Donnell and Perry Bamonte.
As a live band, the Cure is one of the best, treading on Bruce Springsteen's territory when it comes to marathon-length shows. Count on at least three and a half hours of moody bliss, but those lucky enough to catch the band on Smith's birthday in Mexico City in April 2013 were treated to a 50-song, four hour and 16 minute extravaganza that was preceded—no joke—by an earthquake. As for the band's upcoming three-show run at Madison Square Garden from June 18-20, with Gabrels, Gallup, Cooper and O'Donnell accompanying Smith in the lineup, expect a different set list every night as the Cure pull from over 70 songs, including just-resurrected B-sides like 1985's "The Exploding Boy" or 1992's "The Twilight Garden." There's fresh material too. For their 2016 tour, the Cure have been playing at least two new songs, apparently titled "It Can Never Be The Same" and "Step Into The Light."
It's been eight years since the Cure has released an album, 4:13 Dream, and Smith has teased a new release for a long time. The inclusion of new songs in the band's current tour points to an actively scribbling Smith and that's a good thing. Even if the delivery of another Cure album is far in the future, Robert Smith and the Cure have left their ardent admirers with some of the most emotionally resonant, gorgeously realized rock songs. The band's influence stretches over thirty-five years, reflected in the music of young (and older) bands as diverse as Interpol, Wild Nothing, Nine Inch Nails, Death Cab for Cutie, The Knife, and Crystal Castles. A band treasured by melancholics and romantics, the Cure is one of our FUV Essentials.
More on The Cure:
Wild Nothing's Jack Tatum: Five Essential Cure Songs
FUV Essentials: Russ Borris on The Cure
Listen
#FUVEssentials: The Cure (Spotify playlist compiled by FUV's Russ Borris)