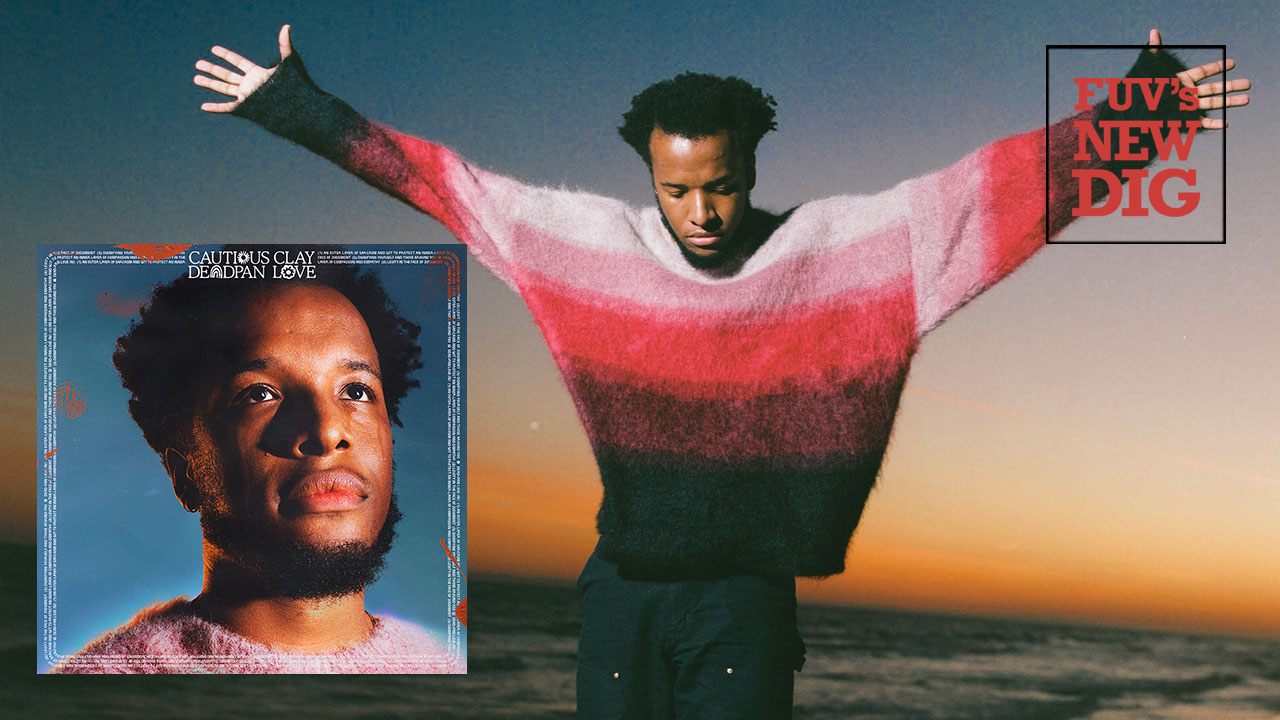 Cautious Clay
Deadpan Love
The Orchard
Why This Album Matters:
Singer, songwriter, and producer Joshua Karpeh, who records as Cautious Clay, has finally released his debut album, Deadpan Love, three years after releasing his first EP, 2018's Blood Type. While the title Deadpan Love hints at Karpeh's dry sense of humor, his lyrics wrestle between critical decisions — whether in love, friendship, or life in general. Although most of the songs were written before the pandemic, Karpeh's album aligns with this era of post-trauma reckonings. His observations, delivered either with raspy entreaties or a wistful falsetto, are propelled by languid beats and a fair bit of thoughtful, sometimes profane, philosophizing. FUV has been beguiled by this Cleveland-born, Brooklyn-based musician for a while; he first visited Studio A in 2018 for an FUV Live session and earlier this year recorded a new "Marquee Live at Home" with host Alisa Ali that airs on 90.7, streaming online, on Tuesday, June 29, at 1p.m.
In His Own Words:
"[Deadpan Love] was originally called Karma and Friends, actually," he also explained to Under the Radar. "But I changed it to Deadpan Love because it was more holistic in how I operate as a person in my life, which is that I feel like I have an external witty side that I use as a protection mechanism for my soul, which I feel like is very earnest and empathetic and caring. So, it's like the two sides of the same coin. Deadpan Love is how I define my identity and how it manifests."
"I took on a little bit of an Executive Producer role in this project," he explains in his FUV "Marquee Live at Home" session, "because in past projects, it was really sort of just myself or like the band. But I think with this album, I really wanted to just find a little bit more of intention and also, like, work with specific people that I thought could take it in the direction that it's in.
Highlights:
"Shook," "Karma & Friends," "Wildfire," "Strange Love" featuring Saba, "Dying in the Subtlety," "Spinner," "Roots"
Why You Will Dig Deadpan Love:
Karpeh hooks into a mellow, breezy flow out of the starting gate on Deadpan Love. From beginning to end, the album is relaxed summertime listening with its loping, low-key grooves. But there's nothing easy about Karpeh's introspective lyricism; he's a sharply observant writer. Multiple tributaries of doubt, vulnerability, anger, soul-searching and straight-up sarcasm run below the surface of each song. Even the starkly pretty "Wildfire," with its undertow of delicate acoustic guitar, is a love song riddled with uncertainty. The brightly catchy "Strange Love," which features rapper Saba, is a confession of bewildered identity in romance, music, and overall coping skills. There's broader social themes too: "Bump Stock" wrestles with the toll of gun violence and "Agreeable" wrangles with political divisiveness. But Karpeh makes it clear in his record label bio that Deadpan Love is not a cynical album, but one of "positivity and hope, but with a realistic spin." It's a theme that resonates in this summer of 2021, unfolding with dueling viewpoints of optimism and caution.
Recommended If You Like:
Michael Kiwanuka, Billie Eilish, Jorja Smith, Peter Gabriel, serpentwithfeet, James Blake, Toro y Moi
FYI:
- Cautious Clay released a total of three EPs leading up to Deadpan Love, including 2018's Resonance and 2019's Table of Context. His breakout single was 2017's "Cold War."
- Karpeh also moonlights as an actor, appearing in the Forest Whitaker drama "Godfather of Harlem." He plays a bandleader and also composes music for the Epix TV series.
- A classically trained flautist, Karpeh also plays saxophone, guitar, bass, and drums too and minored in jazz at George Washington University in Washington D.C. (where he majored in international relations).
- His music has been sampled by Taylor Swift and he remixed Billie Eilish's "Ocean Eyes" in 2015, before she was signed to a label, after her brother Finneas came across his music. Karpeh has also written with John Legend, John Mayer, and Charlotte Gainsbourg.
Listen to a new "Marquee Live at Home" session with Cautious Clay, hosted by Alisa Ali, premiering on Tuesday, June 29, at 1p.m. ET, on 90.7, streaming online and available on demand.