Brittney Spencer: Five Essential Albums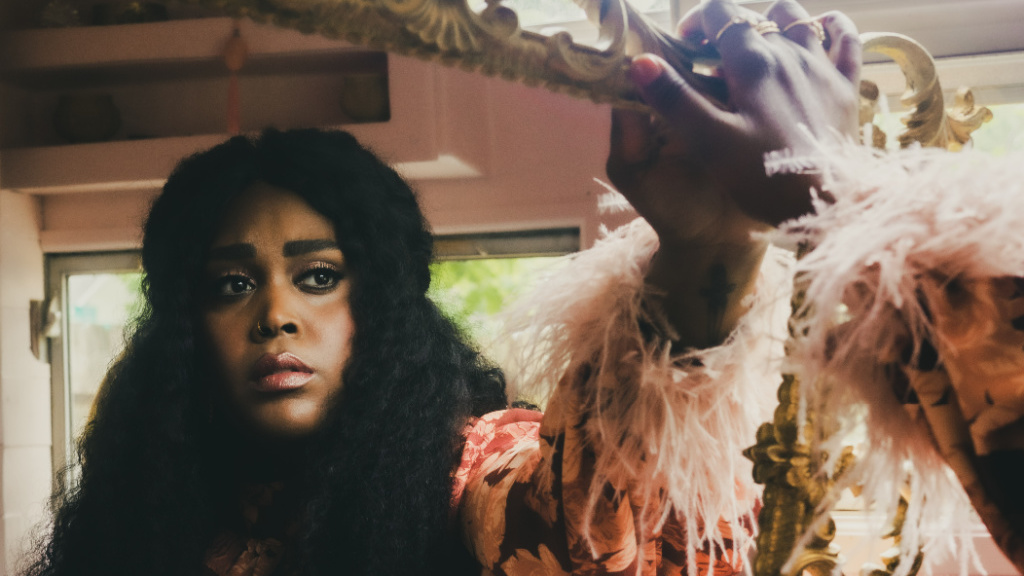 As FUV honors music pioneers for Black History Month, we reach out to a new generation of rising artists and innovators to discuss the "Five Essential Albums" that have guided them creatively and personally.
Breaking into country music is no easy task, but Black country artists have faced unique challenges to get a foothold in Nashville, notably outright racism and country radio's marginalization of women and minorities. Recent triumphs, such as Mickey Guyton's three 2022 Grammy Award nominations (including Best Country Album for her debut, Remember My Name), are just the first step in altering how Nashville's music industry operates.
Brittney Spencer is a dynamic voice in that tide of determined, gifted country performers and songwriters pushing for inclusivity. Raised in Baltimore, she made her move to Music City in 2013, earning a living as a backup singer for artists like Carrie Underwood. At the cusp of the early '20s, Spencer began rapidly ascending as a country star. Her stirring Compassion EP came out in 2020 (which includes the stunning "Sorrys Don't Work No More") and last year, she released the single "Sober & Skinny." Named as one of 2021's "Next Women of Country" by CMT, Spencer movingly joined Gutyon and Madeline Edwards on stage at that year's Country Music Association (CMA) Awards for a breakthrough performance of "Love My Hair."
Spencer's revelatory cover of The Highwomen's "Crowded Table" first connected her with Amanda Shires and three-time CMA winner Maren Morris; in turn, Morris famously shouted out Spencer and other female Black musicians at the high-profile country awards show in 2020.
"When Maren Morris included several of us in her CMAs acceptance speech, I just started tagging other Black women in country music," Spencer told the New York Times last year. "Like, I'm going to post about it, but I'm going to tell you that I'm not the only one. Mickey [Guyton] ain't the only one, Rissi [Palmer] not the only one, Miko [Marks], Reyna [Roberts], it's a whole bunch of us. We're a whole damn army."
Brittney's "Five Essential Albums" for WFUV came with a caveat in an email — as a young girl, she didn't have any high-profile, female Black country musicians as her guides, due to a restrictive industry. But happily, a future generation of aspiring country musicians can look to Spencer and her contemporaries as their inspiration.
Brittney Spencer: Five Essential Albums:
India.Arie, Testimony: Vol. 1, Life & Relationship
This album had such an incredible, wide range of subject matters. It was also the first time I heard my worlds colliding on a song: "Summer" featuring Rascal Flatts.
Beyoncé, Lemonade
My favorite Beyoncé album, by far. Sonically, there were so many styles and genres reflected, and still the album told a complete story. I think many people listen to music this way today. I revisit the visual for this project quite often — it's captivating in every way.
Priscilla Renea (now Muni Long), Coloured
My friend Langston Bleu introduced me to this album in college. I listened to each song, feeling more excited than I did for the last. The album was Southern, young, Black, personal and honest. I love Muni Long, and I'll always love and remember Priscilla Renea just the same.
Sade, Bring Me Home
This album has some of my favorite Sade classics! She sounds incredible live. Every time I listen to this album, I'm reminded just how badly I want to see her perform live, and maybe, by some weird stroke of luck, get the incredible honor of sharing the stage with her one day. She fused such a fresh, alternative, broad approach to storytelling that has greatly impacted the way I see and engage music as an artist.
Rihanna, Loud
This album is just iconic in every way to me, mainly because it's so damn fun to listen to. Songs like "Cheers (Drink to That)" and "What's My Name?" can set the tone at any party, while tracks like "California King Bed" give us a thoughtful, fresh, lyrical approach to such a simple subject matter. (Also, I recently realized this song was written by Priscilla Renea, and now I finally understand why I've always thought this song could definitely be country!)
- Brittney Spencer
January 2022
Brittney is on tour throughout February 2022 and she joins the C2C Country to Country festival in London and Glasgow in March.