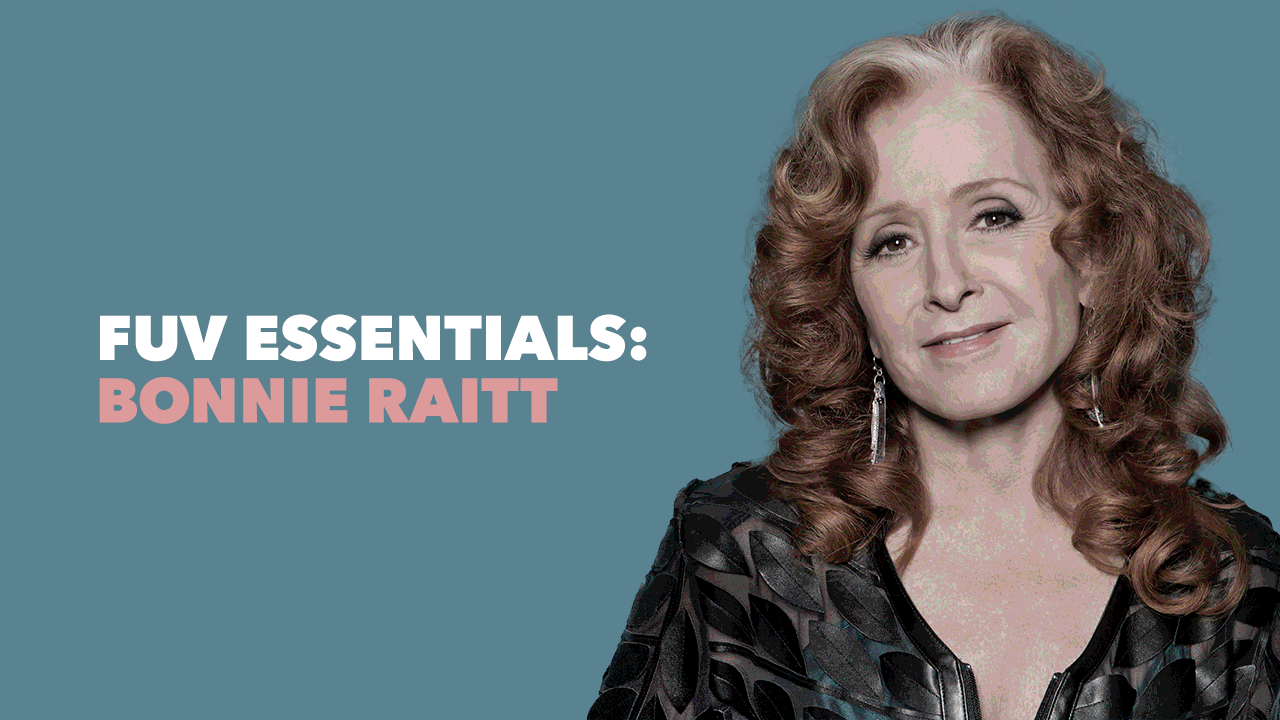 FUV Essentials, both on-air and online, celebrates the musicians who have shaped our cultural soundtrack for the past fifty years, examining their impact, influence and discography.
A deep blues doyenne, a master guitarist, and owner of one of the most heartbreaking, wistful voices to command a breakup ballad or ballsy rocker, Bonnie Raitt is an indomitable force. As musically lithe as she was when she first sauntered onstage at New York's Gaslight Café in 1970, Raitt recently released her 17th studio album, Dig in Deep, an album that revels in her unique niche as a thoughtful song intrepreter and songwriter, adroit slide virtuoso, and spokesperson for love's extremes, from fresh lust to shattered desolation.
Raitt has inspired a generation of aspiring blues guitarists and opened a door for other female musicians determined to step onstage and wail on a Strat. Yet this teacher has also remained a lifelong student, still joyfully honoring her mentors and influences, like her beloved friend, the late B.B. King, Sippie Wallace, Mississippi Fred McDowell, Howlin' Wolf, Ruth Brown, Son House, Joan Baez, Muddy Waters, Ray Charles, and scores more—including her parents, the Broadway actor John Raitt and pianist Marjorie Haydock. A powerhouse not only as a musician, but as an advocate for sociopolitical issues, Bonnie Raitt has maintained a lifelong commitment to peaceful activism. Her concerns are vast; from helping older R&B and blues musicians attain the royalties they deserved for their songs via the Rhythm and Blues Foundation to environmental causes, like Musicians United for Safe Energy (MUSE), Rock the Earth and Reverb.
Raitt once lived hard and fast, like her blues heroes, but she rebounded and sought sobriety. She had early hits, like 1977's "Runaway," chasms of uncertainty, and mighty commercial resurrections via 1989's Nick of Time and 2012's Slipstream. Then again, Raitt has never wavered in her journey, constantly championing a dizzying array of fellow songwriters on all of her albums, like John Hiatt, Oliver "Tuku" Mtukudzi, Allen Toussaint and Bonnie Bishop. She has always steered her own ship but her gratitude for that gift of nearly five decades of recording and performance remains: at last week's transcendent, sold-out, two-night stand at New York's Beacon Theatre, Raitt frequently thanked her band and the audience, confessing that she watched on her dressing room monitor as the empty venue filled with people, still amazed and emotional that fans came to watch her play for over 46 years.
She also mentioned friends, still performing music or playing golf in their late 80s and 90s, and smiled knowingly, promising that she planned on being on that rigorous senior circuit too. We're depending on it, Bonnie.
More FUV Essentials coverage: