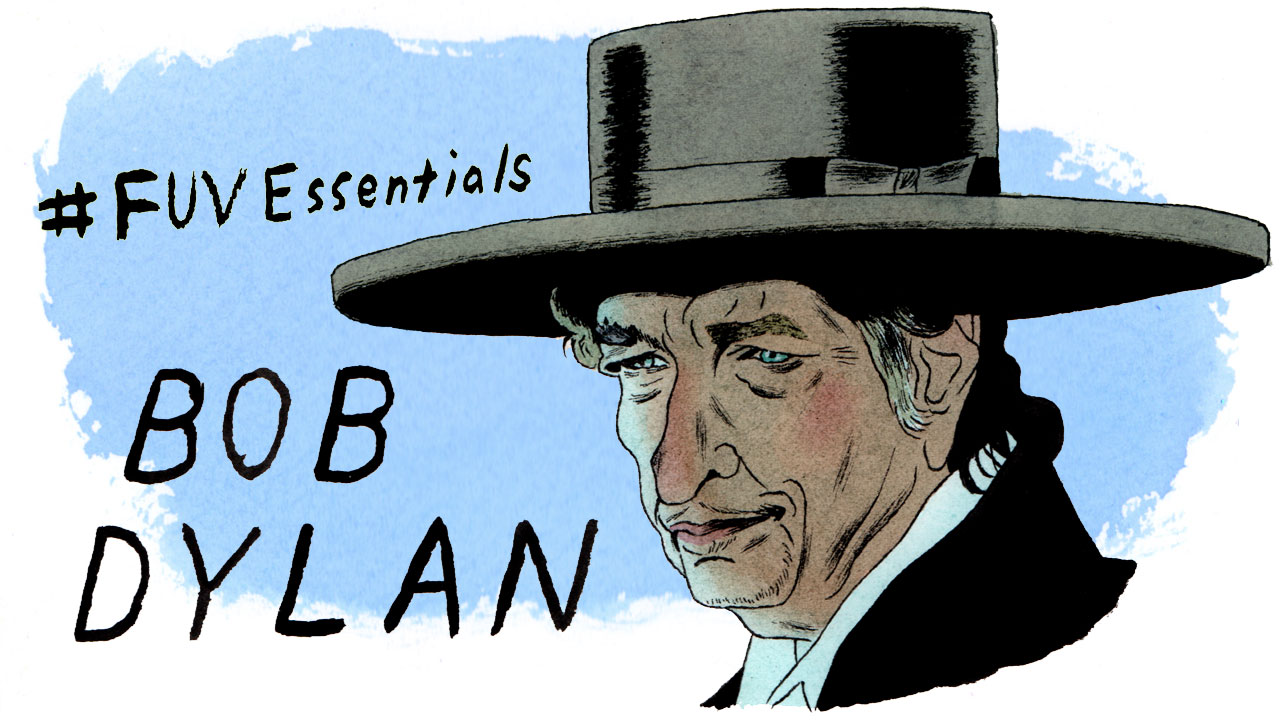 [May 2019 update: In 2016, upon the release of Bob Dylan's Fallen Angels and his 75th birthday, FUV first celebrated the man as an FUV Essentials artist. Catching up to all things Bob is always a reminder of his never-ending accomplishments: in fact, later that year, in that ever-churning machine of Dylan laudation, he won the Nobel Prize in Literature. In elusive Dylan style, he never made the trip to Stockholm pick up the prize for December's concert ceremony, but did so privately in April 2017 and delivered his lecture to the Swedish Academy in June of that year. But Dylan has always adhered to his own timetable.
2017's Grammy-nominated Triplicate, was a three-disc collection of American standards, covers of songs that Dylan loved — his attention to the past is not simply reminiscence, but also a re-evaluation of his legacy. The colossal 14-disc Rolling Thunder Revue box set was released on Columbia Records: it's an awe-inspiring bounty for diehard Dylan fans who can binge on hours of over 100 previously unreleased recordings, rehearsals, and full sets from the first leg of the musician's 1975 tour. There is also a Netflix film directed by Martin Scorsese, called "Rolling Thunder Revue."
The Rolling Thunder Revue: The 1975 Live Recordings is one of several interesting Dylan releases of late. Another is a 25-year-old "Bootleg Series" whiskey, which sets folks back a princely sum of $500, perhaps a boozy accompaniment to the 14th volume of the "Bootleg Series," More Blood, More Tracks.]
On Bob Dylan's Fallen Angels, which was released in the spring of 2016, more than a minute of jazzy, mid-tempo plucked guitar and languidly brushed drums prefaces the vocals on "Melancholy Mood," a song originally recorded by Frank Sinatra and the Harry James Orchestra in 1939. When Dylan's scratchy vibrato finally ambles into the song, as if he'd gotten lost along the way, he counters the lonely insomniac's narrative with a scrappy insouciance, defying the gloomy lyrics.
It was the second album in two years that found Dylan mining the Great American Songbook, especially songs identified with Sinatra. Both collections feel more personal than Rod Stewart or Lady Gaga throwing their hats into some sentimental pool of standards. Maybe Dylan is reaching back to memories of his childhood as he marks his 75th birthday, warily eyeing mortality, but that's too easy an assessment of his intent. This man of many faces, born Robert Allen Zimmerman and raised in Hibbing, Minnesota, has always veiled his journey in mystery. Aside from his craft as a lyricist, that enigma is perhaps why he remains one of the most profoundly influential and fascinating American songwriters, transcending beyond music, into literature, politics and poetry too.
Back in 1962, a cherubic Midwestern boy in a shearling coat first graced the cover of his self-titled debut, an album of mostly covers and only two original songs—"Talkin' New York" and "Song For Woody." Not many people initially bought it in the States. The album didn't chart, sold a few thousand copies, and was considered a failure. It was a different time, though, when craft still counted a little ahead of commerce, and Dylan wasn't kicked off of Columbia Records, but further nurtured by the man who signed him, producer John Hammond.
A series of circumstances also altered Dylan's trajectory. The civil rights movement, the spectre of war, New York's strong folk music community, his edifying relationship with girlfriend Suze Rotolo and his own blossoming confidence as a songwriter propelled his sophomore album, The Freewheelin' Bob Dylan, into an artistic stratosphere. Over 50 years after its release, the album remains an iconic achievement and the cover, a photograph of young Dylan and Rotolo strolling arm in arm by Jones Street and West 4th Street in Greenwich Village, is still folk music's version of the Mona Lisa.
It might have also been the last time that Dylan seemed the most transparent to his fans, as a songwriter and a person. In 1965, when filmmaker D.A. Pennebaker followed Dylan on tour in London for a documentary that would become 1967's "Dont Look Back," he was more fully-formed as the far more remote Dylan: recalcitrant, wickedly smart, elusive, playful, egotistical, thoughtful and sometimes cruel. Always compelling. And brilliant too.
By the mid-Sixties, Dylan was a rock star too; he'd gone electric in the summer of '65 at the Newport Folk Festival, causing musical mayhem. He married another girlfriend, Sara Lownds, secretly. He willfully sculpted his own semi-fabricated backstory to journalists, whenever he'd deign to speak to them, and gaily offering fibs (or straight-out lies) as truth. Critics and fans sifted through his lyrics, searching for hints or autobiographical veracity, but that endeavor was tricky at best. Even his distinct speak-while-singing voice offered another condundrum over the decades: was it the woozy rasp of "Just Like A Woman," the seductive croon of "Lay Lady Lay" or the caustic snarl of "What Was It You Wanted?"
During the '60s, Dylan zigzagged from New York to New Orleans (Highway 61 Revisted) to Nashville (Blonde on Blonde, John Wesley Harding, Nashville Skyline). He laid low in Woodstock, quietly recovering from a motorcycle accident, and recorded with the Hawks (soon to be The Band) in that house called Big Pink. He wrote, at a startling pace, songs that defined that decade. Nine albums in eight years (not including bootleg recordings and demos that would resurface much later), more than one release a year, at a wildly prolific pace that continued and was matched and then surpassed by another Minnesotan, Prince, decades later. When Prince passed away this year on April 21, he left 39 studio albums. Dylan's release of Fallen Angels on May 20 gives him 37 albums. While neither man can rival Frank Zappa or Johnny Cash for the sheer quantity of albums released, their proclivity was still astounding.
As the '70s commenced, Dylan explored his own Self Portrait in 1970, a prophetic title to pick for a man whose eras of songwriting temperament were Picasso-like in their hues and diversity. He became an actor and ersatz cowboy (Pat Garrett & Billy the Kid), faced marital discord and disillusionment (Blood on the Tracks), and explored Christianity (Slow Train Coming). The '80s began with a deeper religious commitment (Saved) and some artistic befuddlement (Empire Burlesque), but ended on a spectacular high note in 1989, with the stunning Oh Mercy and his involvement with the Traveling Wilburys. Although Dylan has continued to write, tour and record in the '90s, '00s and '10s, his output of original material has dwindled; there was a seven-year gap, from 1990's Under the Red Sky until 1997's Time Out of Mind, when Dylan was content to record covers of songs written by other people.
One of his strongest, later collections of original songs, the colorful and character-driven Love and Theft, was released on September 11, 2001: a great American album coincidentally released on the darkest of days for this country. And now, adrift in Sinatra standards via 2015's Shadows in the Night and 2016's Fallen Angels, he seems satisfied to record songs that give him joy or offer solace, the wistful province of a man who realizes that life is far too short.
One of the most revealing statements Bob Dylan has ever made came via a long speech he made in 2015 when accepting the MusiCares Person of the Year award. He thanked his supporters, the musicians he admired, and the artists who covered his songs, but he also let slip long-simmering grudges too, against those who ignored his music or mocked his voice. Those moments of anxious vulnerability were astonishing to hear. After all of these years, even Bob Dylan, one of this country's preeminent lyricists, songwriters and poets, could still flinch at a lousy record review.
Said Dylan that night at MusiCares: "Critics have said that I've made a career out of confounding expectations. Really? Because that's all I do? That's how I think about it. Confounding expectations. Like I stay up late at night thinking about how to do it.
"What do you do for a living, man?" "Oh, I confound expectations." You're going to get a job, the man says, "What do you do?" "Oh, confound expectations. And the man says, "Well, we already have that spot filled. Call us back. Or don't call us, we'll call you." Confounding expectations. I don't even know what that means or who has time for it. "Why me, Lord? My work confounds them obviously, but I really don't know how I do it." 
A lifetime of not really confounding expectations. That, and so much more, is why Bob Dylan is an FUV Essentials artist.
More on Bob Dylan:

Courtney Barnett's Five Essential Bob Dylan Songs
FUV Essentials: Dennis Elsas on Bob Dylan
Listen
#FUVEssentials: Bob Dylan (Spotify playlist compiled by FUV's Rita Houston)