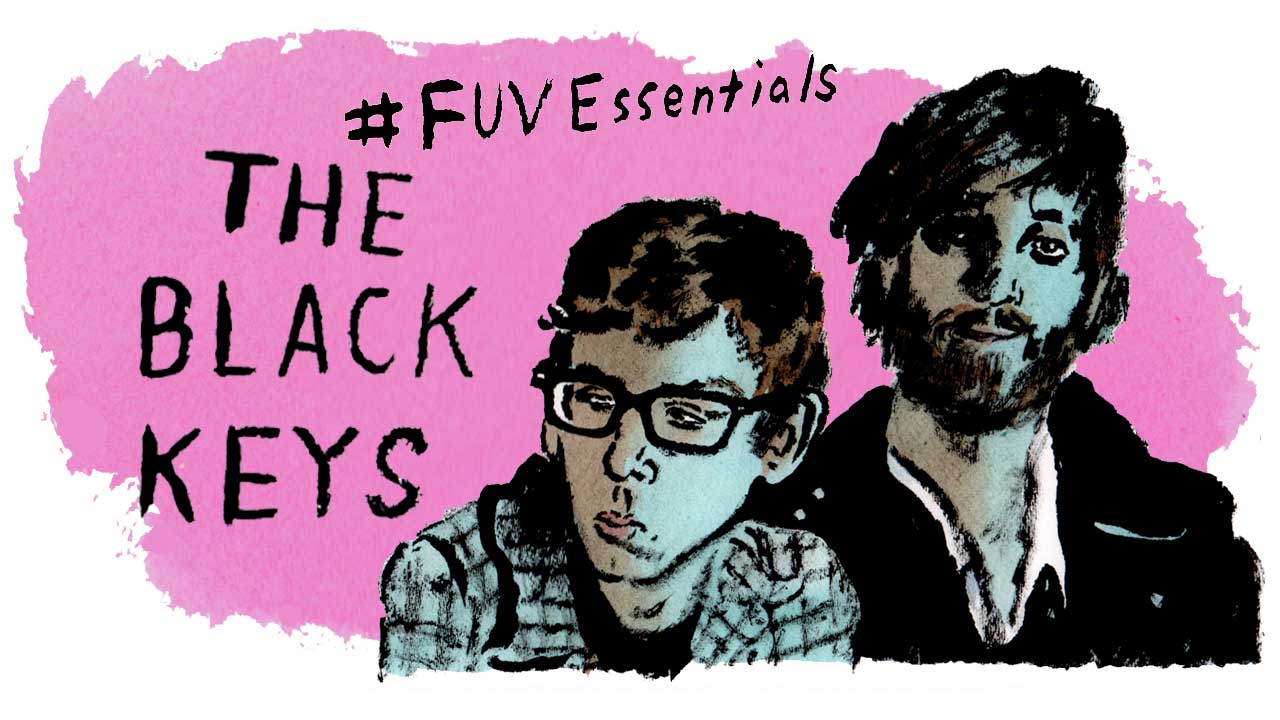 The incorporation of classic American blues into rock 'n' roll is hardly a novel idea, but in the industrious, ambitious hands of the Black Keys' Dan Auerbach and Patrick Carney, it's been reinvigorated and reexamined on mainstream radio over the last decade. Over a 16-year span of eight albums and a handful of EPs, Auerbach and Carney evolved from two scrappy guys playing local bar-and-garage blues in Akron, Ohio, to platinum-selling, Grammy-winning music industry heavyweights with a knack for sinewy dynamics, acerbic humor, flourishes of hip hop, and raw, dirty blasts of rock bliss.
The grassroots support that vaulted this low-key duo from the anonymity of their basements (or the abandoned building where they recorded 2004's Rubber Factory for Fat Possum) to arena superstardom also shifted the paradigm from woozy decadence to a rigorous rock 'n' roll work ethic. The '60s and '70s-era hedonism of blues (and booze) saturated forebears like Led Zeppelin, the Allman Brothers Band, or the Rolling Stones gave way to the Black Keys' DIY proclivity, perseverance and forward-thinking, productive side projects, like Blakroc (with Damon Dash). Auerbach and Carney moved to Nashville back in 2010 and that business-minded, music capital has influenced their purview too. Auerbach has released two solo albums (the second, called Waiting on a Song, is FUV's New Dig this week), jumpstarted the Arcs, and has a laundry list of producer credits, guiding the likes of Cage the Elephant, Jessica Lea Mayfield, Bombino, the Pretenders and dozens more. In 2013, Auerbach won a Grammy as Producer of the Year, Non-Classical for his work with the Black Keys (El Camino), Dr. John and Hacienda. Although not quite as prolific as a producer as his bandmate, Carney has helmed albums by his girlfriend Michelle Branch, Tennis, the Sheepdogs and Tobias Jesso Jr.
But as the Black Keys, bespectacled drummer Carney and shaggy guitarist and vocalist Auerbach have a Midas touch. The assiduous pair have kicked out unconventional hits like the yearning "Tighten Up," from 2010's Brothers, "Gold on the Ceiling" off of 2011's El Camino, and that album's amazing viral video sensation too, the fuzzed-out, booty-shaking strut of "Lonely Boy" (kudos to the video's grooving-in-perpetuity actor and dancer Derrick T. Tuggle, who seems to have influenced Future Islands' Samuel T. Herring along the way). Although Auerbach and Carney might have one high-profile detractor — Jack White has fulminated over the Black Keys for various reasons — the two childhood friends have stirred up their own brand of wily, blues-whipped garage rock, earning the admiration of everyone from Robert Plant to Radiohead's Thom Yorke to the Kings of Leon's Caleb Followill, who gave Auerbach and Carney an early break as an opener on tour (as did Sleater-Kinney, Beck and Radiohead too).
There's been a critical third, unofficial member of the Black Keys too. Longtime collaborator and producer Brian "Danger Mouse" Burton connected with Auerbach and Carney for 2008's Attack & Release, a project originally intended for the late Ike Turner. He has continued to work with the Black Keys since that time, through Brothers, El Camino and 2014's ambitiously psychedelic Turn Blue, a caustic break-up album that reflected Auerbach's acrimonious divorce from his first wife.
Auerbach's turn as a solo artist in 2017 with the release Waiting on a Song, which comes eight years after his debut, Keep It Hid, is an interesting development, as is his sojourn with the Arcs in 2015. It might or might not signal the forthcoming demise of the Black Keys; Auerbach was cagey in a recent interview with New York when asked if he could find "joy" in continued work with the Black Keys. "Maybe," said Auerbach. "We'll have to see what happens when we get together. You never know. Everything is so day-to-day in my life. I kind of live for the moment, because the moment is all that really matters."
How Auerbach and Carney broach their longtime partnership ahead remains to be seen. But at the moment, since that's what matters to Auerbach these days, the Black Keys are FUV Essentials.
Listen